It is that time of year again and the list of Hanukkah gifts are getting long…
Over the years, we have determined that just buying gifts to buy gifts simply doesn't make sense. You see, when your kids never really want for anything, they are hard to buy for. When they have never been material kids, never wanting things like an X-Box, they are hard to buy for.
So, the holidays were not easy for us parents and we had to come up with a plan. I happen to think it's ingenious, if I don't say so myself. Each night has a theme that we can do year after year with slight adjustments.  Admittedly, as the twins get older, it becomes a bit harder each year, but we're managing to stay on target.
Our Eight Nights of Hanukkah Gifts
Experiences as Hanukkah Gifts
This has taken many forms over the years, from indoor sky diving to facials and experiences when we travel. As the kids got older and traveled more on their own, it became extensions of their travels.
What we are doing this year…For our daughter, she will get a massage and facial gift certifiacate and our son will receive extra cash for an experience of his choice when he heads to LA for New Year's with his girlfriend.
Art as Hanukkah Gifts
All forms of art have been a part of our travels and gift giving since the twins were born. Even my sister gave the twins art when they were born. The gift can be visual, performing arts like theatre and dance, jewelry, and so much more. Each year we reflect on what the year has meant and try to relate the gift to it. But most importantly, the gifts need to be special, cherished, and beloved.
What we are doing this year…This year our daughter is getting a dream catcher we picked out for her to hang over her bed. Our son is receiving a new set of Prayer flags. He gave his to a friend, so he is getting a new set.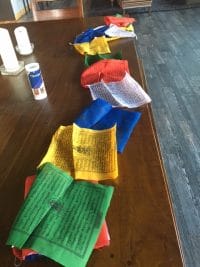 Travel as Hanukkah Gifts
This is a gift that lasts a lifetime. When they were little, we would plan special trips for Hanukkah like mother/daughter and father/son trips to family trips. Now, we give them the gift of solo travel, which we believe is one of the most important types of travel for finding yourself. Yes, we still travel as a family and the twins travel together and to see each other, but this gift is to be used how they want.
What are we doing this year…Our son will use his to explore China and well, our daughter is still trying to fit a trip into her busy schedule.
Active Lifestyle
We make sure that the active gift provides the ability to explore something new or extend a passion.
What are we doing this year...This year the active gift is in the form on active items. Our son will be getting an Eno to take with him wherever he goes. His twin says it's a must! No matter where you are, the Eno, which is less than 2 pounds, is easy to travel with and can be packed up and hung up for a comfy spot to hang out or sleep. Our daughter is a professional dancer so Lulelemon it is for her. It is hard for us to pick out items for her so we will get her a token gift from there and a gift certificate.
This is a gift that sometimes they choose and sometimes we do, depending on how we feel. Generally, they or we pick an organization that is important to them and makes a true difference in the world or people's lives. The organization is vetted and checked on charity watch and then a donation is made in their name or anonymously. This has always been a special gift to us and one that we believe will forever be a tradition to them as they get older and older and have their own families.
Hanukkah Box
Each year we use the same bag and fill it with items that are both fun and useful. We include travel tools, like credit card and passport RFP protectors for safety, flying flamingos, a cozy eight ball, and so much more. And please, never forget the chocolate gelt.

PJs and Books as Hanukkah Gifts
Another classic and yes, they most likely have too many PJs already but it is the thought and tradition. We tend to pick out PJs one year that are fun like a one piece fuzzy thing and the next year one's that are useful. The book is always related to what they are doing and/or are into. Last year our daughter had moved to New York City, so her book was about the history of NYC.
Game Night
We have discovered many great games over the years and have been building our kids' game library. From the basics when they were little, like Chutes and Ladders and matching games, to some of our favorites we still play like Blokus and Rack-O, game night is a favorite in our house.
What are we doing this year…This year, friends got us hooked on Mexican Train Dominoes, so the twins are each getting their own 15 Domino set for Hanukkah.
For our family, having these 8 Hanukkah Nights have allowed us to build tradition and maintain the true values of Hanukkah.
What are your top picks for gifts this year for the holidays?
I am a home cook that does things my way. In my kitchen, I make breakfast, pack lunches, prepare snacks, and cook dinner. During the week, we eat real food that is homemade, organic, and local. On the weekends we do explore more of our local restaurants. I bake my own bread, juice fresh oranges every other day, and make my own kombucha and other weekly favorites.