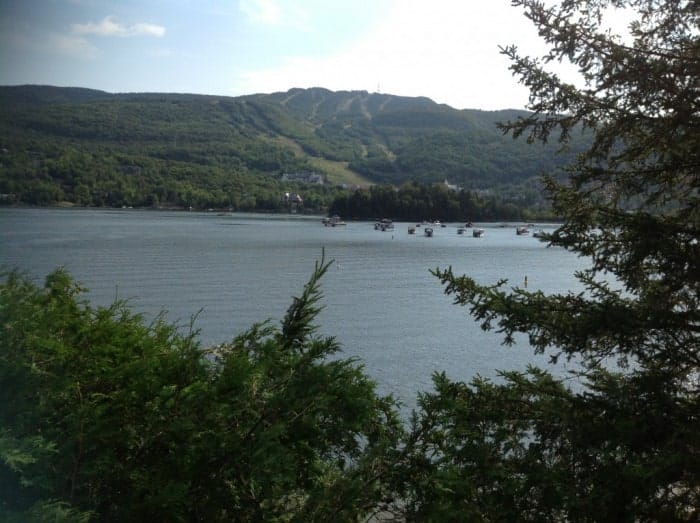 What a gorgeous race day in Mont Tremblant. I hope everyone had as awesome of day as I did, even though I got a bit too much sun and experienced a bit (okay, an overabundance) of anxiety over my husband's run. Special thanks goes out to the Ironman MTB team. They did a superb job making this race very family-friendly from the great inflatable area to village entertainment. Volunteers are the best as always.
As with all good things, however, there are lessons even a seasoned spectator learned:
Your best laid plans may need to change.
It may take you five times as long to get where you are going.
Pack sunscreen in your backpack.
There may be changes to the course after the map is printed.
Your athlete is allowed to have a bad day.
Having your super prepared backpack may be way too heavy when your day doesn't go as planned.
Subway subs are good – I had my first!
We have made some changes to our original posts and have added some new recommendations. There are options for those on a budget or not and those with and without children. In any case, it pays to book early, very early.…. So, read our updates and original post now if you are already planning next year or check back when it's time: THE SPORT OF SPECTATING – IRONMAN MONT TREMBLANT, UPDATE – IRONMAN MONT TREMBLANT, and THE SPORT OF SPECTATING – MONT TREMBLANT FINAL UPDATE. Whichever you choose, Mont Tremblant will be bustling in 2014. There will be 70.3 and full Ironman races and the 70.3 World Championship. We will all be very busy.
– DANA

Sherry is one of the TriWivesClub and LifeDoneWell co-founders and contributes to multiple blogs. She is a former co-owner of the California Apparel News and had a career in the healthcare industry. Her passions include traveling, real food, the environment, and animal rescue/welfare. She lives a healthy lifestyle and has been a vegetarian since 1987. She and her husband are parents to two rescue pups and reside in Connecticut.