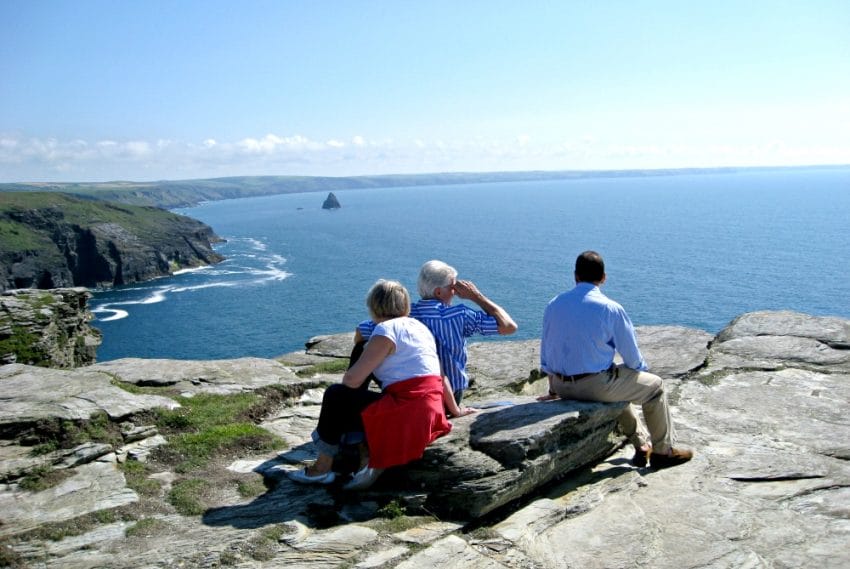 I've done a lot of traveling over the years.  A lot.  For business and pleasure.  For vacations and triathlons.  Solo and with friends and/or family.  Quick getaway weekends to month-long safaris.  On a budget to all out luxury.  All sorts of travel.
But, the one constant in each trip has been the opportunity I was afforded to learn life lessons; to become a better person; to see the world through my traveling companion's eyes; to share who I am and where I've come from with those I met along the way and my fellow travelers; and to learn things about myself and/or my traveling companions that I just never knew – sometimes wishing it had stayed that way if we're honest here…
I recently had an entire trip get cancelled that I was so looking forward to and was reminded that these disappointments are just part of the package of my great fortune to travel.  There will be other trips and other adventures.  So, I sat down to think about what else my travels have shown me along the way.  Here's what I came up with…
9 Lessons Learned Traveling Suitcase In Hand
To vacation like no one knows me…
Vacations are freedom for me.  They afford me the opportunity to not worry about how I look – well, within limits, but I'm not spending my precious vacation time flat ironing my hair – or worrying about who I might run into (although I must say running into my ex-husband in Heathrow threw me for a loop).  I get to leave my home town behind and really play tourist.  Which leads me to…
Stepping out of my comfort zone can lead to awesome discoveries and journeys…
Vacations are not the time to be shy.  They allow you the chance to reinvent yourself, so to speak.  Ever wanted to be an actor?  Now is your chance.  Do things you either don't get the chance to do at home or would never think to do.  Striking up conversations with strangers is difficult for me in my home environment, but surprisingly easy when I'm shopping in Stockholm.  There are limits for me on this  one, however, as there are places I will never visit; there are some cruelties in the world I just can't see.
That bonding happens over shared remarkable experiences AND challenges…
Travel allows us to share experiences – positive and negative – with our families/companions that no one else will ever have.  What an amazing opportunity to forge a closer relationship with them.  And, yes, you'll be able to say "We'll always have Paris" and mean it, literally.  Make sure you take advantage.
To learn to handle adversity with a smile on my face…
Travel itself can be very challenging and when things go wrong, whether it's just a snag in our plans or a cancelled flight, our ability to handle adversity emerges and we have a choice on how we react.  I'm the first to admit I have been rude to more than a few service industry personnel.  But, one day I saw someone behaving in an "unkind" manner to a hotel desk clerk and I had a moment of self-reflection and shame.  I now tend to travel well-prepared with necessary phone numbers, travel insurance, plan B's, and most importantly, a change in attitude!
Kindred spirits can be found all over the world…
Talk to the locals.  Get to know them.  Ask their advice on things to do and places to eat.  Share your experiences with them.  Practice your four years of high school French.  In most places, you will also meet fellow travelers.  Chat them up, too.  I love to share my favorites in my home town with others.  All they have to do is ask…
To observe my surroundings and not just walk from tourist attraction to tourist attraction…
All too often when we travel, we are so focused on seeing everything we possibly can that we forget to actually take the time to enjoy our surroundings.  We rush around instead of savoring the sights, sounds, and smells of the city we have invested a lot of time and money to travel to.  I've done this on multiple trips, much to my husband's chagrin, but no more.  I now look down alleyways; stop in shops that intrigue me; look up at the architecture of the buildings – you get the point.  Which leads me to…
Spontaneity can be my friend on vacation…
I've been known to plan a few trips down to every last detail.  But, I've come to appreciate the beauty of spontaneity when I travel and how I open myself up to the world of possibility.  It adds an element of "you never know what's around the corner" to the trip.  I've found that some of the best moments in my life were stumbled upon and not because I planned them out.
I now pick a few "must see" spots and then leave the rest to chance.  And, if I really love the place I am visiting, make a note to go back.  Spontaneity also takes a lot of the stress off the planner of the vacation, because they don't have to be responsible for everyone's fun.  Whew…
The remarkable strength of people who endure hardships in their life everyday…
I see a lot of poverty when I travel, as I'm sure you do, too.  It's not always by choice, but it's there.  It never ceases to amaze me how people can survive sometimes from day-to-day.  But, while it makes me eternally grateful for the life I have, it also inspires me to try to be a better person and help to change the life of even one person or animal, whether at home or during my travels.  It's very difficult for me to turn that blind eye.
That there is so much inspiration everywhere that I often miss…
I want my travels to be truly memorable and remarkable and not just trips.  It shouldn't be just the Louvre's of the world that inspire, but also the local art gallery on that side street.  I want to fill my journal with such awe and inspiration that when I'm 90 and go back and read it, all the emotions I felt at the time will still be there.  They will vividly float out of the pages and I'll be taken back to that perfect – and it was – moment in time…
If you're like me, though, you don't think about what the trip is teaching you while you travel, but something may strike you much later.
Perhaps a memory is stirred from a movie you see, a book you read, or you hear someone is traveling there.  Perhaps you are tired of the same old for dinner and fondly remember that roast pork with dumplings and cabbage that you had in Prague.  Perhaps your son tells you they learned about cheetahs in school today, just like he saw on safari in Kenya.  Or, perhaps you see a homeless person on the streets of NYC and it reminds you of your trip to India when you said you were going to try to make a difference.
How the memory is stirred doesn't matter…as long as you find the lesson.
Have you any lessons that you learned traveling to share?

Sherry is one of the TriWivesClub and LifeDoneWell co-founders and contributes to multiple blogs. She is a former co-owner of the California Apparel News and had a career in the healthcare industry. Her passions include traveling, real food, the environment, and animal rescue/welfare. She lives a healthy lifestyle and has been a vegetarian since 1987. She and her husband are parents to two rescue pups and reside in Connecticut.