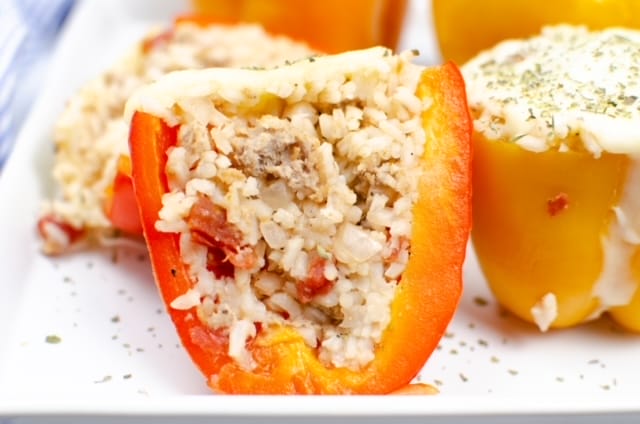 I adore this instant pot stuffed peppers recipe and had to share it with you. It's healthy, easy to make, and contrary to what your kids may think…not spicy at all! The stuffed peppers call for Italian seasoning but you can make it your own. Add some spice or fresh basil, whatever makes you happy.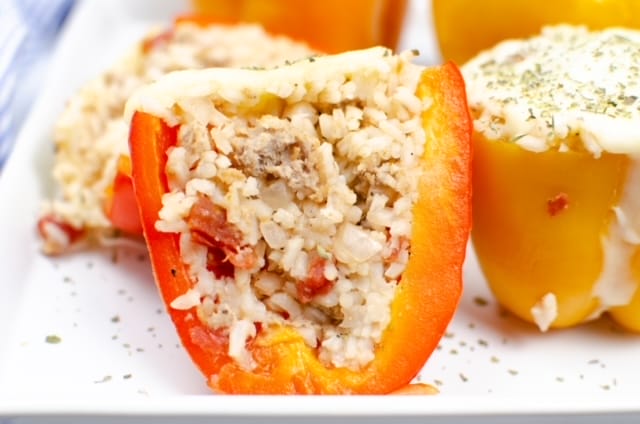 Like many of you, I'm a HUGE fan of my Instant Pot
. It makes my life in the kitchen so much easier without sacrificing taste. This is a must-have kitchen appliance, in my opinion. In addition to this instant pot stuffed peppers recipe, check out some of my other favorites using my Instant Pot.
To Blanch, Or Not To Blanch
There are people who swear by blanching bell peppers prior to cooking. This is mainly for aesthetic purposes as blanching does help the peppers maintain a bright green color. However, it doesn't really cook the peppers. Feel free to make this instant pot stuffed bell peppers recipe "Instagram-worthy" by blanching, however, this is not a step that is necessary to most home cooks.
5 Tips To Make Your Stuffed Peppers Taste Amazing
For a more intense flavor, cook any meat you are using as stuffing prior to putting it in the pepper. By adding juicy, browned ground turkey you can add lots of flavor to this dish.
If you want to soften your bell peppers prior to cooking them, cook them in the microwave on the high setting for about 5 minutes.
You will know when the stuffed peppers are done when they are soft but not mushy. Also, make sure the filling is fully heated.
You can absolutely freeze leftover stuffed peppers. They actually freeze really well. They keep the flavor, texture and shape of the original dish. Go ahead and double your batch and put some in the freezer for those I-don't-know-what-to-cook days.
Even with the cost of groceries going up, this dish can be very affordable. Green peppers are priced lower than other peppers because they are technically not mature. They are harvested sooner and so require less growing time. Making this dish with red or yellow peppers will increase the cost.
Instant Pot Stuffed Peppers Recipe
This recipe makes 4 servings.

Prep time: 10 minutes

Cook time: 15 minutes (including pressure and release)

Total time: 25 minutes
Instant Pot Stuffed Peppers Recipe Ingredients
4 medium bell peppers

1 small onion, diced

½ pound ground turkey (or can substitute for beef or chicken)

2 cups cooked rice, packed

1 teaspoon salt

¼ teaspoon black pepper

1 tbsp garlic, minced

3 tablespoons breadcrumbs

1 can (14 oz) tomatoes, divided.

½ cup water

1 tbsp Italian seasoning, for garnish, optional

1 1/2 cup mozzarella, shredded
Instant Pot Stuffed Peppers Recipe Instructions
Cut the tops of your bell peppers. Remove the membranes as well as the seeds.

In a medium-size bowl mix together your onion, ground turkey, cooked rice, salt and pepper, garlic, breadcrumbs, and Half of the can of tomatoes (drained – save the tomato liquid and the remaining can of tomatoes).

Scoop the mixture into each of the peppers.

Add your water and the rest of the can of tomatoes, including the liquid, into your inner part of the instant pot. Place the trivet inside. Place the bell peppers on top of the trivet.

Lock the lid in place on your instant pot and set the sealing valve to seal.

Set your instant pot to high pressure for eight minutes. Allow it to naturally release for 10 minutes, followed by a manual release. 


Place your mozzarella cheese on top of the meat mixture of your bell pepper. Close the lid on your instant pot and set it to high pressure for one more minute. 


Once that minute is done, do a quick release.

Remove the bell peppers with tongs as they will be hot.

Enjoy!
I'd love for you to consider making this Instant pot stuffed peppers recipe and let me know how it goes. Did you change anything up?
I am a home cook that does things my way. In my kitchen, I make breakfast, pack lunches, prepare snacks, and cook dinner. During the week, we eat real food that is homemade, organic, and local. On the weekends we do explore more of our local restaurants. I bake my own bread, juice fresh oranges every other day, and make my own kombucha and other weekly favorites.