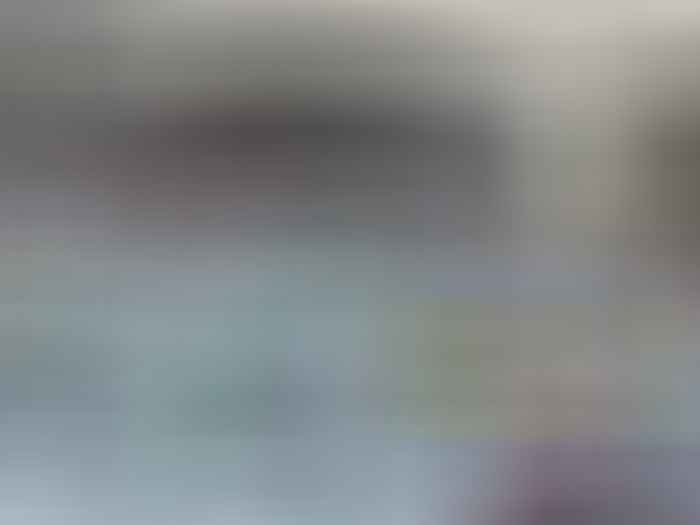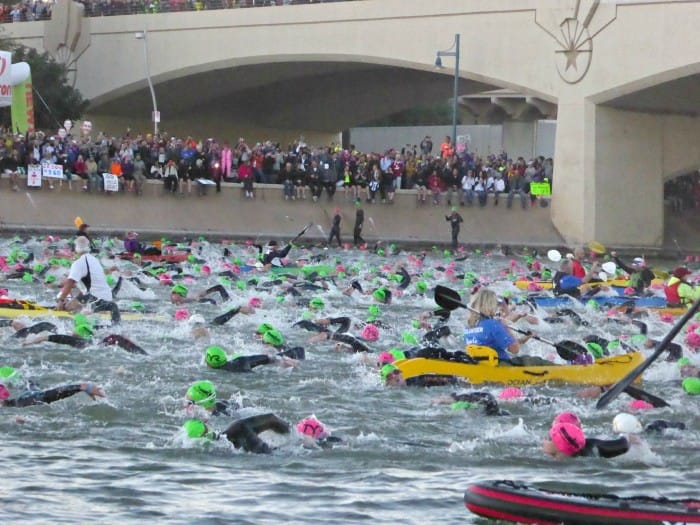 This post is current for 2017.
Ironman Arizona is a great spectator race, made much easier if you are staying downtown.  With a fast course, spectator-friendly venue, and warm weather in November, it is one of the most popular races on the Ironman circuit.  The race is compact, so there are multiple athlete viewing opportunities.  The start and finish take place in Tempe Beach Park.  As such, it really doesn't make any sense for you to leave and try to see them out on the course.
Tempe is a college town, which means plenty of places to eat and shop.  Make sure you check out our Food & Fun guide for some recommendations.
Here is a course overview for all you triathletes from coach Matt Dixon of Purple Patch, who just happens to be my husband's coach.
Here are some spectator recommendations from a reader, Jenifer Whitesides…
A couple of things to add…After the swim start, move to west side of the Mill Bridge. It's hard to see your athlete get directly out of the water, but if you place yourself here, you can see your athlete running into the swim changing area. After you get done cheering for them, you can easily run over to see them off on their bike. Also, one more to add to the run. This park is awesome for spectating, but hard to get around. Place yourself like the writer suggested under the bridge. Then, if you would like to go across the bridge to the other side, there are stairs that can lead you up to the top instead of having to walk all the way to the corner of Mill and RS. Have a great race day!
TIPS/INFO
Make sure you also check out the Ironman Spectator Guide and check back with the Ironman website for any updates. They were supposed to have the 2017 guide posted, but they still have the 2016.
Be sure to check out the Ironman VIP options for IMAZ.  The base one may be worth the extra expense, but if you're staying in Tempe, probably not as you can easily get back to your hotel. But, you may want to check this out for future races or as a possible holiday gift. The costs range from $255 – 750 for adults and $153 for kids, which is a lot of money. I noticed they even have a $300 Athlete VIP package.
The Opening Ceremony is Friday from 5 – 7 pm with live music. The post race celebration breakfast is Monday at 9 am and the Awards Ceremony is at 9:30. All events take place at Tempe Beach Park.
There is a Kids Fun Run on Saturday at 10am and you can register onsite.
Make sure you choose which side you want to spectate on, because crosswalks became almost impossible to cross last year when the race was in full swing. I literally waited at least an hour to get across when the bike segment was going on and a fight ensued, because people were getting very frustrated and starting yelling at the volunteers.
Parking – If you aren't staying in town, one of the best lots is at the US Airways Building on Ash between 3rd and Rio Salado. But, there are many others to choose from in the Mill Avenue District.
To track your athlete, go to the Ironman website on race day and click on the race coverage box or you can download the Ironman Track app. We have found both to be very easy to use and reliable.
If you are staying on in Arizona for a few more days, make sure to check out our Food & Fun Things To Do.
SWIM
The swim takes place in Tempe Town Lake in Tempe Beach Park and is one big loop.  The pros go off at 6:40 and the age groupers rolling start is at 6:50. Kiss your athlete good luck and head to the first bridge for the swim start.  We like to climb up under the bridge to watch or head to the grassy area just below the bridge, but you can also stand on the bridge and watch it all from above.  We will say this does make for some really good pictures.  You can stay there for the swim-out or head up to the bike-out area.  We like getting to the bike-out area to cheer our athletes off.
BIKE
The bike is 3 loops. After your athlete takes off on the bike, grab yourself some breakfast and then get to the bike loop turnaround at Mill and Rio Salado.
The corner of Mill Avenue and Rio Salado is where all three loop bike turnarounds take place, so you want to position yourself accordingly.  On the last loop, move to bike-in and then run around to run-out.
RUN
For the run, we stand if looking at the river to the left of swim-out under the Mill Avenue bridge for shade.   You can see your athlete many times and then head to the finish line.
The run has been changed this year to 2 loops which is great for the athletes.  In the past,  our trihubbies always complained the run got boring.  For us spectators, it means a little more waiting between seeing them or a little more running around to see them.  We have several takes on this:  If spectating solo or with other runners, take a look at the course and hang out at the run start area by the bridge and catch them at about mile 5.  Then, head over to the north side of the Mill Ave Bridge and catch them at miles 7 and 10; head over to see them back at the run start area, about mile 12.5; and then they will come back for mile 17.  At this point, we find our place at the finish line.  But, if it is late, you may opt to head back over to the bridge and visit at mile 19.5 or so before heading to the finish line.  If you have an entourage of strollers and what not, we would most likely stay on the  south side of the bridge.
Just an FYI on the run – if you're NOT looking to see them up to 7 times – after they first head out and you see them again at Mill and Rio Salado (about 4 miles), you have a bit more time as they head out of town – should be about 8 miles and then they repeat. A great spectating spot for the run is past the Expo right by the water, close to the bridge. You'll get to see them come by multiple times.
FINISH LINE
The finish line is in Tempe Beach Park.  They will come in on W. Rio Salado.  In past years, you could watch them come in down the chute, then you had to make your way around the finish line by Tribike Transport & the Expo and catch up to your athlete in the finish area.
Finally, here's Dana's secret – When her athlete  hits close to mile 20, she calls Cafe Boa, see our food blog for IMAZ and makes reservations for 2 hours later.
This will give your athlete time to get through the finish, have a plate of fries, and shower before an evening of Titos vodka, friends, family, and good food!  Then, head back to the finish line and cheer all the other racers home!
Happy Spectating!!!
Do you have any spectating tips we missed for Ironman Arizona?

Sherry is one of the TriWivesClub and LifeDoneWell co-founders and contributes to multiple blogs. She is a former co-owner of the California Apparel News and had a career in the healthcare industry. Her passions include traveling, real food, the environment, and animal rescue/welfare. She lives a healthy lifestyle and has been a vegetarian since 1987. She and her husband are parents to two rescue pups and reside in Connecticut.