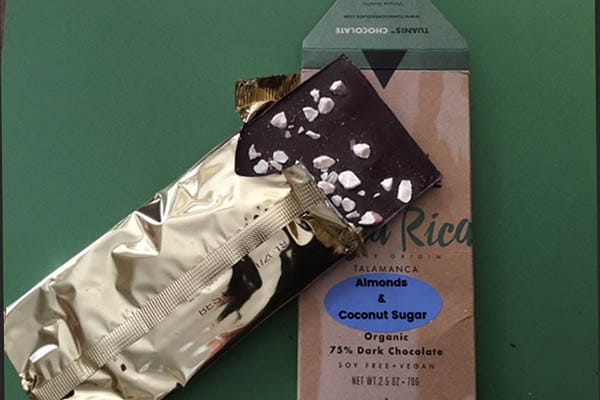 Especially during the holidays, my guess is most of us enjoy chocolate in one form or another. From candy to desserts of all sorts to our favorite holiday cookies, it's all good. For those of us who try to eat organic, responsibly sourced foods, it can be difficult to find our beloved chocolate using those criteria. That, my friend, is a thing of the past.
I have found a company that uses the finest, organically grown cocoa in the world, farmed in the Limon region of Costa Rica. It is certified organic, certified vegan, and is soy free (very rare, I've even told).
Tuanis Chocolate was founded in 2015 by friends Martin Rhyne and Jon Spurgeon. Tuanis is a Costa Rican play on the slang "too nice" and is a synonym to the phrase "pure vida" or simple life. It is used among the Costa Rican people the way "aloha" is used by the Hawaiians. Having spent many vacations in Costa Rica and falling in love with their chocolate, it became Martin and Jon's mission to bring this amazing chocolate to the United States.
Their vision for the company was to provide quality chocolate products that are organic, fair trade, and soy free. As Jon stated in an interview, "The chocolate we make represents the positive vibe of being on the sands of Punto Uvo or sailing above the canopy on a zip line, waving to nearby sloths." Isn't that a great visual! To make this vision a reality, the partners developed relationships with local, organic cacao bean growers in the region and now buy directly from them.
Martin and Jon pay a high premium for their exceptional beans and in turn, these farmers work with the Center for Agricultural Tropical Research where they receive the "education and farming tools needed to optimize their harvests and promote the sustainability of the farmers and their livelihood". This is the whole idea behind their goal of using responsibly sourced cacao beans.
What sets their chocolate apart from others you find on the market? Dietary freedom and certified organic, both rare. They use 3 ingredients in their product – organic cacao beans, organic cocoa butter, and organic unrefined sugar. The chocolate is 75% dark. I tried the Almond & Coconut Sugar Bar and the first thing I noticed was that it's not as sweet as the chocolate bars I am used to. This means it doesn't leave an after taste that often is there when we eat anything with a high amount of sugar.
The cocoa nibs are very high in antioxidants and because there are no additives, they are easily absorbed by the body. The nibs are great in banana muffins or sprinkled over a bowl of yogurt and granola. You can also grind it up in a smoothie or into a powder and use in any recipe that calls for cocoa powder.
So, where can you find this amazing chocolate? Tuanis Chocolate is carried by independent grocers and natural food co-ops in both the Chicago and the Portland, Oregon areas, with many other locations coming soon. You can also purchase all of their products on line. Click here to go to their site.
I whole-heartedly recommend you give it a try. The flavor is amazing, it's healthy, and it's organic! What more could you want…Well, maybe a trip to Costa Rica to enjoy zip lining while waving at sloths!!!
Happy Eating!
Kathy was a business owner for many years. Specializing in the field of orthopedic joint replacement, her time was spent in the operating room and conducting training programs throughout the United States. Since moving to the midwest with her corporate husband, she divides her time between caring for Brandy, their 4-legged family member, cooking from scratch, and searching out exceptional undiscovered restaurants both at home and wherever their travels take them. She also creates greeting cards that are sold around the world. Kathy discovered her love of writing while in college and has begun using it as a way to share her travel experiences and the restaurants she seeks out along the way.
Kathy, her husband, and Brandy currently live in Nebraska.