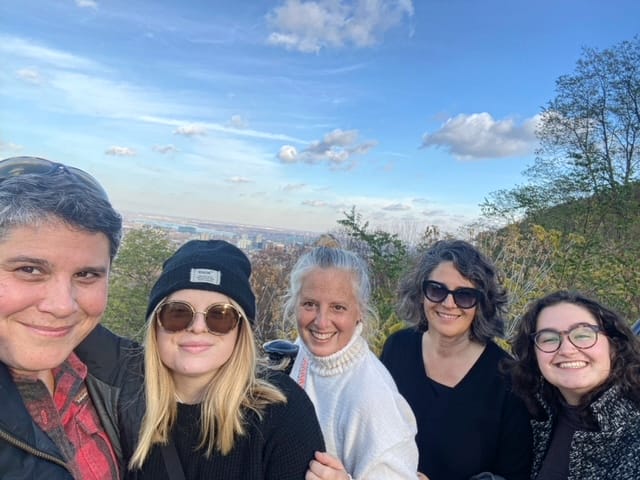 Find out why we loved the Ritz Carlton Montreal. If you're in search of a hotel to stay at while in Montreal, this is a great one!
It had been two years! Two years since I had been with my sisters. One lives in Calgary, Canada and the other in Ashfield, Massachusetts. Two years and a few months since we had been together. The borders were open, we all were fully vaccinated and my middle sister was turning fifty. We all did a ton of research on where we should go. Someplace easy for us all to travel to. Somewhere with Covid restrictions and policies we were comfortable with. Thus, Montreal it was.
Then we had a bonus, my sister's eldest daughter was able to join us from Toronto and my Sydney from NYC. The cousins were able to hang out with us, and each other. There were times that the best time they were having were watching us. Ah, youth!
Another reason for choosing Montreal is that it had what we crave when traveling, great food, areas to walk and explore and fabulous hotels to pick from. I will share more about Montreal and traveling to Canada in another post but for now let us talk about the Ritz Carlton Montreal.
I began my search for where to stay as I always do on the American Express travel page for fine hotels. Then I call my travel agent who just happened to have stayed there as part of a work event and had a relationship with the hotel.
We loved The Ritz Carlton Montreal as an option for the room size, amenities, location and we love the brand. The Ritz Carlton hotels are always a go to for me. They have old world large room sizes, fabulous textures and the staff is simply always well chosen and well trained.Give me a classic hotel anytime!
The Ritz Carlton Montreal
The Rooms and Suites
With just 96 rooms and 33 suites the Ritz Carlton seems exclusive and comfortable. You are not overwhelmed with a massive lobby or too many people. I always prefer a suite to a room when available simply because I love a separate area to sit, eat and read without looking at my bed. With this trip I reserved a suite and an adjoining double queen room.
Both rooms were lovely and connected through a shared walk in closet for the suite. Both rooms had huge windows that were so clean it looked as though there were no glass in place. The rooms also shared the following in common: heated bathroom floors, separate walk in showers and big comfy soaking tubs, wonderful bath gels and shampoos and Japanese Toto toilets.
Both also had wonderful seating areas, large desks, large closets and plenty of storage. They beds were dreamy and housekeeping immaculate.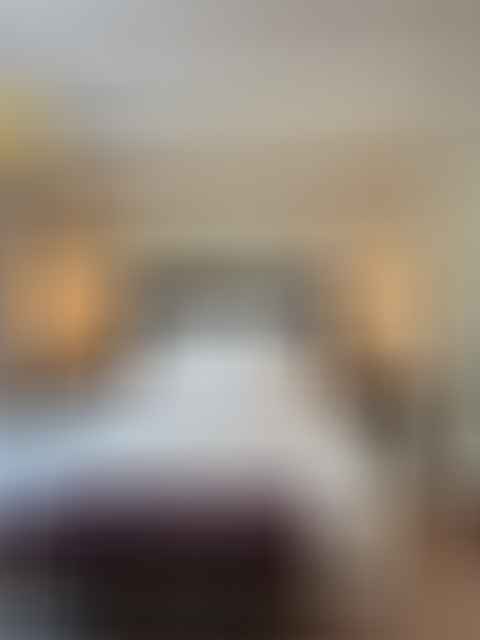 I reserved the suite so we had somewhere to hang out and knowing that the restaurant was not open due to Covid I wanted somewhere we could all sit around a table and have a long relaxing breakfast which we did each morning.
The king suite was a corner room with good views and plenty of hang out room for the five of us.
Check out the room and suite options!
The Amenities
Although I did not have the time to enjoy all the amenities that the hotel offered this trip due to the location and Montreal Covid protocol I know I will make a return trip to enjoy all the hotel has to offer.
The St. James Spa features maple sugary spa treatments. Unfortunately I did not get to indulge this time due to timing but I will go back!
The Palm Court and its experiences services the Champagne Bar and afternoon tea. This well appointed space has wonderful areas that feel very private.
The Fitness Center, which my youngest sister and my daughter used each day said it had all they needed and liked being able to stick to their fitness plans while we were away.
The rooftop with the indoor pool and sauna was stunning. Due to Covid you had to make a reservation, it is so relaxing and the views are amazing.
The Location
Located on Sherbrooke Street literally in the middle of downtown the Ritz Carlton Montreal is centrally located. You can walk to many different areas of town including Mount Royal Park, Chinatown, Old Port and Old Town. The is great shopping and so many nearby restaurants.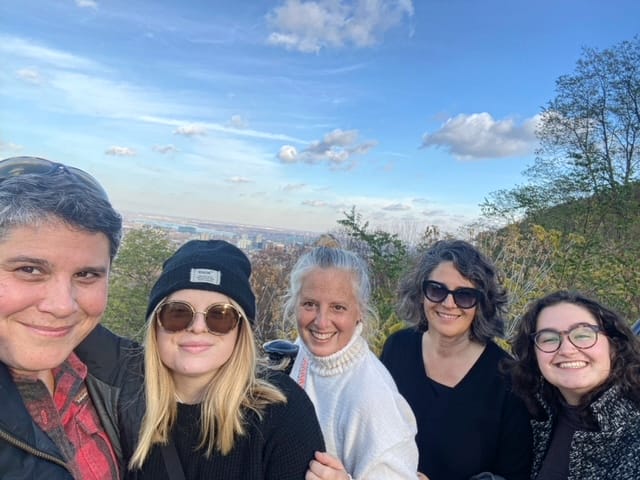 We literally only got in a car once to get to one restaurant we didn't want to miss. The hotel itself is a destination for many.
The Food
With Covid the restaurants and food service is a little different and we were not able to indulge in Maison Boulud or the breakfast we had heard so much about but we saw Daniel Boulud when we were having tea. Eating dinner in his open kitchen when he is cooking is a must do of mine, so I will need to go back!
I will say be sure to be in contact with the hotel about dining as things change day by day. We were told we could have dinner there on a Wednesday but upon arrival the schedule had changed. It was fine, the concierge was able to get us into the restaurant we were dying to try.
Breakfast I booked through my travel agent so with her benefits we received a full breakfast for each of us. The breakfast a $42 credit per person is more than suitable. Although after seeing the breakfast reviews I again want to go back once they are at full service. Needless to say the long lazy room service breakfast was amazing. The five of us sat, lounged, talked and enjoyed it thoroughly in our PJs.
Please call the hotel before you arrive to get the most up to date dining options.
The Tea Experience
Truthfully I love afternoon tea. I make reservations for tea wherever I go and often plan trips around high tea. All of my tea experiences at Ritz Carltons have been wonderful.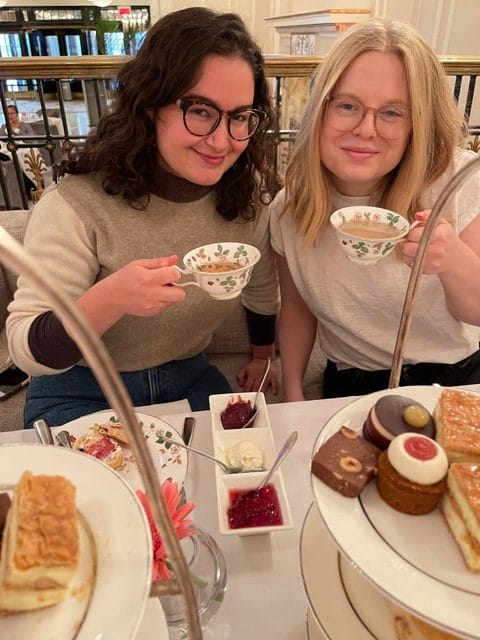 Tea service at this Ritz has been a mainstay stay since 1912. They have always stayed traditional with a fine selection of teas, scones, tea sandwiches and of course pastries. This is one tea service I would do more than once when visiting Montreal.
The Tea Experience is served in the beautiful Palm Court and feels so private. I do love that tea here starts at 11, so you can take a lazy morning in your room, have an early tea and then venture off for the day. Or since tea is until 4 PM you can return to the hotel for a late tea, relax and then head out for a night on the town.
The Lounge Experience
Also in the Palm Court Lounge the Lounge Experience starts at 4 PM. The lounge signature experience features Dom Pérignon champagne. Again in the iconic space right off the lobby you feel tucked away and taken care of. My sister, myself and our young adult daughters enjoyed an evening in the lounge before we headed out for a late dinner. Again, hanks to the amazing concierge team for booking.
We were seated in a comfortable corner that was beautifully appointed with a couch with pillow so lush I want it in my living room… the colors are muted and classic. We ordered a bottle of Sancerre and tried a variety of the menu items including the charcuterie and the guacamole.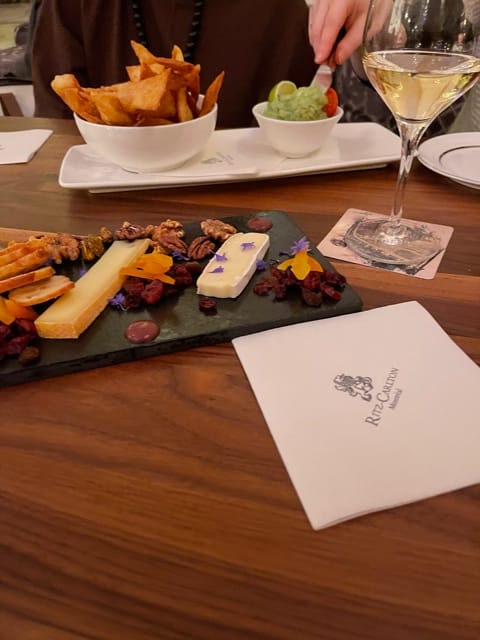 We would have ordered more but we had to save room for dinner and dessert. The staff was warm and attentive and never let a glass go empty.
It is the perfect space, especially during these times, to feel out and relaxed yet private and safe. We could have sat there all night.
Maison Boulud
2-Michelin star Chef Daniel Boulud is the mastermind behind Maison Boulud. I am so sorry to say that our stay did not overlap with the restaurant being open but we did see Chef in a meeting in the Palm Court Lounge donning his chef coat during our tea. I do not get celebrity struck at all except when it comes to my favorite chefs. I sat down for tea and proceeded to tell my sisters, daughter and niece all about him and what we were missing.
What I really like about Maison Boulud as a hotel guest is that it has a separate entrance on Sherbrooke Street so you do not have dining guests in the lobby. The restaurant menu is fine dining with an open kitchen, as a warm bar and offers private dining as well. Honestly my husband and I are planning a trip up to get away. Dinner at Maison Boulard is a priority.
The Staff
I cannot begin to say enough about the staff. The communication started to roll in right after our travel agent booked, asking if we needed anything. Telling us about on-site Covid testing, giving us recommendations for dinners and more. From pulling up to pulling out you felt not just like royalty but respected and like family. As far as this traveller is concerned, the best service does these three things. The Ritz Carlton does it best!
The concierge was able to get us dinner reservations at a restaurant we had been waiting to try and we could only get reservations in December when we started looking at the end of October. They helped meet every need from having a courier pick something up to Montreal bagel delivery to our room to take home.
The front desk and customer service staff had a birthday cake, champagne and roses set up for my sister's birthday and helped with a few other little things.
The housekeeping staff was above and beyond fabulous.
I cannot say enough about each and every staff member we interacted with from booking on.
Gentle reminder – tipping is always a good thing, bellmen, concierge, housekeeping.
The Pros
Check in – My sister and I both arrived at the airport around noon, after Covid testing and customs we arrived at the hotel about 1:30 PM and one of our rooms was available for check in. It was so wonderful to have a place to relax after a morning of travel to wait for our other sister and our girls.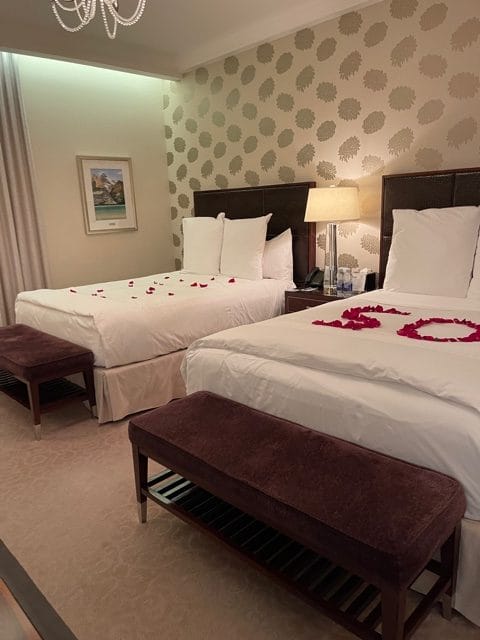 Staff – I cannot say enough about each and every member of the staff. Fabulous!
Covid testing on site – this was a huge bonus.
The Cons
At check in we had just one bump in our stay that could have been avoided with transparency and communication. Our Suite was available for early check in, but no one told us the connecting double queen was occupied and the guest was guaranteed a late check out. Given the hotel Covid policy and procedure we were okay with turn around time, not thrilled but ok. But getting the room late was disappointing. They did offer a different room but we wanted to be connecting so we dealt with it and they gave us a credit for the inconvenience. Honestly if we would have known we would be required to have a late check in we would have been fine – it was the transparency. Just a speed bump.

Banquet table – The suite was just lovely but then there was a ugly small round table with cloth to the ground that didn

'

t match and banquet chairs. I like to assume they added these for us knowing we were 5 people and would be having breakfast in the room each morning so that is my story and I am sticking to it.

The view of the Four Seasons that looked like a chocolate box wrapped in gold – well con for the Ritz as now I also want to check it out. – Just kidding but the building is just beautiful and I wanted a box of chocolates my whole trip.
Would we stay at the Ritz Carlton Montreal again? 100% yes and I will. We are trying to find time to head back sooner than later.
Looking for more ideas about traveling to Canada? Check these travel guides out:
I am a home cook that does things my way. In my kitchen, I make breakfast, pack lunches, prepare snacks, and cook dinner. During the week, we eat real food that is homemade, organic, and local. On the weekends we do explore more of our local restaurants. I bake my own bread, juice fresh oranges every other day, and make my own kombucha and other weekly favorites.