Looking for gifts for adult children? With the holidays approaching and adult children on your shopping list, you have a few options. You can choose to buy them gifts that will benefit their lives or you can give them an experience they'll never forget! Check out our favorite gifts for adult children for ideas!
Gift Giving gets more difficult as kids age. When they are young it is easy to choose the "it" of the new and improved toys. I love buying for my young niece and nephew because there are so many options. But as kids get older it gets harder and giving them checks or gift cards is not an option for me. I like the whole gift-giving process. I like knowing about their lives, what they are doing, what are their interests and wishes. Finding gifts that match these special people is what I look for.
In the past, we have had themes for the eight nights of Hanukkah and have stuck with them for just about 25 years. Some have been more well-received than others but here are some. PJ Party, Hanukkah Box, Library Night, Game Night or an Experience to look forward to. The themes are endless. But this year I watched and listened and focused on their lives and items I thought would be both meaningful and useful in their lives. So this year we had a few of our theme nights but then we changed things up a bit.
Here are the gifts for adult children we bought this year including some of the affiliate links you can use to get them as well.
10 Gifts for Adult Children
Prepdeck
Prepdeck is absolutely the most popular gift this year. We gave one to each pair and they are loving them. It is an all-in-one deck with all the tools you need to prep a meal or do meal planning for the week. I ordered a bundle that included the Prepdeck, cutting board, tools and a few bonus containers. The kids (adult children but always my kids) loved the accessories and the area to store all the crumbs. Prepdeck also has a great blog with lots of ideas. Get $20 off here.
Meal Planning Book
Another big hit! The Ultimate Meal Planning Book from America's Test Kitchen. The kids all do meal prep as couples on Sundays. All have also been complaining for a while about always cooking the same things and getting tired of what they are eating. I love this cookbook because it has so many options and offers so many tips The sections include options as well as lists for pantry and market. And for me, the selling point for adding this book to my list of gifts for adult children was that it uses real food but is simply prepared.
Boba Tea Kit
All the kids (again adult children) love boba. And they all also love making things and they all prefer to make things themselves so boom – Mom and Dad to the rescue with the perfect Hanukkah gift: The Locca Boba Tea Kit. It includes all they need for over 24 Bubble Teas in a variety of flavors including matcha and jasmine. Yes, the boba is included as well as the straws!
They were all so excited to get home to make it themselves.
Best gifts for the dog lovers in your life!
Cheese Knives
Then we did another two-night theme of cheese. We first gave each couple beautiful cheese knives. There were many options but we ended up with knives with pretty basic wooden handles. Growing up, the twins always loved being adult enough to use the cheese knives. There are a lot of options when picking a cheese knife and serving kit but I really like this one from Harvest. It is simple, goes with everything, looks upscale and has all the different types of pieces needed for the perfect charcuterie board.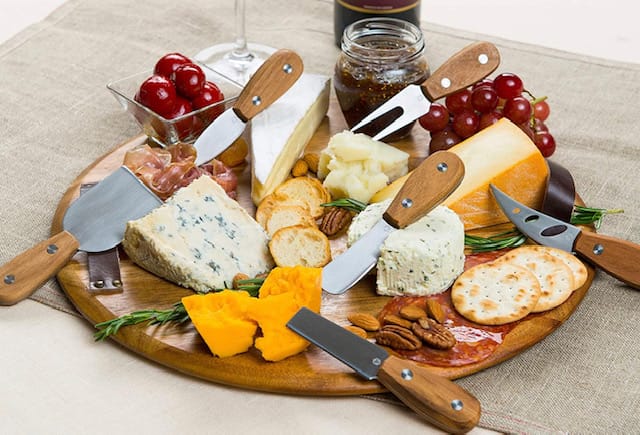 That Cheese Plate Will Change Your Life Book
Basically, I bought this book for the title. Then when it got here I went through it and ordered one for myself. The author, Marissa Mullen who also is the Cheese by Number guru and behind the amazing Instagram @ThatCheesePlate is so beautiful. That Cheese Plate Will Change Your Life combines the cheese plate, entertaining and self-care. Sounds crazy, right? But it works and works well. I am excited to see what the kids create with this.
Kite
Yes, we got the grown adult children of ours a kite. Not only did they open it, but they were out in the field flying them like a child with a new bike. The kites are so cool from beginner to stunt kites. The boys (young men) were out all bundled up once the Gale Warning was lifted and they got the kite soaring in no time. David was in charge of picking out the kite and it was a win! They are so excited to get them back to NYC and Chicago to fly them in the parks. They are small when easily packed. so will also be perfect to take camping and/or trips to the beach.
Slippers
Yes, we did it – we got each couple matching slippers. Generally every year one night is dedicated to socks or slippers and I pick them up at Target where I can always find really cute ones. Well, this year we turned it up and notch and got fancy Bombas slippers. They are super cool and so comfortable. I love the company and its commitment to giving back. They won this purchase.
PJs
I will never give up on tradition and since I was over the bridge doing some shopping I was rolling through Target and they had matching Hanukkah PJs so that was it. I switch up from fancy to flannel to onesies and this year Hanukkah Pjs. Ever since the twins first Hanukkah they got PJs so this year was nothing new.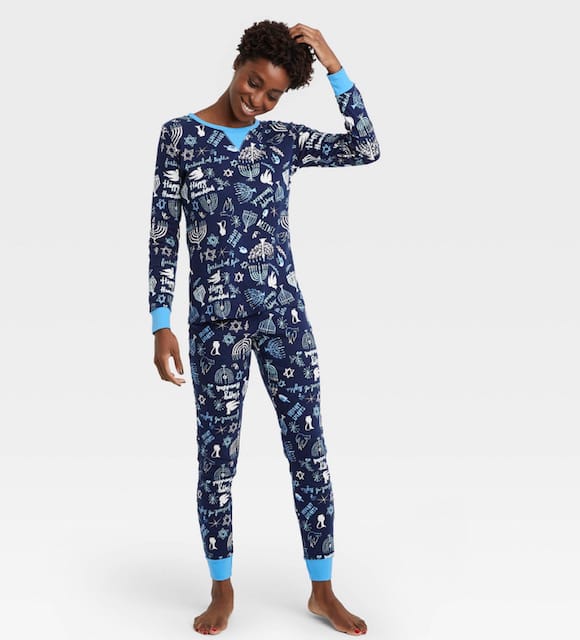 So whether you have holiday gift-giving traditions or switch it up every year I hope this lends a little help to buying gifts for adult children. P.S. Those Bombas are great for "mature" parents who need a little help from slipping down the stairs.
I am a home cook that does things my way. In my kitchen, I make breakfast, pack lunches, prepare snacks, and cook dinner. During the week, we eat real food that is homemade, organic, and local. On the weekends we do explore more of our local restaurants. I bake my own bread, juice fresh oranges every other day, and make my own kombucha and other weekly favorites.