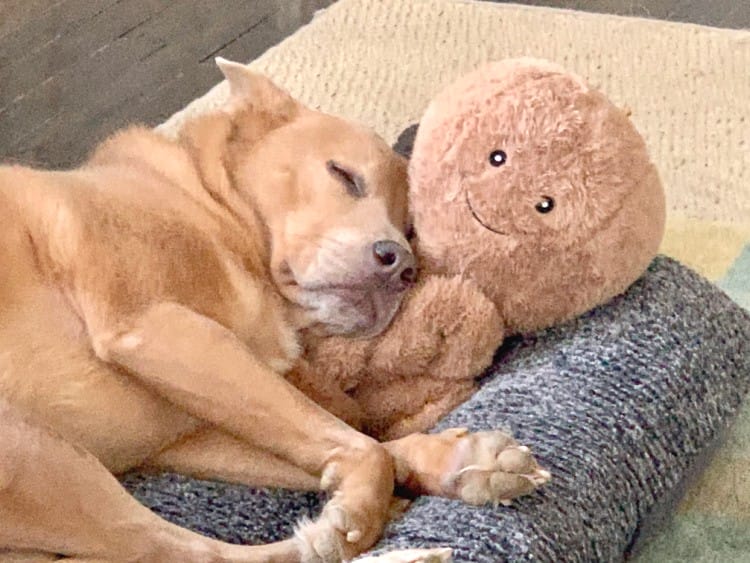 Looking for the perfect holiday gift for your dog loving friends and family? Check out 15 of our favorite gifts for dog lovers! They're cute, thoughtful and fun!
If there is anything dog lovers' love more than their dog, it's talking about their dog and of course, spoiling them rotten with gifts. We've rounded up the best gifts for dog lovers to make shopping easy for you this holiday season.
These gifts are super cute and fun and perfect for any dog mom or dad! You will find some stocking stuffers and even a gift for Fido himself! These gift ideas are also perfect for your dog walker, groomer or favorite veterinarian.
From cozy sweatshirts to some coffee table books to enjoy on a hard day, these gifts for dog lovers are going to be a hit when your dog loving recipient opens them up.
You all know we are all about our pups. Between the two of us we have 5 rescue dogs that we just adore and treat like members of the family. If you know people like us, the holidays are just the right time to turn it up a notch and get them a gift for their best friend.
Disclosure…This article contains affiliate links.
Let's get started…
15 Perfect Gifts for Dog Lovers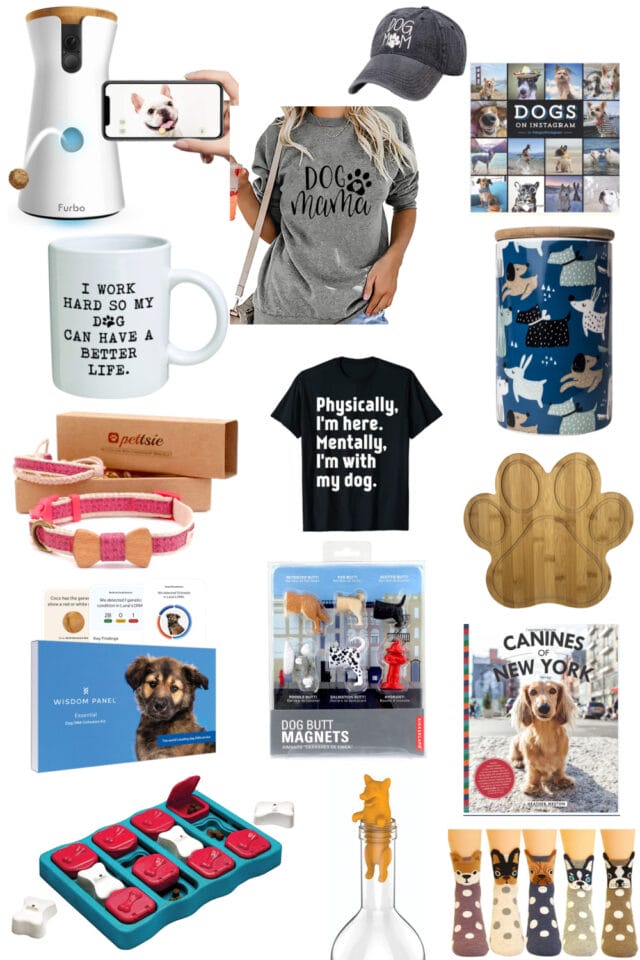 Canines of New York Hardcover is the perfect gift for any dog lover. This clever book is a prefect companion to Humans of New York.
This cute Treat Jar is perfect to hold all of your pups favorite treats. We love the silicone lid to keep all the treats fresh. Fill it with homemade dog treats!
These Dog Butt Magnets are a must have for the refrigerator and also perfect for a gift for your vet's office to put up on their file cabinet.
This is a bit over the top, but a really fun gift. The Furbo Dog Camera is connected with your phone and can toss a treat. The best part is that the audio is 2 way and has a camera for you to see your pup. You can even see them while you're away from home!
Having a rescue pup often means that we do not know the entire genetic make up. The Wisdom Panel DNA Kit takes all the guess work away.
We do like turning it up a notch when it comes to giving gifts and this is a gift that we are sure not one of your friends already has. Get them the Puppy and Me Matching Collar and Friendship Bracelet.
We have another great book that is perfect for any dog lover. Dogs of Instagram hardcover book.
Not all gifts for your dog need to be about them. Check out this great hat that every Dog Mom must have.
And if this shirt is not true, I am not sure what is! Check out this great shirt.
Everyone needs to be stimulated and pups often need to be kept busy! We are loving this Interactive Pet Puzzle, especially Zoe! Watch Sherry's Kayla tackle the puzzle. I break up my homemade dog treats to put into the puzzle.
Here is another great gift that we are sure the dog lover in your life will not have! A Bamboo Paw Cutting Board which is perfect to us to serve with a Charcuterie!
Just when you thought that the Dog Mom hat was enough we thought you would also enjoy a sweatshirt!
Whether you are a Corki owner or not, this Corki Wine Bottle Stopper is a must have. And it is perfect to pair with a your favorite bottle of wine!
Everyone needs a good mug in honor of their mutt and this one is perfect!
We cannot get enough of these cute socks with the fun ears. They make perfect gifts for dog lovers.
Be sure to check out our other gift guides for natural and organic gifts and gardeners!
I am a home cook that does things my way. In my kitchen, I make breakfast, pack lunches, prepare snacks, and cook dinner. During the week, we eat real food that is homemade, organic, and local. On the weekends we do explore more of our local restaurants. I bake my own bread, juice fresh oranges every other day, and make my own kombucha and other weekly favorites.