No matter how old your kids are, you always need to have toys in tow if you are at a race. It doesn't matter if it's a sprint or a full-distance, they are a necessity. There will always be downtime and kids need to be able to relax, run around, or engage in an activity. I just hate to see when they are napping in the middle of the race, because I know the kids are really bored and not having a good time. Trust me, I've been there…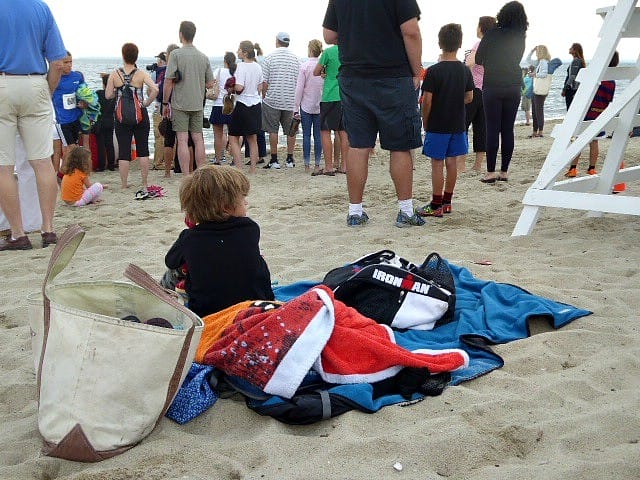 Even now with young adults, I always make sure that I have a lightweight blanket to define our space and to chill on and some great things for us to do. Honestly, even I can use a break from watching people run around in spandex all day! Who's with me?!
Easy toys to bring to a triathlon to entertain kids of all ages…
Small Hand-Held Toys to Bring to a Triathlon
These are a must have. First, you don't want to have big toys that are hard to transport and second, you don't know until race day how much space you will have to play in. From infants to adults, things we can play with with our hands are so important. Some of our favorites are classics like silly puddy and maze games. Think of these as toys other than electronics you can put in your kids' hands to keep them busy.
Coloring books are a big hit for young and old alike, but come with the warning that crayons and colored pencils can melt on a hot race day. We also love to bring arts and crafts materials like lanyards and yarn to get creative. There are many compact, lightweight travel games you can get that offer multiple games in one, such as checkers, cribbage, and backgammon in the 6 in 1 Travel Game
.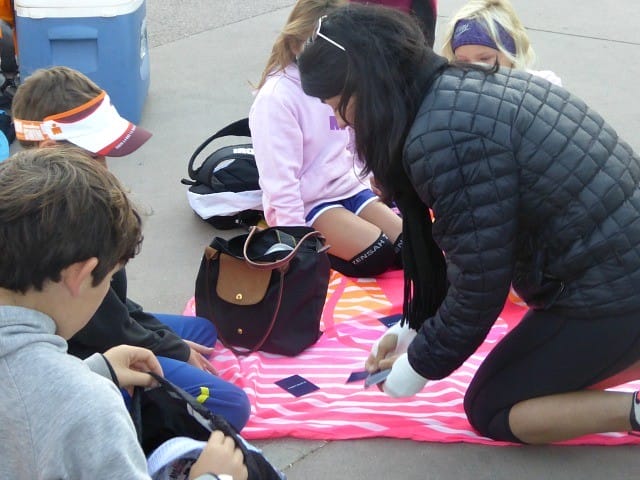 Card Games to Bring to a Triathlon
There are so many awesome new games for all ages out there now as well as a plain old deck of cards. You will always find a few decks and card games in my bag. They are easy to transport and fun. Starting with infants and the animal or faces cards, they love to look at them, kiss them, and drop them for you to pick up. As they get older, matching games become fun and then the real fun begins with competitive games and teaching them all the games you used to play. Uno anyone? I always try to pick up a new game when we head out to a race, so we can learn to play together.
Bubbles
Bubbles have been an all time favorite ever since we began our triathlon journey. They are fun, easy to pack or buy, and can entertain for hours. The kids have made up so many games with them. They are also a great way to meet new friends. Who doesn't love bubbles? When we hit the local market or order groceries for the race, I always get a multipack so we have bubbles to share. As the kids got older, they loved to blow them on the race course and athletes would jump to pop them and have fun. Even at our last race when they were 18 years old, they were blowing them and having fun entertaining younger kids.

Books to Bring to a Triathlon
Truth is, it's a long day out there being a spectator and sometimes you need to be able to just chill. No matter how old the kids are, bring a few books from home and lay them out on your blanket. Some races when my kids were teens, they could finish a whole book on race day. If you have multiple kids and various ages, be sure to bring what is appropriate for each and a boom for yourself. You could even try making new friends and have a book exchange. Of course, you can also read off your iPads or Kindles if you must…
Race Swag
We're talking bells, hand clappers, fake tattoos, and other swag sponsors give away. No need to pack this stuff in your suitcase. Head on down to the race village and vendor area the days before the race. The different vendors and sponsors will have great swag. Pack it up in your race day bag and boom, new toys! Spending time at the race village allowing kids and adults to make posters is also great the days before the race and makes your triathlete smile on race day.
If you need some more great toy ideas, check out our friend, Rebecca's best travel games for kids at R We There Yet Mom.
What is the best toy you brought to a triathlon race for your kids?

Sherry is one of the TriWivesClub and LifeDoneWell co-founders and contributes to multiple blogs. She is a former co-owner of the California Apparel News and had a career in the healthcare industry. Her passions include traveling, real food, the environment, and animal rescue/welfare. She lives a healthy lifestyle and has been a vegetarian since 1987. She and her husband are parents to two rescue pups and reside in Connecticut.