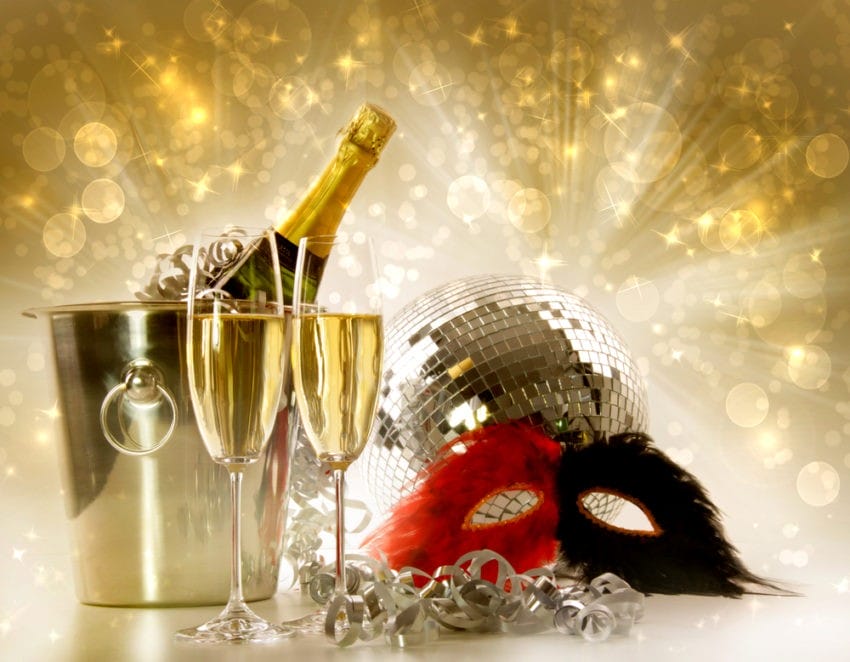 Are you hosting a New Year's Eve party this year? Is it just for a couple of friends or a big crowd? Are you thinking it's time to elevate your party to a new level? We are entering a new decade after all, so why not take it up a notch and add sparkle to a New Year's Party Eve?
Whether you are having a family-friendly affair that will include more chicken nuggets than chickpea
salad or a swanky adults-only bash, you can elevate it. While it usually takes a little time to plan for New Year's Eve before the holiday comes around, perhaps you forgot to do it during that post-Christmas/Hanukah haze. So, don't worry. We have your back. We are here with some tips to help get you focused.
7 Tips to Add Sparkle to a New Year's Eve Party
Serve Something Sparkling
Of course, most people will think of champagne to serve on New Year's Eve. However, not everyone
drinks alcohol. And others who have lots of kids underfoot may want to eliminate alcohol, too. This doesn't mean you have to give up the bubbles. "Splurge" on sparkling apple cider or even sparkling water that you can pour into champagne flutes. Add some raspberries for color.
For those who will be serving alcohol, keep it festive and simple. Don't feel like you need to buy the most expensive bottle either. Proseco is a very nice alternative. Making a sparkling punch is usually a crowd pleaser, too.
Mix Up the Guest List
Do all of your friends know each other? Maybe you need to expand your circle. Make it wide!  Think of
inviting people who may not exactly fit into your season of life or social circles. As we enter a new decade, now is the time to grow your friend group. Invite someone you want to get to know. Who could you invite?
Spend Time Reflecting
Too often, we spend New Year's Eve looking ahead, making resolutions, and planning for the future.
However, this can make you anxious and stressed out thinking about all the things you want to get done. Spend time reminiscing about the accomplishments of the past year. Live in the present for a night. Pause. Reflect. Give yourself the opportunity to embrace the new year with a fresh spirit.
Chose a Theme
Yes, New Year's Eve can be a theme all on its own. However, to really impress your guests, choose a
fun theme for the night. You can do something as easy as picking a color. Let all the guests know to wear the color and serve drinks and food within the hue. Or go all out…How about the Roaring 20's?
Have Food and Drinks to Spare
No matter what you serve…have lots of it. As every good host knows, there is nothing worse than running out of food or drinks. If you are having a casual affair, make it potluck and ask guests to bring a dessert or appetizer. Be sure to chill the wine or drinks a few hours beforehand. Placing champagne or sparkling bottles in the refrigerator for a few hours will help. If you are short on time, fill a wine bucket with equal parts ice and water and it will only take 30 minutes for the bottle to chill.
And have plenty of options for people with unique food and drink preferences and allergies. Here's an additional tip for the non-cook…Hit up your local grocer, but Trader Joe's is the best. Make a cheese platter and pick up lots of the frozen appetizers, warm in the oven and you're done. If there is still too much work, make a giant ice cream sundae bar and have lots of chips and dips.
Don't Sweat the Small Stuff
While this is good life advice, it is also good advice for hosts who sometimes fret over the tiniest details. Don't miss the forest for looking at all the misshaped trees! If you don't have enough champagne flutes, don't worry. Use regular wine glasses. In fact, some wine experts think white wine glasses are actually better.
Serve food you can make ahead of time or consider catering the affair, so you can spend time
actually having fun. Let go of what "should be" and embrace what is. What a great way to move into 2020!
Have a Take Home Gift
As you bid your guests farewell, give them something to remember the night. It doesn't have to be big or fancy. A small bottle of local honey or candy will encourage them to have a sweet new year. A festively wrapped container of nuts will let them know you are nuts about them.
If you have little kids at home, have them make ornaments, pictures or another cute craft to give out. While a take home gift isn't necessary, it just elevates your New Year's Eve celebration to a new level.
Whatever you decide to do for NYE 2019, do it with flair. Your guests will be sure to appreciate the
opportunity you have provided to mark the occasion together. And trust me, the time together is what matters most!
May your New Year's Eve celebration be one for the record books!
Happy 2020!
I am a home cook that does things my way. In my kitchen, I make breakfast, pack lunches, prepare snacks, and cook dinner. During the week, we eat real food that is homemade, organic, and local. On the weekends we do explore more of our local restaurants. I bake my own bread, juice fresh oranges every other day, and make my own kombucha and other weekly favorites.