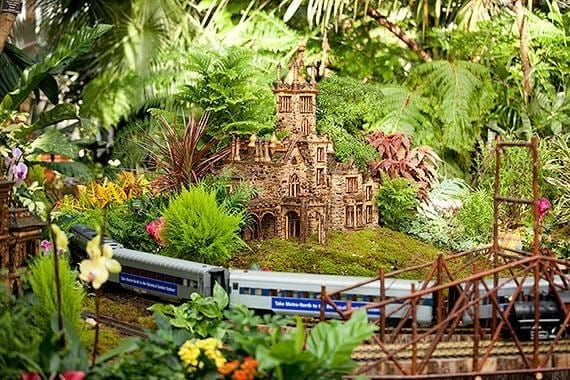 UPDATE 2018:  The train show runs 11/17/18 – 1/21/19. I went and can totally say it is magical and well worth the effort. Arthur Avenue is not far away so you can head over for some authentic Italian food after the train show.
Once the temperature starts to drop, it gets tricky to find indoor activities appropriate for all ages. The New York Botanical Garden's Holiday Train Show is the perfect outing for when the family comes to town or you are visiting New York for the holidays and need a break from the fast pace of the city.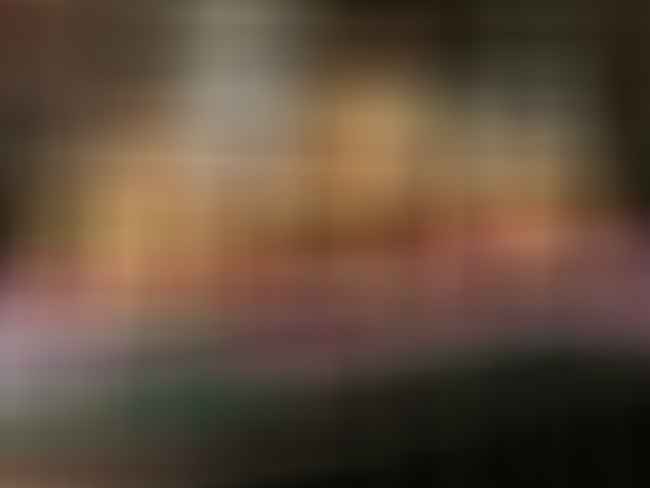 The NYBG is turned into a magical winter wonderland, where enchanting model trains weave through a display of 150 classic New York landmarks and streets, all created out of natural materials, such as leaves, twigs, and bark. It all takes place under the twinkling glow of the Enid A. Haupt Conservatory.
You'll see familiar sights such as the Brooklyn Bridge, Statue of Liberty, Coney Island, and Rockefeller Center on nearly a half-mile of track. It's a magical land where kids of all ages, including my 20-year-old self, can get lost in. This year, the NYBG is celebrating 25 years of the Train Show, so it should be a special event.
You can purchase tickets online for a specific time for the show and my biggest tip would be to not show up too early. There isn't too much else to do there when the weather is really cold and everything worth seeing is only accessible after you finish the train show. That being said, I would take some time after you finish the train show to explore the different exhibits.
You'll find over 250 acres to explore with everything from desert and rainforest environments to beautiful greenhouses with lily pad filled ponds.
Plan your time to enjoy special tours, various concerts and performances, and activities for the kids. Just be sure to save room for a snack at the Gingerbread Cafe and to purchase gifts at the gift shop.
For those 21 and over, you don't want to miss "Bar Car Nights". You can grab a complimentary drink and enjoy live music, ice sculpting, performances, and a tipsy train show! On these nights, the wintry landscape of NYBG sets the scene for festive outdoor adventures, with an after-dark viewing of the expanded Train Show.
This year's Train Show runs from November 17 to January 21 and you can purchase your tickets, which we highly suggest. This event, including the Bar Car Nights tends to sell out.
Dining
If you want to grab a bite while you're there, you have 2 options. There's the more casual Pine Tree cafe or the Hudson Garden Grill. I haven't eaten at either, so can't offer an opinion.
I can, however, recommend heading on over to Arthur Avenue for some authentic Old World Italian food and shopping. It's only about a 5 minute drive and well worth the trip. We ate at Mario's and love the food, but more importantly, the atmosphere.
Getting There
The NYBG is located in the Bronx, across from Fordham University. If you live in NY, you can take the 20 minute train ride from Grand Central on Metro North or take the subway. Be sure to check out the website for detailed directions.
Sydney is our Millennial in NYC, besides being a professional dancer trying to navigate New York City. She moved to the city to follow her passion of dance. Her philosophy: I moved to the city naïve but ready; ready to work hard and do whatever it takes to ensure regret is not in my vocabulary. I am empowered and ready to go.
She completed the Broadway Dance Center Professional Semester and signed with MSA talent agency. She is now a working dancer in New York City, auditioning for anything and everything from Broadway to commercial gigs and contemporary companies.  Sydney is a member of The Orsano Project.
This space is where she share bits and pieces of my life in NYC. She's just a gal dancing around the streets of the city, trying to cook and discover good food, enjoying good company, and trying to avoid getting dripped on by air conditioners.
Sydney has traveled the world in luxury with her parents, in hostels with her twin brother, and solo with groups and bucket showers.