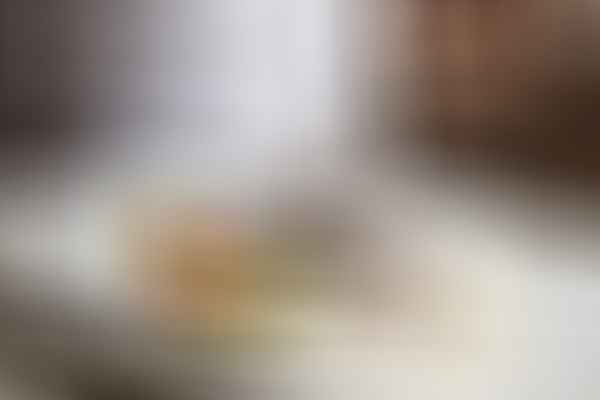 Enjoying tasting menus around the world is one of our favorite indulgences. Leaving your dining in the chef's hands and enjoying their personal menu is our favorite way to dine. Whether we are eating locally or around the world, we find that these tasting menus are one of the best ways to fully get a feel for the chef, restaurant, culture, and area.
What Are Chef's Tasting Menus
A tasting menu is a series of small plates that lets a chef present his/her specialties. It is a true sample of the chef's talents with specialties of the area and/or featuring local ingredients. Traditionally, tasting menus are 6-9 courses of small bites, but some tasting menus have had as many as 40 courses or more, like Thomas Keller's French Laundry in Napa.
Tasting menus are often offered with wine pairings and we highly suggest enjoying them. The chef and sommelier work together for perfect pairings. Recently, we had a beautiful blended rose with a ravioli foie gras. Who knew they would be so wonderful together! We have even found tasting menus that are focused on the wine regions.
Today, tasting menus around the world are not limited to dinner. More and more restaurants are offering lunch tasting menus like NIX in New York City. This vegan and vegetarian-focused Michelin Star-rated restaurant only offer their form of a tasting menu at lunch. And it is the best-priced tasting menu ever, especially for a Michelin Star restaurant.
For a mere $35, you can get a "Walk Around the Garden" which will feature some menu specialties as well as one or two special bites. It is a little different from a traditional tasting menu in that the kitchen will serve a few courses from the menu.
As an FYI…Tasting menus around the world are much different than a prix fixe menu in that a prix fixe menu is set by both numbers of courses and offerings. You'll have say 3 courses with options for each at a fixed price.
Rules of Etiquette For Tasting Menus Around The World
The etiquette of a chef's tasting menu is very important and pretty simple. When you order a tasting menu or a chef's menu you are leaving it in the hands of the chef. Often, the menu will be described or posted ahead of time, but many times it will not.
The simple etiquette is this…Just enjoy and do not ask for changes. If you need to ask for changes, chances are the tasting menu is not for you.
Also, schedule your time appropriately when ordering. In general, the meal will take 2-4 hours. Do not rush it!
The other piece of etiquette is that generally, your entire party needs to order the tasting menu. Most restaurants will not allow you to order the tasting menu unless everyone at the table does.
Tasting Menus in France
In many countries and restaurants that represent that culture, tasting menus are called something a bit different. A French tasting menu is called a dégustation. Dégustation started in the early 1900's while in the United States tasting menus really flourished in the 1990s. Traditionally, with about eight courses, the focus was on ingredients and culinary art. Truly an art and feast for the eyes as well as the taste buds. The French dégustation almost always includes a wine dégustation.
Tasting Menus in Japan
In Japan, the tasting menu is called an Omakase. Omakase translates to "I'll leave it up to you" or "entrust". Omakase started out less as a tasting menu, but more of a way of ala cart ordering. Traditionally, you would sit at the sushi bar or Chef's table and just say "omakase". More recently, Omakase dinners and menus have popped up all over.
Several favorite Omakase restaurants of ours are actually in Omaha…yes, Omaha, Nebraska. Ota pops up around town via an e-mail or Facebook message, where you can get on the list to get a seat at the table. Then there's Yoshitomo, recently opened by Chef David Utterback. You can enjoy his Omakase menu any night of the week in the dining groom or reserve his Omakase room for 6 people.
A great example in NYC is Sugarfish from LA. The menu offers three types of "trust me" menus with varying items and amounts. Each delicious bite is served on perfectly cooked and just warm rice. When your bite arrives, you must eat it immediately.
7 Favorite Chef's Tasting Menus Around the World
1. Regent Seven Sea Explorer Compass Rose
Each day the menu changes based on both the ingredients available and the wines from the ports of call. The menu is often inspired by the port of call as well.
2. The Greenhouse, London
The Greenhouse is one of our overall favorite restaurants in the world even if we're not enjoying the tasting menu. We lived in London a few years back and dined here on special occasions. It is so lovely and is located in a Mews, which makes it so very British. You walk down this little tree-lined path into a tranquil sanctuary and all your cares fade away.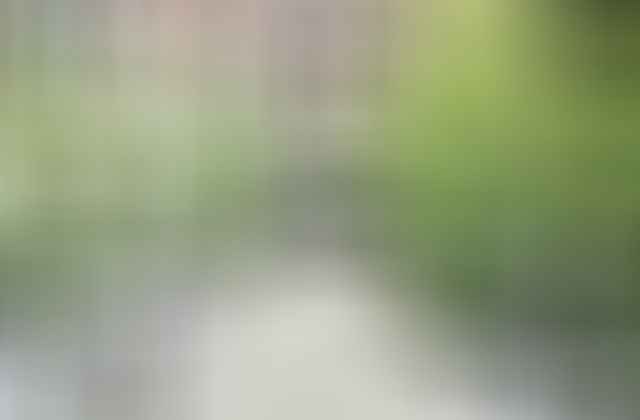 While The Greenhouse draws from classic French techniques, it is modern cuisine with unusual flavors from around the world. They also have an amazing vegetarian menu and champagne cart. Chef Arnaud Bignon has one Michelin Star.
3. Château Eza in Eze, France
The tasting menu at this gorgeous restaurant and hotel in France is served all day until 9PM. Finishing with the cheese service is a must. The menu does change seasonally and beyond the food and the wine, the view is worth the money and trip to Eze. Leave plenty of time to explore the village both on your way to the restaurant and after you dine.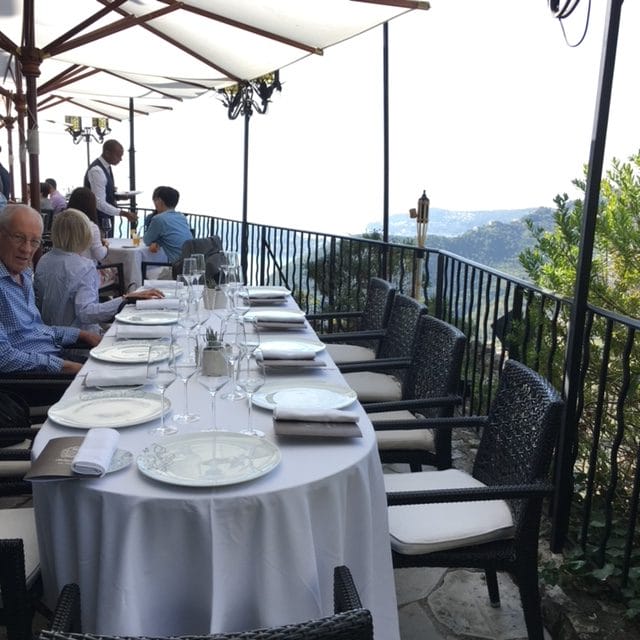 4. French Laundry in Napa Valley
This was one of the original chef's tasting menus offered in the United States and still remains a highly coveted reservation. Owned by Thomas Keller and located in a beautiful space in Napa Valley, the menu and wine pairings are simply breathtaking. The menu changes daily and no ingredient is ever repeated throughout the meal. It is a once in a lifetime experience that should be enjoyed many times in a lifetime.

5. The Modern in New York City
Located in the beautiful Museum of Modern Art, the setting itself makes this a special place. The restaurant overlooks the sculpture garden. The actual tasting menu is only served at the Kitchen Table where you can watch all the action. You can choose between the lunch, early dinner, or late dinner seating. Whichever you prefer, it is a must.
6. V Mertz in Omaha
I would be a failure not to mention the one tasting menu we indulge in at least once a month when we lived in Omaha. The menu changes often and represents what chef can source. The menu starts with a few "snacks' and then moves to some small plates. Then, it progresses to savory courses and finishes with dessert. We especially love the vegetable courses in season. And it's pretty cool that even in a small-ish town like Omaha, Nebraska, you can still find one of the best chef's tasting menus around the world.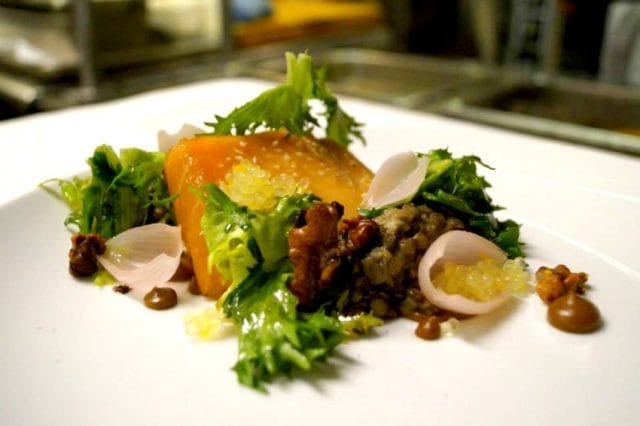 7. Le Bernardin in New York City
We've been to Le Bernardin several times, but only on very special occasions. Chef Eric Ripert is recognized as one of the top chefs in the world and his 3 star Michelin-rated restaurant is a perfect showcase for his talents. The restaurant offers an 8 course chef's tasting menu or a vegetarian tasting menu. They believe in preparing the freshest seafood with the simple philosophy that the fish is the star of the plate.
Have you enjoyed some fabulous chef's tasting menus around the world somewhere? Favorites?
I am a home cook that does things my way. In my kitchen, I make breakfast, pack lunches, prepare snacks, and cook dinner. During the week, we eat real food that is homemade, organic, and local. On the weekends we do explore more of our local restaurants. I bake my own bread, juice fresh oranges every other day, and make my own kombucha and other weekly favorites.