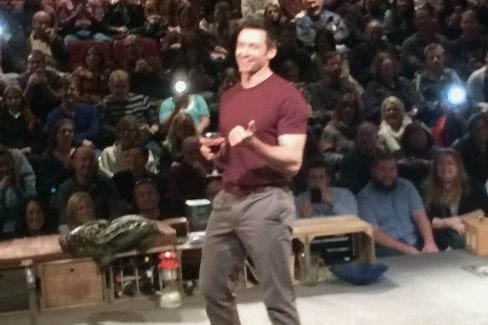 I literally am writing this waiting for a play to start…
I am not that old, at least by my standards and the way I feel, but I really feel old saying this : I remember a day when everyone got dressed to the nines to attend the theater.  Today, I must say I am insulted and embarrassed by what people have on here around me today.  Tank tops, flip flops, cut off jean shorts, and men and women with body parts exposed.  Trust me, it's not THAT hot outside.
I am proud that the theater is accessible and that people are attending, but let's at least give our respect to the actors and actresses.  Call me old school, but there is something romantic about the red seat, the beautiful space, and the hours and hours and hours of time that the actors, actresses, musicians, production staff, and everyone else involved has put into the show.  Take off the t-shirt and put on a collared shirt and above all, cover your mid section.
Wait, stop everything.  The women next to my son, well across the aisle from him in the premium seats, which are $280 a ticket, just pulled out a brush and is brushing her hair.  Stop, I can't handle it.  Am I wrong?  Isn't it about respect?  I mean she is sitting literally 2 inches above the stage.  And not once, not twice, but 3 times she has pulled her brush out of her Louis Vuitton bag and flipped her hair both ways and brushed it, like right over the stage.  If she carries her brush in her bag, why not a little pair of cheap ballet flats to slip on and take off the flip flops?
I am in no way judging people and would never do that.  This is not about one person or two people; this was over half of the people in our theater.  This is not about those with and those without.  And, this is not about saying you must be dressed to the nines.  All I am asking is please give a little respect.  Truly, I am still having issues with people flying in their pajama pants, so this has me floored.
I get how people spend all day in the city site seeing and they want to be comfortable, but plan ahead a little please.  Don't give me the excuse you just decided to pop in to see if they have tickets or you stood on line at TKS.  Truth is, in reality, you most likely had an inkling you might see a play when you got dressed this morning.
What not to wear, please!
Flip flops
Tank tops with spaghetti straps
Gentlemen – NO tank tops, ever!
Anything that exposes the mid-section
Inappropriately ripped jeans
T-shirts, a men's black t-shirt is fine tucked in, but leave the rest at home
Cargo shorts
Athletic shorts
Short shorts
Again,  I repeat.  You really don't have to be dressed to the nines, although there are those who still do.
As for my family, we planned ahead.  We decided that since we knew we were headed to the theater, we would have lunch at a place we've been wanting to try and drinks across the street from the theater in a new hotel.  So, we were dressed as I see appropriately.  My husband wore tan pants and a long sleeve button down shirt.  My son had on a nice pair of shorts and a long sleeve button down.  My daughter was in a cute, comfy dress.  And me, I was in pants and a long top I love.  Nothing fancy, just put togeteher.
Folks, leave the flip flops and I Love NYC shirts at home or in the hotel room to take home. Get dressed! Please!
WHAT ARE YOUR PET PEEVES ABOUT HOW PEOPLE BEHAVE?

Sherry is one of the TriWivesClub and LifeDoneWell co-founders and contributes to multiple blogs. She is a former co-owner of the California Apparel News and had a career in the healthcare industry. Her passions include traveling, real food, the environment, and animal rescue/welfare. She lives a healthy lifestyle and has been a vegetarian since 1987. She and her husband are parents to two rescue pups and reside in Connecticut.