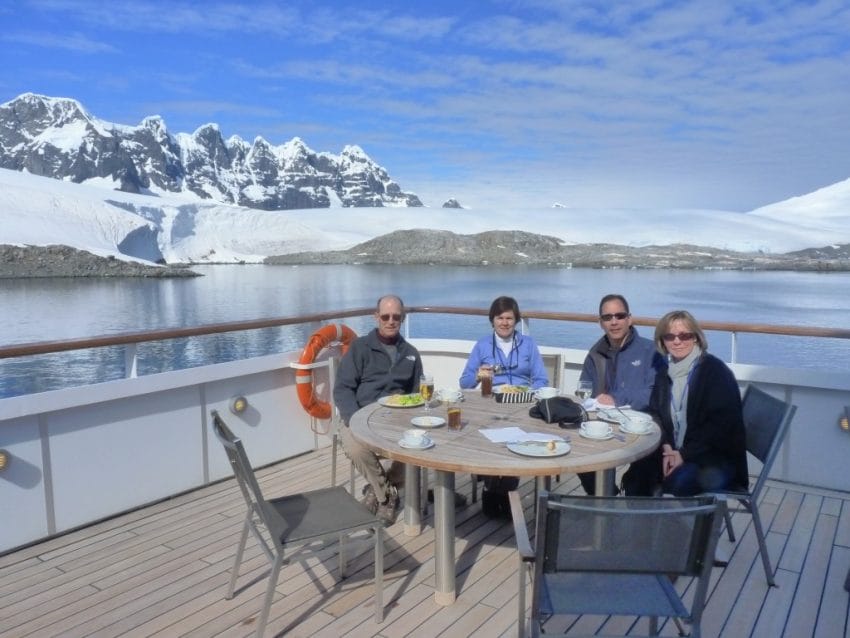 Have you ever paid attention to how people behave when they travel? Really behave…
During a recent vacation, I decided to watch my fellow travelers for just this reason and not all of it was pretty. In fact, some of it was down right ugly. I watched at the airport, on the plane, at the reception desk at the hotel, on the beach, at the restaurants…you get the picture. It started me thinking about what makes the ideal traveler whether at home or in a foreign country and how our actions affect not only our own and our fellow travelers' experience, but how we are perceived by others.
Anyone who is rich enough (in spirit and the wallet) to get to travel, whether it's for a destination triathlon race or for a weekend get away in your own home state, should never take it for granted. Traveling with your triathlete, solo, with your family, or with your best girlfriends is a privilege that should feed both your body and soul.
But, with this privilege means you need to be a respectful and responsible traveler to both your fellow travelers and the places you visit.
So, when I thought about what I have seen during my travels, I decided I could become a much more cognizant and conscientious traveler. With that in mind, I came up with some good travel habits to develop and rules to live by that I like to think will help make me AND you ideal travel companions!
Be A Considerate Passenger
Ouch. I've seen some really horrible behavior out of people that was downright embarrassing. Whether you are traveling by train, plane, or automobile, it can be a stressful time. Being rude, loud, and just generally inconsiderate can make for an unpleasant journey for both you and those around you. And, yelling at the ticket agent is probably not going to get you far and it certainly isn't the way you want to start your vacation. Also, if you're on a plane, please don't make a mess in the bathroom and if you do, clean it up.
Make Friends With The Locals
Most of my travel these days is a combination of hitting the tourist spots (if it's a new location) and getting off the beaten path. And, there is no better way to truly get the feel for where you are visiting then spending time with locals. While hotel concierges can be great sources of information, face it, they are most likely sending everyone to the same places. I now make sure they know I don't want this when I ask for recommendations.
I also ask friends if they know anyone who lives there before I visit or have been there themselves. This is also where you must be willing to strike up a conversation with a stranger, such as the waitress, taxi driver, clerk in the clothing store, etc. They can let you know those off the beaten path things to do and places to eat that only the locals are tuned into, but of which memories are made!
Leave Room For Happy Accidents
Are you one of those travelers who have to plan every single minute of a vacation? I used to be, but found it exhausting and left little room for a "happy accident". So, I've changed my ways. I still do my research for places I want to visit, exhibits, restaurants, etc. and if tickets or reservations are needed, by all means get them in advance. But, other than that, I try to stay flexible and just see where the day and night takes us. If we get lost, we use it as an excuse to explore – of course safety first! It's taken me a while to feel comfortable traveling this way, but have learned it's okay to make mistakes and can be a lot more fun.
Show Respect And Act Responsibly
Countries have their own customs and ways of doing things and just as you want people to respect the U.S. when they're visiting, you need to do the same. Dress appropriately, don't litter, don't be loud and obnoxious, watch the drinking; you get the picture. Be the responsible tourist.
Act Outside Your Comfort Zone
Eat something new and/or learn about the culture. Do one thing new or outside of your comfort zone each day. And, don't forget to share what you've learned with friends and family when you get home. Learn to be a better traveler if nothing else.
Seriously – Keep A Travel Journal
My husband had the brilliant idea to keep a travel journey right after we were married and it was one of the best decisions we made. Of course, I'm the one who keeps it, but that's okay. I have referred back to it multiple times just to make me smile and you can't believe how many friends have asked the name of that restaurant we so loved in London and I have the answer!
Bring Home A Memento
My husband and I always bring home a piece of artwork from wherever we are visiting and we actually place them throughout the house; the memories are there every day. These range from a really nice piece of art from a local gallery to a $10 painting bought from a street vendor in Paris. We even started collecting pencils from every place we visited for his sister and do you know how hard it is to find pencils these days! Maybe you like snow globes, whatever, just bring it home…
Be Kind And Smile
Don't be rude or unfriendly to people. You are on vacation and are so fortunate! Choose to be appreciative and be kind to the residents of the country you're in. Smile, say please and thank you. Put unpleasantries in perspective and react accordingly.
Be Bold
Take a break from your normal routine and just say yes to the adventure you are on. Take it all in. Don't just be a tourist, but be a sponge. Open up all of your senses and go as local as you can, while maintaining your safety and comfort level. I love the fact that no one knows me and will probably never see me again, so I don't worry about making a fool of myself.
Give Back
I was in the airport in Anguilla many years ago and they had donation boxes for the local animal shelter. It made me realize how important it is to me to give back to the community I just spent time visiting, especially those that are economically depressed and that I visit often. I have continued this practice and I urge you to choose a charity that has significance for you and help out as you can.
Finally, here are just some basic travel tips to help make your journey a more wonderful experience:
Bring a first aid kit
Always carry a back up credit card and extra money and keep in a safe
Pack lighter than you think you'll need – lay it all out and cut back by 1/4
Make a copy of your passport and keep in a safe
Let friends and/or family at home know you're fine
Takes tons of pictures
Bring a water bottle and fill it up in the hotel room, at a restaurant, or where you're comfortable
Buy travel insurance

Sherry is one of the TriWivesClub and LifeDoneWell co-founders and contributes to multiple blogs. She is a former co-owner of the California Apparel News and had a career in the healthcare industry. Her passions include traveling, real food, the environment, and animal rescue/welfare. She lives a healthy lifestyle and has been a vegetarian since 1987. She and her husband are parents to two rescue pups and reside in Connecticut.