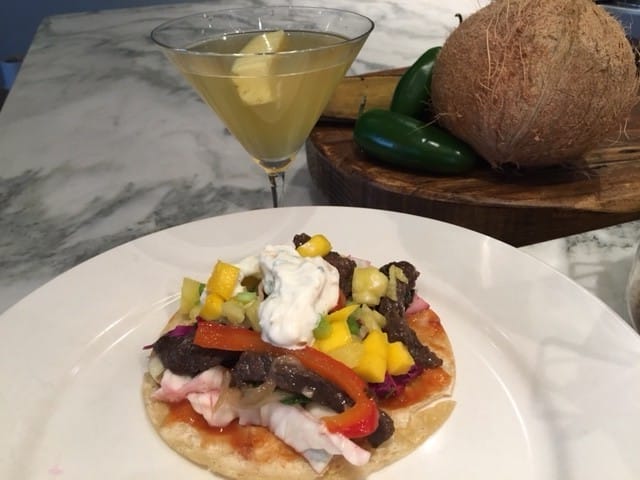 I'm so happy to get to celebrate two of my favorite things – Cinco de Mayo and Tequila!
Cinco de Mayo is celebrated on May 5  to commemorate the Mexican's army victory over France in the Battle of Puebla during the Franco-Mexican War.  The day has evolved into a celebration of Mexican culture and heritage and brings me to the reason I'm giving you a history lesson – THE FOOD!
Puebla is considered by many as the gastronomic capital of Mexico, including my real food favorite, Mark Bittman.  Puebla is known for many wonderful dishes, all homemade and centered around real food, which  you all know is MY thing.
Disclosure: This post is sponsored by Azunia Tequila, but the recipe and all opinions expressed are my own.
When Azunia Tequila asked if I would like to feature one of my favorite dishes for a recipe contest to celebrate Cinco de Mayo, how could I say no!  I mean, come on Azunia.  Organic tequila combined with my organic kitchen and you have a perfect match.  And, when I think Cinco de Mayo and Puebla, I immediately think Chalupas; a classic Puebla street food with simple, clean, flavorful ingredients that shine through.
I am honored to have my recipe included as part of Azunia's 10 Favorite Food Bloggers' recipe contest.  So, I encourage you to check out the Azunia Tequila website, where you can cast your vote every day through April 29th for my Chalupas recipe.  Make sure you scroll down after you click VOTE to complete your entry. While you're there, be sure to check out all the other recipes and of course, read all about Azunia!
Here is how I build my Chalupas with whole, real, and organic food.  This recipe is perfect for 4 people. with 2-3 Chalupas each.  I make and can my own salsa, but you can certainly use organic, store-bought salsa.


Meat
I use 1 16-ounce skirt steak, sliced into strips.  You will also need one thinly sliced red pepper and small onion when cooking.
Marinade:
2 tablespoons olive oil
2 tablespoons honey or Agave
1 tablespoon diced garlic
1/3 cup lime juice
1/3 cup cilantro
Salt and pepper to taste
Combine all of the ingredients and marinate steak for at least 6 hours or overnight.
Preparation:
Sauté onion in pan (I use a cast iron skillet) in a little olive oil and add a pinch of salt.
Just before onions are done, add red peppers and sauté for 2 minutes.
Add the meat and its marinade.
Cook over a medium heat quickly until meat is cooked.

Mango/Pineapple Salsa
1 diced mango
1/4 diced pineapple
4 chopped green onions
1/4 cup lime juice
Mix all together and set aside.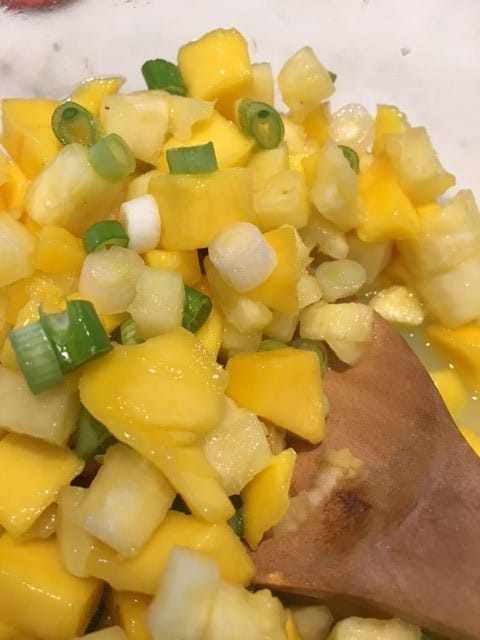 Cabbage Slaw
1/2 head green cabbage thinly sliced
1/2 head red cabbage thinly sliced
2 cloves garlic diced
1 cup chopped cilantro
1/2 cup lime juice
Salt and pepper to taste
Mix all ingredients in a large bowl and let sit for a bit before serving, tossing every few minutes.


Queso Fresco
1/2 cup whole milk yogurt
1/2 cup queso fresco
Chives for seasoning
Mix all ingredients and serve.  If you don't want to add the yogurt,  you can just crumple the queso fresco and serve.


To build your Chalupas
Warm the tortillas in the oven at 350 for about 6 minutes, single layered on a cookie sheet until crisp.  (Traditionally these are fried).
Place tortillas on a flat serving platter.
Spread salsa on each tortilla.
Layer with cabbage and meat.
Top with Mango/Pineapple salsa and queso fresco mixture.
I also like to set out jalapeños, diced avocado, and diced tomatoes for those who want to add.
Of course, we mix a wonderful batch of Azunia Organic Skinny Margaritas served with a pineapple spear.  It's the perfect drink to go with your Chalupas!  Enjoy…
I am a home cook that does things my way. In my kitchen, I make breakfast, pack lunches, prepare snacks, and cook dinner. During the week, we eat real food that is homemade, organic, and local. On the weekends we do explore more of our local restaurants. I bake my own bread, juice fresh oranges every other day, and make my own kombucha and other weekly favorites.