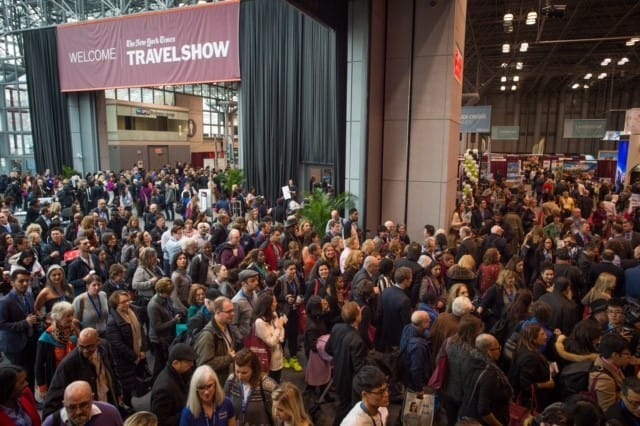 We're not sure about you, but we travel a lot and make food (and cocktails) a big part of our travel. Which means, we are always up for learning about the latest and greatest destinations. That's why we love the New York Times Travel Show. Whether you are going to shop for new and exciting travel ideas or to check out the food scene, you are in the right place. There will be numerous destinations to tempt your taste buds and demonstrations to inspire you.
Here's just a few of the highlights we are looking forward to at the New York Times Travel Show:
Costa Rica
Costa Rica will be on stage both days. Of course, they will highlight "The World's Best Cup of Coffee". We are looking forward to hearing how a hotel on our list, Hotel Finca Rosa Blanca, is impacting the community there. The Street Food of Costa Rica and more will also be featured. Because we have only explored Costa Rica's natural side, we are especially looking forward to diving into the culinary side.
Straight Up Tasty
We are also hopping to purchase and get autographs on a few new books, including Adam Richman's "Straight Up Tasty". As one of our favorite culinary travelers, Adam brings so much knowledge that we can all learn from and he will be cooking up one of his favorites from Rome.
London
If you are looking forward to "Sweeney Todd" on Broadway like we are, you have to catch Chef Bill Yosses make savory pies.
A Taste of Cape Town
Don't we all want to explore Africa, especially on safari? Well, at the show, you can check out the diversity of the flavors and culture and feel like you're actually there!
Biscuits!
Being huge biscuit fans and even bigger Mediterranean food fans, we will not miss Chef Art Smith's shakshuka on biscuits.
Florida
You know we are
hot on Florida
right now for both culinary travel and quick getaways.
Visit Florida
is featuring a fresh Open-Faced Florida Shrimp Sandwich with avocado prepared by Chef Justin Timineri.
The Details
There will be two full days of wonderful demonstrations, lectures, and exhibitors to explore. In reality, you need both days and we suggest buying the two-day pass. Even if your 2107 travel is planned, you have no upcoming travel plans, or you need inspiration for travel, you really should attend.
The New York Times Travel Show is perfect for the entire family. There's so much for the kids to do with special exhibits and demonstrations just for them. There's even a Family Pavillon.
Make sure you walk the entire show, because you never know what you'll see that will inspire you. Peruse the list of vendors and attend the demonstrations and cultural experiences; both are a ton of fun.
For our top tips and what not to miss, check out our article on TravelingMom.com. You can also buy tickets in advance and get more information.
Dates – Saturday, January 28 -Sunday, January 29;
Time – Travel Consumers can enjoy the entire show and its features Saturday 10am – 6pm & Sunday 11am – 5pm
Location – Jacob K. Javits Center, NYC
Cost – One Day – $20 Two Days – $25 Children 18 & under – FREE
Hope to see you at The Taste of the World Stage!
I am a home cook that does things my way. In my kitchen, I make breakfast, pack lunches, prepare snacks, and cook dinner. During the week, we eat real food that is homemade, organic, and local. On the weekends we do explore more of our local restaurants. I bake my own bread, juice fresh oranges every other day, and make my own kombucha and other weekly favorites.