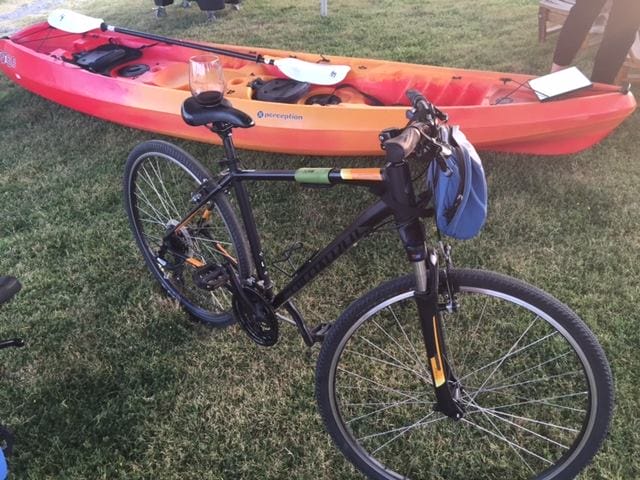 Traveling to a wine and food destination may sound strange for active people, but the truth is, people who love food respect the ingredients and their bodies and wine is always a good thing – we have scientific backing on this one. It's also said that active people are more happy and according to 10 million geo-targeted tweets, Napa is the happiest city in the U.S.! So, armed with this information, we packed up and headed to Napa to get active while eating and sipping well, what else – WINE.
There is so much to do in and around Napa, but I'm going to share our 3 favorite things to stay active. Up next will be a few of our favorite good eats.
KAYAKING
We spent the day out on the Napa River with Kayak Napa Valley co-owner, Laurie. The Napa River is a tidal river and the tide changes quickly, so I strongly suggest you go out with one of the locals. I loved Kayak Napa Valley for many reasons. First, who they are. Both of the owners, Laurie and Liza, have been enjoying the river for years. They have a true passion for the region and are actively involved in the community. They take an active role in both the well-being of the river and working with the local youth to encourage being outdoors.
Second, they are locals and know the river like or better than the back of their hands. This is a huge benefit, as Laurie was able to point out where the river otters like to play and we saw them; where to peek to see the new Culinary Art Institute building and it was super cool; and she knew just when to stop and have a little muffin and nuts she gave us.
There are different trips you can take and due to our limited time, we went with the tide up past the OxBow and detoured to see some of the bridges in Downtown Napa. We paddled a good 8 miles round trip and it was a great workout.
If you set up a time to join Kayak Napa Valley on an adventure, you'll find the river is easy and very doable, even with kids and your dog…
RIVER WALK AND TRAIL
I stepped right out of my hotel and my feet were ready for a run on the Napa River Walk. The views were spectacular and as a solo runner, even when I travel with my hubby, I felt safe and comfortable the entire time. My only issue with running was the first day; I wanted to stop and see so much. Needless to say, I got more fitness in on the other days I ran, but that's okay,
I love exploring on my runs in new areas. The Napa Running Company was right down the street from my hotel, so I stopped in and the staff gave me a few options for runs and even invited me to join the running group one morning. Check out their site for a few different groups when you are in town. I did simple out and backs each day, but there are several other local trails you can run, too.
Napa also is home to many running races, a marathon, and the area hosts a variety of triathlons. I would strongly recommend planning a trip around one of these great events. You can find out more about the events by visiting the Downtown Napa Events page.
The details: The downtown and River area are pretty flat; the highest elevation I encountered was about 50-60 feet. The path is concrete most of the way, so pay attention to the shoes you pack. If you are out for a workout, go before 10AM. The trail got a bit crowded once people were up and moving around, but it was never uncomfortably crowded. Finally, don't forget your water bottles. I didn't notice any water filling stations along the trail, but there were plenty of shops and restaurants that I'm sure would have let me fill my bottles. Everyone in Napa is so, so nice.
BIKING
Well, just imagine this…Enjoying the beautiful Napa Region by bike, winery hopping. I mean really! How bad could that be? As you might guess, not bad at all. We were hosted by GetAway Adventures for a ride out to Luna Vineyards. Again, due to our limited time, we only had a half day to enjoy, but GetAway Adventures has many options.
I would love to go back and do a full day with them. Randy, the owner, and one of his employees who drove as our Sag vehicle – I know I don't have to explain this to tri people – met us at the Oxbow. And let me tell you, this is my idea of a Sag wagon! I actually had to use them as I dropped a gear when we arrived at Luna.
They had everything we needed, including helmets (which are required), bikes, and each bike had a nice sized bike bag to hold all we needed. Plus, they come with two water bottle holders and guess what one is perfect for?
I got to ride with Randy the entire way out and his knowledge of the area and love of the region made the ride even more wonderful. I think we talked the entire way. Our ride to Luna was pretty easy with no real change in elevation and I feel even a new rider would be comfortable. Again, like my run, the view was wonderful.
Once we arrived at Luna, the team met us in the drive with wine glasses ready. Yeah! Randy, the Luna team, and the Downtown Napa team had planned a beautiful morning for us and lunch at the vineyard. The ride was rewarded with wonderful wine (I enjoyed it so much that I ordered a case to ship home) and a spectacular meal at their family table.
For the serious biker who wants to get out and get their miles in, there won't be a problem. The region is home to many riders and the drivers are used to them. As always, please obey the rules of the road and be safe. The area is also home to many riding groups, bike road races, and triathlons, so the training rides are great.
DANA
Disclosure: All or part of this trip was provided for free or at a reduced charge in order to facilitate a review. We only work with companies that allow us to share our honest opinions.

Sherry is one of the TriWivesClub and LifeDoneWell co-founders and contributes to multiple blogs. She is a former co-owner of the California Apparel News and had a career in the healthcare industry. Her passions include traveling, real food, the environment, and animal rescue/welfare. She lives a healthy lifestyle and has been a vegetarian since 1987. She and her husband are parents to two rescue pups and reside in Connecticut.