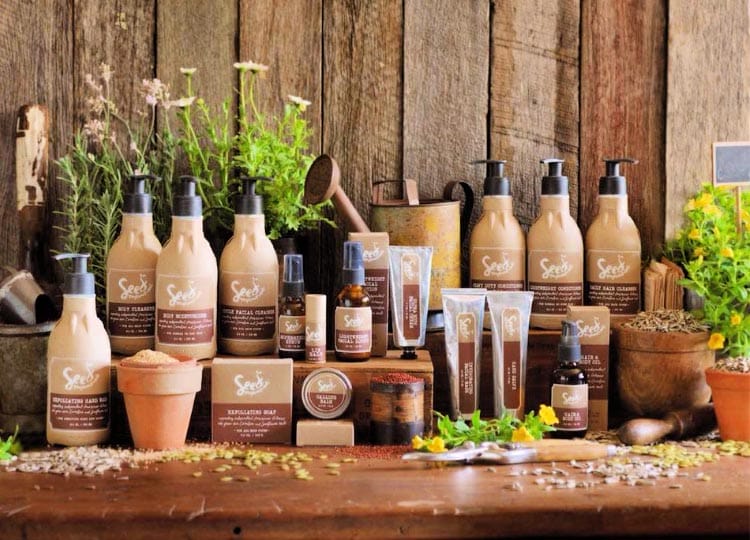 I am really trying to change how I live and the products I use these days. My fear of the deadly effects of climate change and how we are destroying this planet are the main drivers. So, I am constantly looking for more green product lines.
One of my biggest causes is our use of plastics and how they are devastating our oceans. When I see pictures of mountains of plastic floating up on beaches and what they are finding in the bellies of dead mammals that wash up on shore is simply heartbreaking.
With Earth Day fast approaching on April 22, I thought this would be the perfect time to introduce you to some of my most favorite green products and green product lines to help you live more consciously and leave plastic in the dust.
But my biggest reason for writing this is to just get you thinking about your use of plastics, what they are doing to our environment, and how you can incorporate changes in your life to use less.
Green Product Lines to Use Less Plastic
Tata Harper
I've been using Tata Harper products for years. A pioneer in natural luxury skincare, Tata Harper started to make products for herself when she couldn't find 100% natural products that didn't risk her health for beauty.
The products are free from anything synthetic ingredients, artificial colors, The company does everything themselves on their own farm in Vermont. Here's what they use for packaging:
Very little plastic, opting for glass bottles instead. Glass is highly recyclable and can be reused over and over.
And what little plastic they use is made from corn and not petroleum.
100% post-consumer materials or recycled paperboard.
Soy-based ink for printing, an ideal choice for sustainable packaging.
The product line is extensive for the face and body with a few lip balms thrown in for good measure. My favorites are the Regenerating Cleanser, Resurfacing Serum, Resurfacing Mask, and the Elixir Vitae Eye Serum. Now, the products are on the high end, but my face is one area I'll splurge on if the products are effective. They even offer beauty classes around the country.
Seed Phytonutrients
If you're like me, you're always falling for the promise of the latest shampoo. The promise of no more frizz is my downfall. I've thrown away more plastic bottles of shampoo and conditioner than I'd like to admit.
In my search for a shampoo not using plastic, I came across Seed Phytonutrients. A newcomer to the green product lines market, the company was founded in 2017. Here's what makes them great:
They use environmentally friendly recycled and recyclable packaging for all of their products.
They have the first shower-friendly paper bottle and I can attest that it holds up. It's made of 100% post-consumer recycled paper with a post-consumer recycled plastic liner, resulting in 60% less plastic than a traditional bottle. They started out as a cardboard boxes, and are given a second (or maybe even a third) life.
Their products feature organic seed oils from plants such as the sunflower and camelina. The seeds are super rich in Vitamin A, C, D and E, antioxidants, and omega-3 fatty acids, all of which possess amazing hair and skin benefits.
Their mission is to plant the seeds of health, well-being, and sustainability for future generations. They partner with independent American organic farmers to harness the power of local seed varieties to create elevated natural products.
Seed Phytonutrients has partnered with TerraCycle® to create a free recycling program for their pumps. You can get a free recycling envelope from the company. The pumps will be upcycled and turned into items such as farm fences or Adirondack chairs. Amazing…
I bought the Daily Hair Cleanser and Light Conditioner and love the smell and feel of my hair. They also offer a product line for whatever your hair needs are such as anti-frizz, color, or volume.
Supernatural DIY Cleaners
Another huge area where I throw away tons of plastic is with my cleaning products. I know I should be making my own products with items such as white vinegar or baking soda, but I rarely do. So, I was incredibly happy to find Supernatural.
The company was started by Suzy Batiz when she realized "natural" wasn't always truly natural. So, she created all-natural cleaning products using aromatherapeutic essential oils, plants, minerals and water.
They are sustainably sourced, with the lowest carbon footprint possible, smell unbelievably amazing, and actually work as good or better than conventional cleaning products.
The Supernatural Starter Set has everything you need to turn your home into a sparkling, aromatic masterpiece. Each cleaning solution smells different and heavenly. The smell lingers longer than most cleaning products which is a wonderful benefit.
Plus, you get reusable glass bottles and 100% recycled and recyclable packaging. Conscious home care powered by plants. I love it! The kit comes with:
4 reusable glass spray bottles
4 Conscious Concentrate vials

Glass + Mirrors
Bath + Tile
Wood + Floors
Counters + Granite
You fill one of the bottles with water, pour in a vial, and shake. The kit sells for $75 and refills are $10.
Josie Maran
I confess. I'm a big user of facial wipes. They are just so darn easy to use before bed and when I travel. But every time I throw one away now, I cringe.
So, I went on a search for ones that are more earth friendly and I found them in Josie Maran Bear Naked Wipes. They are everything I could want. Not only are they effective, but they are biodegradable and proceeds go to benefit polar bears.
Josie Maran started her product line with Argan Oil and has progressed to a whole line of beauty products. She believes that, "Just as the earth provides us the perfect nutrients for preserving our beauty, we're mindful to preserve the earth in turn. From our responsible sourcing methods all the way down to how our packaging is produced, we're planting the seeds for our planet's future."
Their goal is to rejuvenate your skin, delight your senses, and beautify your life and the world around you.
One of the biggest things I love is that they've begun the conversion to carton packaging made of 100% Post Consumer Waste material. No forest trees are chopped down. To date, the company has saved over 95,142 pounds of wood and 142,950 gallons of water!
Besides the wipes, there are several other products I love. Skin Dope is an organic age-defending oil powered by Argan Oil and hemp seed oil for strong, resilient, glowing skin that bounces back. Argan Daily Moisturizer with SPF 47 is non-chemical and reef safe which is all I use these days. I also just bought the Self-Tanning Body Butter that I can't wait to try.
You can buy the products at many retail stores and online and they're moderately priced. Use Code LOVE to get 22% off their products plus free shipping through April 21.
Earthwise Mesh Sacks
I cringed every time I put fruit and vegetables in plastic bags at the grocery stores. I tried to limit my use, but sometimes I just didn't want other people touching what I was going to eat. Then, I discovered the Earthwise Bag Company, Inc. and its mesh reusable bags.
The company has been an industry leader since 2005 in supplying eco-friendly reusable bags that help save the planet while meeting the needs of businesses, non-profits and consumers.
Mesh bags with drawstring for ultimate convenience. Customers can pack their bags, scan them at the register, wash them under the faucet and stow them in the fridge without ever removing the produce from the bag. Bags are machine washable for easy cleaning and extra durable and portable. You can even just use them for storage or do wash lingerie and are machine washable.
Set of 9 in 3 sizes for under $15. You can buy at places like Walmart and Amazon. There are plenty of other bags to choose from. The point is, choose one and stop grabbing for those single use plastic bags for your produce and bakery goods.
What are your favorite green product lines? How are you using less plastic?

Sherry is one of the TriWivesClub and LifeDoneWell co-founders and contributes to multiple blogs. She is a former co-owner of the California Apparel News and had a career in the healthcare industry. Her passions include traveling, real food, the environment, and animal rescue/welfare. She lives a healthy lifestyle and has been a vegetarian since 1987. She and her husband are parents to two rescue pups and reside in Connecticut.