Looking for books to read this winter? Maybe something to curl up with on those cold nights or a juicy novel to warm you up? Winter is a great time to turn some pages if you love to read like me.
With a little more time at home these days, I've found myself reading more. I've fallen in love with characters from Milwaukee to Seattle. I've spent time in the 50's and relived the 90's. I have been able to lose myself for hours at a time by reading these books.
These books to read this winter are crowding my bookshelves right now. They all speak to me in different ways and show me parts of myself I had not thought about. They have taught me to be more introspective, more open. I love getting lost in their pages and wanted to pass my favorites on to you.
Let me know what you think of these books to read this winter!
Disclosure: This article includes affiliate links.
10 Books To Read This Winter
1. Any Where You Run
This lawyer and mom-of-three turned- award-winning author, Wanda Morris, gives us a historical thriller to heat up the cole nights. The gripping, suspenseful novel, Any Where You Runp, dives into Jim Crow Mississippi in 1964 after the murder of a white man. Two Black sisters run away to different parts of the country, trying to escape the secrets they left behind. It's so good!
Wise, riveting, and full of surprises, Anywhere You Run will keep you up past your bedtime and stay with you long after the book is closed." —Lisa Unger, New York Times bestselling author of Secluded Cabin Sleeps Six
2. Where'd You Go Bernadette
Bernadette Fox is a fearlessly opinionated wife, a reluctant private-school mother to a precocious teen daughter, and a slightly "off" neighbor. But one day her perfectly planned life is shaken when she is roped into a family trip to Antarctica. A simple trip to the ends of the earth is Bernadette's undoing. And sometimes undoing is good. This surprisingly touching novel reaches out to the misplaced genius in all of us.
"A misanthropic matriarch leaves her eccentric family in crisis when she mysteriously disappears in this "whip-smart and divinely funny" novel that inspired the movie starring Cate Blanchett." (New York Times)
3. Mrs. Everything
The main question in Jennifer Weiner's bestselling novel is: Do we change or does the world change us? Weiner takes us into the privileged world of two sisters in 1950's Detroit. Growing up amid the turbulence of the era, these sisters take divergent and surprising paths. Though they both struggle to chart their own course while still being true to their ideals. They both seek to answer the question of how a woman should live, behave, and simply be in this world. This is why Mrs. Everything a fantastic book to read this winter.
"Weiner has always been a gifted novelist and a powerful essayist. In 'Mrs. Everything,' she brings the best of both worlds to the page, holding up the prism of choice and letting the light shine through from every angle…. If you have time for only one book this summer, pick this one." (New York Times Book Review)
4. We Are Not Like Them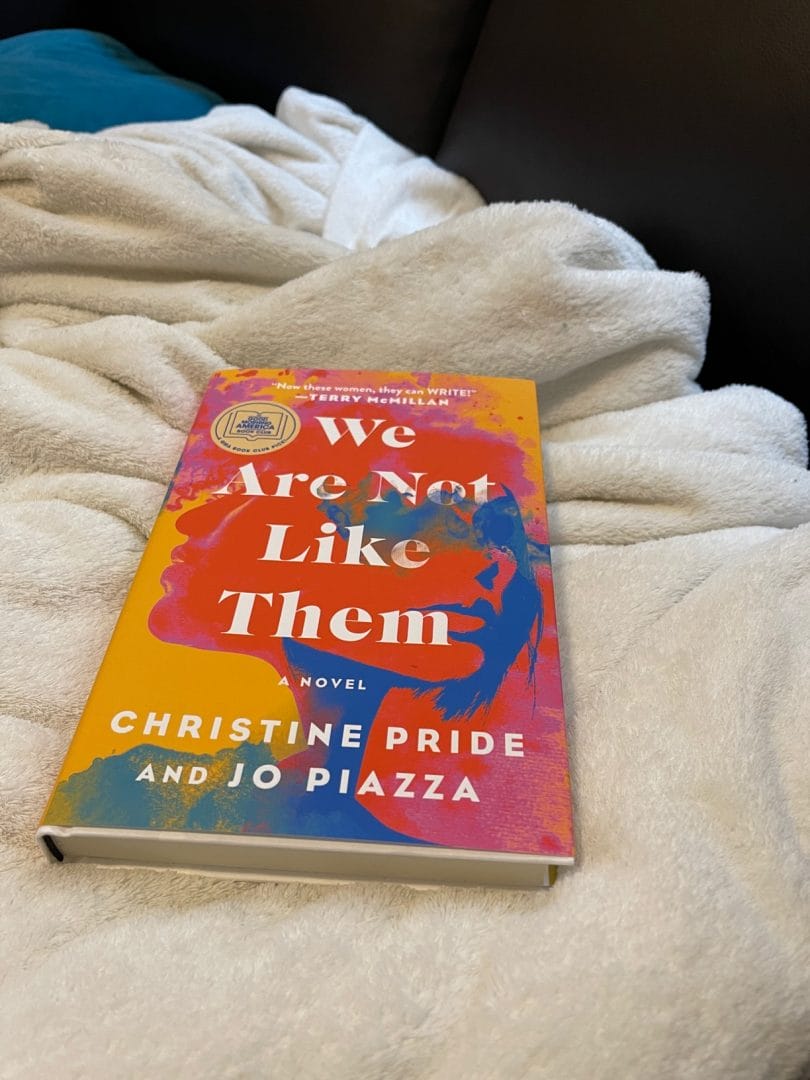 Get ready to be challenged and to put yourself in someone else's shoes! While we tend to think of things in black and white, the truth is often more grey.
This novel is told from alternating perspectives of two women, one Black and one white, whose lifelong friendship is undeniably altered by a tragic event. This book is a powerful and poignant exploration of race in America today but in a way anyone can relate to. It is an evocative and riveting novel about the bond between friends and how one event can have a devastating impact on ordinary lives.
"We Are Not Like Them is ultimately about the inherently hopeful act of having grace when the people we love make mistakes—even terrible ones. This is an excellent book club selection or a starting point for interracial friend groups or families to talk candidly about race."—BookPage
5. The Dutch House
The Dutch House is a novel about paradise found, lost, and found again. It is a moving story about two siblings, set over the course of five decades, who learn that their indelible bond is the one thing that can become their lifesaver. Ann Patchett writes about how the past will never let go and how money cannot buy peace, joy or happiness. This book questions the depths of love and forgiveness and the power of how we see ourselves. For those who like to listen to books, the audio version of The Dutch House is narrated by Tom Hanks.
"Patchett's splendid novel is a thoughtful, compassionate exploration of obsession and forgiveness, what people acquire, keep, lose or give away, and what they leave behind." Publishers Weekly
6. Kitchens of the Great Midwest
Though I do love cookbooks, this is not one of them. It is a novel about a young woman with a once-in-a-generation palate. In Kitchens of the Great Midwest, she forges through a difficult and lonely childhood to become an iconic chef who creates the most coveted dinner reservation in town. Each chapter of this novel tells the story of one dish and one character.
Using the distinct language and cuisine of the midwest, the book focuses on how food can create a sense of identity and community. The realistic imagery will make you hungry, and the hilarious situations will make you laugh. This is not your typical mother-daughter-in-the-kitchen story, as it touches on the bittersweetness of this bond.
"An impressive feat of narrative jujitsu . . . that keeps readers turning the pages too fast to realize just how ingenious they are."—The New York Times Book Review, Editor's Pick
7. Today Will Be Different
It was so much fun learning about Eleanor in Today Will Be Different. This novel is all about wakening up ambitions and not settling for small, hollow victories we find every day. It is a hilarious story is about reinvention after a certain age, confrontation, and the necessity of sisterhood.
"Another tour de force… The success of this poetic, seriously funny and brainy dream of a novel — 'Mrs. Dalloway Takes Laughing Gas,' perhaps — has to do with Maria Semple's range of riffs and preoccupations. All kinds of details, painful and perverse and deeply droll, cling to her heroine and are appraised and examined and skewered and simply wondered at. If that's considered a trick, readers of Semple's novel will be overjoyed to fall for it."–Meg Wolitzer, New York Times Book Review
8. Language of Flowers
The novel, Language of Flowers, dives into the Victorian language of flowers and how they have been used to show emotions difficult to put into words. Victoria Jones, having recently aged out of the foster care system, learns to use flowers to connect and communicate with the world around her. Though she is content with her life, a mysterious stranger makes her question herself and the path she has chosen. Could there be more for her?
"A fascinating debut . . . Diffenbaugh clearly knows both the human heart and her plants, and she keeps us rooting for the damaged Victoria."—O Magazine
9. Animal, Vegetable, Miracle
I love Barbara Kingsolver's New York Times best-selling novel, "Animal, Vegetable, Miracle," maybe because it mirrors my life. It has been updated since its original publication in 2007. The book focuses on the Kingslover family who moves from the suburbs of Arizona to rural Appalachia.
More than just moving locations, this family vows to spend one year eating only locally-produced products. They start their project eagerly, realigning themselves with local food and farmers. They find out the joy that can be found in flavorful, diverse, creative and colorful food.
"Cogent and illuminating…Without sentimentality, this book captures the pulse of the farm and the deep gratification it provides, as well as the intrinsic humor of the situation."—Janet Maslin, New York Times
10. Bread Alone
Wynter Morrison used to be a trophy wife. The life she thought she had quickly changed course after a sudden divorce. It is through the unlikely action of kneading dough that helps heal her heart and move on. Bread Alone helps us understand the "good life" may not have anything to do with wealth.
"Readers who respond to the mix of romance, self-discovery, and food discussions will want to connect this novel with the ones listed in the Read-alikes column, on the opposite page." Neal Wyatt, © American Library Association
Which of these books to read this winter will you pick up first?
I am a home cook that does things my way. In my kitchen, I make breakfast, pack lunches, prepare snacks, and cook dinner. During the week, we eat real food that is homemade, organic, and local. On the weekends we do explore more of our local restaurants. I bake my own bread, juice fresh oranges every other day, and make my own kombucha and other weekly favorites.