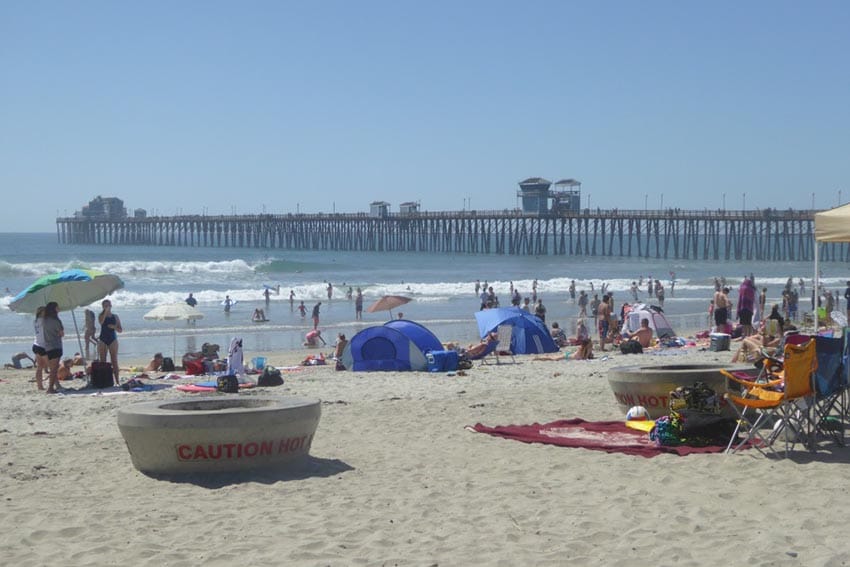 If you are coming to Oceanside California to do the Ironman 70.3 California triathlon, lucky you. Especially, if you live in parts of the country that have had an unusually cruel winter. It's time for a little sun and warmth…..The area around Oceanside is packed with things to do and see, so you will never get bored.
This is also the city that started the sport in the early 1970's in Mission Bay. You can stay local and enjoy the beaches or venture down the road a bit to San Diego or up the road to Orange County and LA. One thing is pretty certain, though – you do need a car to get around. This is California after all and everyone drives, because everything is spread out. So, decide what sounds like a great way to spend a few days in the sun and enjoy!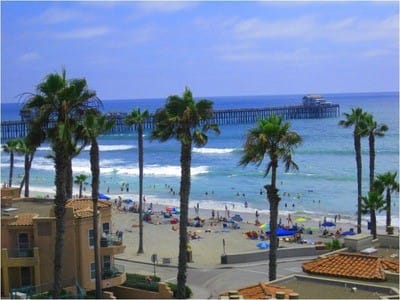 HAVING TONS OF FUN IN OCEANSIDE CALIFORNIA
If you have kids ages 3-14, you may want to consider signing them up for Ironkids Fun Run at 5pm on March 30 at the Oceanside Pier. You can register online now or at the Junior Seat Pier Ampitheater on Thursday or Friday. It's a great way for the kids to feel a part of the event.
There's a great Farmers Market at the corner of Pier View Way and Coast Highway on Thursday. It runs in the am from 9am – 1pm and again at sunset from 5 – 9pm.

In Oceanside itself, you can also do the following:

Perhaps your first stop should be at the California Welcome Center – Oceanside at 928 North Coast Highway. Here you find all about what to see and do and eat and even buy discount tickets to area attractions.

Take a stroll down the Oceanside Pier, which is the longest wooden pier on the Pacific Coast.
Visit the Oceanside Museum of Modern Art, which has a current exhibit of Jean Wells, who does large-scale, eye-dazzling mosaic sculptures; The Museum of Making Music , which explores the history of the American musical product industry; or the California Surf Museum, where you can learn all about the sport and lifestyle of surfing, dude. One of the current exhibits is Bethany Hamilton, the young surfer who lost her arm in a shark attack. The exhibit includes the shark-bitten surf board.
Experience the beauty and tranquility of the Mission San Luis Rey de Francia, which is the largest mission in California. Marvel at the extraordinary architect, have a picnic, and then visit the museum.
Shop on Main Street or at the Oceanside Harbor Village, a Cape Cod-style group of shops and restaurants.
Explore the over 3 1/2 miles of white, sandy beaches. Take a run, learn to surf, or build a sandcastle.
Do something wild and take a bi-plane ride along the San Diego Coast with Coastal Aero Scenic.
Take a drive down historic Route 101, along the California coast. It doesn't disappoint.
Visit the Oceanside Harbor and enjoy tons of water sports, including stand-up paddle boarding and kayaking. You can even take a harbor boat tour.
In the San Diego area:

You have all the well-known attractions such as the San Diego Zoo, Legoland, Scripp's Aquarium, Knott's Berry Farm, Wave Waterpark, and Sea World. In addition, you also have attractions such as the San Diego Air & Space Museum, where you can journey through the history of flight. If you have plans to visit any of these attractions, you should check out the Go San Diego Card. When you buy the card, you get free admission to 46 area attractions at a discount. You can buy online or at the Welcome Center.
If you're a nature enthusiast, check out the Torrey Pines State Natural Reserve. Located within the San Diego city limits, this Reserve is over 2000 acres of stunning vistas, 8 miles of peaceful trails, and a visitor center.
For those wanting a bit more adventure, try the high-performance Italian karts at K1 Speed Indoor Racing in Carlsbad.
For shopping, hit Old Town San Diego and of course, La Jolla, and Del Mar for a bit more high end.
If you want to

venture up north a bit into Orange County

, you can't go wrong with Dana Point, Laguna Beach, San Juan Capistrano, and Newport Beach. The Newport Beach area offers tons to do and see with Corona Del Mar and you can take a ferry over to Balboa Island.
Another really nice area and under an hour away is Temecula. This is especially great if you're into golfing, award winning wineries, antiquing, and ballooning. Great for kids is the Pennypickles Children's Museum filled with hands-on inventions, gadgets, and science experiments.
So, this should give you plenty to think about and use to plan your trip. You can always check out Visit Oceanside for more detailed and updated information and we have some dining ideas for you, too!
DID WE MISS SOMETHING GREAT TO DO? IF SO, LET US KNOW……

Sherry is one of the TriWivesClub and LifeDoneWell co-founders and contributes to multiple blogs. She is a former co-owner of the California Apparel News and had a career in the healthcare industry. Her passions include traveling, real food, the environment, and animal rescue/welfare. She lives a healthy lifestyle and has been a vegetarian since 1987. She and her husband are parents to two rescue pups and reside in Connecticut.