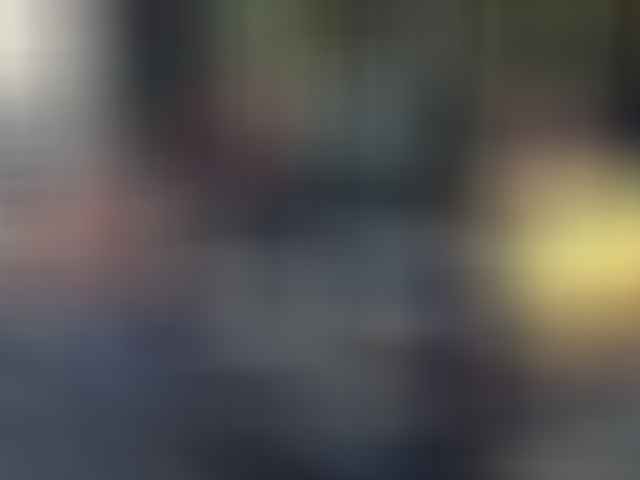 Folks knew when we were moving to Omaha we were into realfood made right. On our two visits to check out the city, both times we were taken to the Kitchen Table for brunch. When I walked in the first time it was like home with reclaimed wood and bread cooling on the counter.
Kitchen Table is located a couple blocks West of Old Market center on Farnam between 14th and 15th. Last Sunday was a beautiful morning and although there is no overhang or awning, the patio seating is protected from the morning sun by the building. People were starting to arrive so I grabbed a table outside and hubby went in to order.
To some, especially those who have never been, the process to order is very different. With the one register to take your order and need to explain the process and get drinks we have seen folks walk out, which is sad because the food is worth the wait. The process does make my husband crazy so we tend to get there right when they open. Many times, one of the staff will be asking folks if they know how the menu works and explaining it which is great.
The 1,2,3 Brunch for $15 consists of…
1. Toast with yummy fresh butter and homemade jam or a cinnamon toast usually
2. Is a choice of one of three items usually, yogurt, scone or a grain
3. The main meal…
Hubby always loves the coffee and I am all about the tea, green earl gray, yum. I just wish it was not served in the "camping mug" as the water is way too hot and cup can be hard to hold. Usually I bring my glass tea jar for my tea, I just forgot last week. I would usually partake in a yummy brunch cocktail but the new liquor license does not include the patio I was told.
Our toast was yummy as usual, we prefer to rip small pieces of the toast and dip in butter and jam. For our second course, hubby ordered the brown rice cereal and the beets and yogurt for me. Both were really good. We were comfortably full when out came our main dish.
Every time we go hubby says "I am not ordering the fried egg sandwich". When he came out after placing our order he looked guilty and sure as anything he ordered the sandwich…
For me, well I know he wanted to order me the pancakes but he knows I love green beans so the grits it was. The grits were simple and not over seasoned and the flavor in the ingredients shown through.
As with most Sundays, I was expecting a poached egg which I like, but I was thrilled when I stuck my fork in to find a soft boil with just a little bright yellow in the middle of the yolk. When the table next to us had the food delivered I watched the egg open and it was a perfect poach. So what an over poached egg to some may have been upsetting I was pleased.
The food once agin was too much and half the egg sandwich with its perfect mustard and 1/4 of my grits became my breakfast and lunch the next day.
We will most likely be back this Sunday as the twins just retuned from six weeks in Europe and India and we know Kitchen Table is where they will want to be. I know my son is hoping for the meat strata he had during College World Series weekend, and my Sydney the cinnamon toast. But whatever is on the menu will be appreciated.
Let's take one minute to talk about the bread. I bake bread weekly and even baked a honey loaf this morning to make the twins think cut cinnamon toast for breakfast. But I want bread making lessons and sourdough starter from the chef soon! Very soon. Please do not tell my mother I said this as she is a good bread baker and professional, but KT bread is amazing!
Eat at the Kitchen Table at least once when you visit Omaha and often if you live here! We are looking forward to hopeful be around for the next farm to table dinner too.
I am a home cook that does things my way. In my kitchen, I make breakfast, pack lunches, prepare snacks, and cook dinner. During the week, we eat real food that is homemade, organic, and local. On the weekends we do explore more of our local restaurants. I bake my own bread, juice fresh oranges every other day, and make my own kombucha and other weekly favorites.