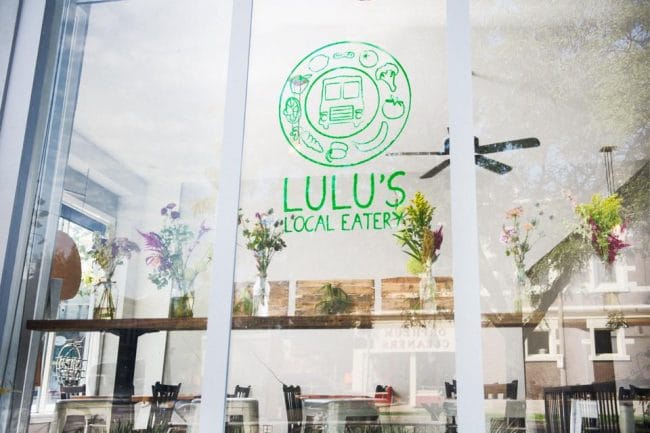 Nothing speaks higher to your values than where you choose to spend your money. One place that reflects a number of values I hold dear is Lulu's Local Eatery in South City St. Louis. They focus on sustainability by utilizing compostable materials, minimizing waste, and sourcing food from local farmers. Both a food truck and restaurant, Lulu's serves fresh eats with local and organic ingredients whenever possible and makes it all from scratch! All this adds up to my absolute favorite vegan restaurant I've ever had the pleasure to visit.
I recently traveled to St. Louis for a quick weekend to visit family. They reside in the beautiful Compton Heights area near Tower Grove Park. The entire neighborhood is actually a local historic district! Plus, it's conveniently located five minutes from Lulu's.
My first foray into Lulu's magic was the popular Winter Quinoa bowl, which featured white quinoa, roasted winter veggies, cranberries, kale, shredded carrot, walnut parmesan (be still my heart), and an unreal house-made kale pesto sauce. Usually, I am not a fan of kale, but I could not get enough of this salad. It was incredible, very satisfying, and healthy.
My next dish at Lulu's was the Kale and Brussels Sprouts Caesar Salad. The dressing was the star of this fabulous salad. It is made in-house with capers rather than the traditional anchovy. This salad was topped with crunchy chickpea "croutons", walnut parmesan, capers, and a fresh lemon wedge. Everything added up to one of the best salads I've ever eaten. I almost couldn't believe it was 100% vegan. (I'm currently roasting chickpeas in the oven as I write this, hoping to recreate the delightful crunchy topping for a dinner salad tonight).
My last dish at Lulu's was the Sweet Potato Falafel. I am huge falafel fan and regularly get the falafel salad at Amsterdam's in Omaha, so I was pumped to sample this version. I opted to get it served on a bed of fresh greens rather than in the usual pita. It consisted of sweet potato fritters, cucumber, red onion, and traditional tzaziki sauce and was amazing. Sweet potatoes are in the middle of a renaissance of sorts, with so many great recipes featuring them on line.
Not only is Lulu's super tasty, it's also really affordable, with almost everything under $10. At such a great price point, this will surely be added to my regular St. Louis dining rotation. I cannot wait to go back and try more from their ever-rotating seasonal menu.
Lulu's is open Monday-Saturday from 11:30am-9pm. I ordered takeout each time due to the convenience, but will make a point to dine-in and soak up the ambiance on my next trip! If you're ever in St. Louis, make be sure to check out Lulu's Local Eatery. Even meat lovers will be impressed with the healthy, satisfying selections at this vegan triumph.

A Minnesota native, Katy is a freelance travel, food, and lifestyle writer currently based in Omaha, Nebraska. Besides contributing to the LifeDoneWell brand, Katy is a contributing writer and content creator for a variety of other print and digital outlets including Travel Awaits, The Reader, google's Touring Bird, Matador Network, and Modern Mississauga. She was also a popular Bridal Blogger for Wedding Essentials Magazine, an Omaha World Herald publication.
Be sure to connect with Katy on her personal instagram @ksprats, and her health food focused insta @healthkickmidwest.