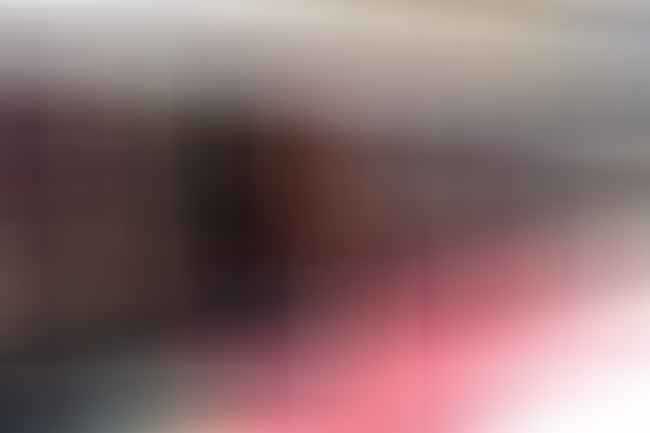 To quote my husband, "If we have to do another whirlwind sightseeing trip and look at more cathedrals, shoot me now."  Translation – time to find a trip that's out of the ordinary or I'm staying home.  Challenge accepted. The Royal Scotsman found.
If you're anything like me, you've had this romantic notion about taking a trip on the Orient Express.  We've all seen it in old movies.  I pictured myself dressed in a formal gown, sipping a martini with a gorgeous man in a tuxedo by my side, as the train chugged through exotic locations. Okay, I thought it was just my fantasy, until I stumbled upon a small (only 36 passengers) train that travels through the Scottish Highlands (a location we wanted to travel to) in the lap of luxury (how we usually prefer to travel).
Enter The Royal Scotsman, owned by Belmond, which used to be the Orient Express Group.  Yeah!  It didn't take much research to know I had found IT.  The trip that would satisfy both my husband's desire for a change of pace and my dream.  I booked a 4- night trip from Edinburgh and waited VERY impatiently until the time came to embark on this journey.  Of note, it is an all-inclusive trip – food, beverages (including alcohol), on board accommodations, and off-train excursions.  So, not a thing to worry about in this regard.
Our adventure began when a package arrived in the mail with our boarding information and to make sure we were aware that black tie was the dress code for several dinners – very cool.  For men, this meant tuxedo or kilt.  Since Carl has not nor ever will wear, let alone own a kilt…
We were notified a few days before the trip that the itinerary had changed due to some engineering work on the train line.  Oh well…When the date arrived, we took a train to Edinburgh from London (we were actually living there).  We could have flown, but decided to see as much of the UK as we could and so I thought the train would be ideal; might as well set the mood for the vacation to come.  Plus, it was only about a 4 1/2 hour trip.
We would only have a day in Edinburgh, so I knew we had to make the most of our visit.  I'm actually known – well by my husband anyway –  to take advantage of EVERY minute when visiting a city.  He has to experience time and again me saying "Just throw the bags in the room and let's go."  Hence, his comment about a whirlwind trip.
We stayed over night at the Balmoral Hotel, which was not only gorgeous, but right around the corner from the train station.  Convenience is always a good thing.  True to form, as soon as we checked in, we threw the bags in the room and hopped aboard a tourist bus, to get a glimpse of the major sites of the city.  Then, the next day before we boarded, we had time to see a few highlights, such as the Edinburgh Castle.  We actually really liked the city if you're wondering…
Luxury on the Rails Aboard The Royal Scotsman
DAY 1
Before it was time to board The Royal Scotsman, we waited in the first class lounge at Waverley Station.  When it was time  for boarding, the fanfare was unbelievable.  We actually followed a kilted bagpiper through the train station.  Have to say you feel a little conspicuous, but no one seemed to stare at us too much….
This is when we got our first glimpse of the train and just thought this is going to be the best vacation ever.  We were greeted by the staff and escorted to our compartment.  While, okay, it's small, it is well designed with twin beds, en suite shower, and all the finest amenities.  You're not going to spend much time in the room anyway…
When the train pulled out of the station around 1:30 pm, the real excitement set in and all we did was smile.  Then, it was off to the Observation Car, which turned out to be the social hub of the train, for a glass of champagne and to meet and mingle with our fellow passengers.
Okay, I have to say it, I was thinking Agatha Christie and Murder On The Orient Express at this point, checking out my fellow passengers with a suspicious eye, and waiting for Inspector Poirot to walk in any second…
Afternoon tea was served as we headed across the Firth of Forth by means of the magnificent Forth Railway Bridge and then across the Tay Bridge through Fife.  These bridges used to be the longest and largest in the world.  There's an open air observation platform that proved great for unobstructed pictures.
We continued north through Aberdeen before arriving in Huntly, where we disembarked and were transported by bus to a distillery, where we participated in a traditional Scottish ceilidh.  (I had no idea either.  It's a traditional Scottish dance).  The best part of this evening was that my husband, who seriously HATES to dance even though he's great, was out on the floor learning Scottish dancing.
Then, it was back to the train which had moved to the town of Keith, where we had an informal dinner and overnight "stabling."  Each night, we stopped at a station or somewhere along the rail line for a restful sleep.  Although, I don't think I would have minded if they continued to move, as riding on a train always makes me sleepy.
DAY 2
Wow, did we sleep well, even in twin beds!  For breakfast, one of our options was haggis.  Being a vegetarian, I was a huge NO thank you, but my husband decided to give it a try.  Obviously, a mild version, he actually liked it, but knew never to ask for it at home.
After breakfast, we're off to Tain, where we disembarked and visited the Glenmorangie Distillery.  A little odd for a morning excursion, but okay, when in Scotland….
We're bused back to the train where we have lunch and then it's back on the bus to visit Dunrobin Castle, where we are treated to a fantastic falconry display and a castle tour.
Oh, as you go back to the train, the staff always stand on the platform and greet you with beverages; one alcoholic and one non-alcoholic.  I always chose the former.  Just saying…
This night's dinner is formal, so black tie attire.  Everyone meets in the Observation Car for cocktails and hors d'oeuvres.  By this time, people have sort of formed alliances, for lack of a better word, and start to hang out together.
There are actually two dining cars; one had a communal table and the other had individual tables.  We chose the communal table, which was where the more gregarious crowd sat.  Hey, this was a great opportunity to meet other people from all over the world.  We can always spend time together, you know….Musical entertainment was provided for our pleasure after dinner.
DAY 3
Okay, remember I'm traveling with a triathlete here who still needs to train, even though we're on a train in Scotland and no gym or pool in site.  He decides while we're in a station, he'll go for a run before breakfast.  Can you guess what's coming next?????  Oh yes, HE GETS LOST!!!!
The train HAS to leave due to rail schedules and EVERYONE is asking me where he is.  I was so upset and frustrated that I actually told them to leave without him, which they did.  He finally gets to the station, sees the train is gone, and has to get a cab and someone to radio to the train with what's going on.
He eventually catches up to us and acts like it's no big deal.  At first everyone is like what the….but, it eventually becomes the talk of the train and a very funny story.  He remained the butt of everyone's joke the rest of the trip…
With Carl back on board, we disembark in Elgin and tour the Johnston's Woolen Mill.  Can you say cashmere sweaters?  We're both in heaven.  Of course, they have  a shop, so a few find their way home with us…
In the afternoon, we continue to Carrbridge, where we visit Ballindalloch, one of Scotland's most romantic castles with gorgeous gardens.  It has been family owned since 1546.  We got a tour from the Lady of the house, but everyone's still talking about Carl.
Dinner is again formal and tonight's entertainment is Ray Owens, a Highlander who brings to life stories of Scottish heroes.
DAY 4
This morning we disembark at Boat of Garten and take the bus to Rothiemurchus Estate, where we get to choose from a number of activities such as fishing, clay pigeon shooting, or hiking.  We chose clay pigeon shooting.  We both actually turned out to be pretty good at this sport.  Who knew?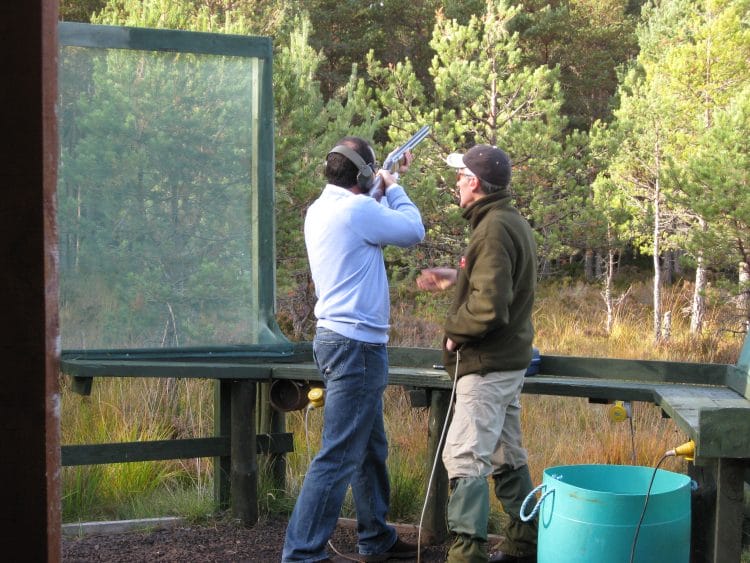 After joining the train in Aviemore and enjoying lunch, we travel to Dunkeld, where we visit Glamis Castle.  This was the childhood home of Queen Elizabeth, the Queen Mother.  After a tour and lecture, we join the train in Dundee and have an informal dinner for our last night.
DAY 5
As with all GREAT vacations, this one has flown by and after breakfast, we leave Dundee, travel back through the Kingdom of Fife and head for Waverley Station, where we sadly arrive around 10 am….
I have to say from start to finish, this trip was flawless.  Okay, forget the Carl incident.  It was luxurious, no-worry travel at its best and surpassed any expectations.  The food was superb and they happily met all of our dietary restrictions and we do have a few!
The chef featured modern, Scottish cuisine with a focus on fresh, local food, especially seafood.  We even saw it being loaded on at several stations.  Dining is an occasion from the table settings to the wine served.  The landscape out your window is glorious, with mountain, water, and varying light vistas.
Every step of the way we felt pampered and well taken care of.  I don't think I have to mention price, because you know for this level of service, it is costly.  But, if you get the chance to go, lucky you.  Grab it…
HAVE YOU DONE A TRAIN TRIP VACATION?  IF SO, TO WHERE?

Sherry is one of the TriWivesClub and LifeDoneWell co-founders and contributes to multiple blogs. She is a former co-owner of the California Apparel News and had a career in the healthcare industry. Her passions include traveling, real food, the environment, and animal rescue/welfare. She lives a healthy lifestyle and has been a vegetarian since 1987. She and her husband are parents to two rescue pups and reside in Connecticut.