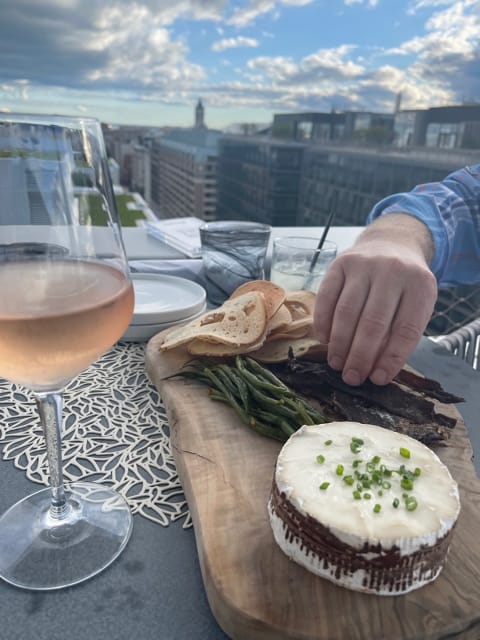 Everything you need to know about the best place to stay in DC – The Conrad Washington DC!
Getting away these days is a bit tougher for me. Thus the time I am away is much more precious. The farm and my agritourism business keep me home a lot and I truly love it. But I need time to relax, time to not be busy and time to recharge. And if I need to be completely honest – time to work – to write and to plan. Time not just to recharge but also remove me from the day-to-day of work to focus.
Finding a nearby location that is easy to get to and super comfortable with room to spread out is a must. So we turned to the Washington D.C. area. With travel in COVID times, we added parameters as to what we looked for that make us comfortable. We appreciate the protocols that D.C. has in place.
So when we put in all that we found the best place to stay in DC. The Conrad Washington DC is perfect.
The Best Place to Stay in DC – The Conrad Washington DC
The Rooms and Suites
We book one of the suites at the Conrad Washington D.C. There are a few different types but as long as we have a space to spread out and truly we prefer a suite with a separate sitting room we are good if traveling together. That way if one of us wants to read or nap and the other wants to watch TV or work we are all set.
It is also nice to have a place to eat if we decide to order in food. The Suites are well-appointed and the natural light is remarkable. The beds are super comfortable and there are plenty of pillows. Every chair and couch is placed perfectly and are comfortable as well.
I love a room that looks great and feels great. All of the suites we have enjoyed had floor-to-ceiling windows and if you like the shades closed you can do so at a touch of a button.
The bathrooms are also nice. Not all have bathtubs so be sure you are aware of that when booking.
I would recommend avoiding suites on the 3rd floor as there are more public areas there and often we found people hanging out by the room halls where you have a secure room and highly suggest avoiding room 369 across from the fitness room – there are noises there and in the back steps all day and night. 369 is beautiful – but not comfortable or designed as a guest suite – I would suggest if hosting people as the closets and bath are in the front hall and it does have a connecting room. You can find the rooms and suites located here.
The Sakura Club
The Sakura Club is why we love the Conrad Washington D.C. If you are interested in enjoying the Sakura Club be sure to book a Sakura Club Room or Suite. Staying in a Sakura Club room or suite is the only way to have access to the club. Your Hilton membership level will not give you access.
The Sakura Club has dedicated staff that is able to help with everything from reservations for a meal to booking in-room massages and more. They will reserve you a table at the Conrad's rooftop bar and will pour you a glass of wine or mix up a specialty cocktail.
The Sakura Club has both buffet items and cook-to-order items for breakfast and dinner and a well-stocked refrigerator and pantry cart for snacks.
Breakfast has such variety that it will meet anyone's desires. I request an egg scrambled with some of the veggies offered and then enjoy some of the fruit, bread and sometimes enjoy a slice of the French toast.
Now dinner is a true pleasure. There are three menus that circulate during the week. There is a Moroccan, Japanese and Italian menu that all have both hot and cold items on the buffet and then the chef has about three cook-to-order options.
Check out the menus by clicking here.
The Location
For us, driving to the Conrad Washington D.C. is so easy and they whisk our car away until we are ready to leave. The Conrad is located pretty central to all things in DC and especially easy to access the museums, Chinatown, shopping and wonderful restaurants. Also, public transportation is close by if you desire. We tend not to leave the immediate area as we are there to just be.
The Food
The food in the entire hotel is under the supervision of Executive Chef, Joshua Murray.
Third Floor Dining includes:
The Blue Willow Breakfast – While the Blue Willow Room is included in our stay we have yet to enjoy it.

We stay in a Sakura Club room so we have our breakfast up there. The menu looks delicious.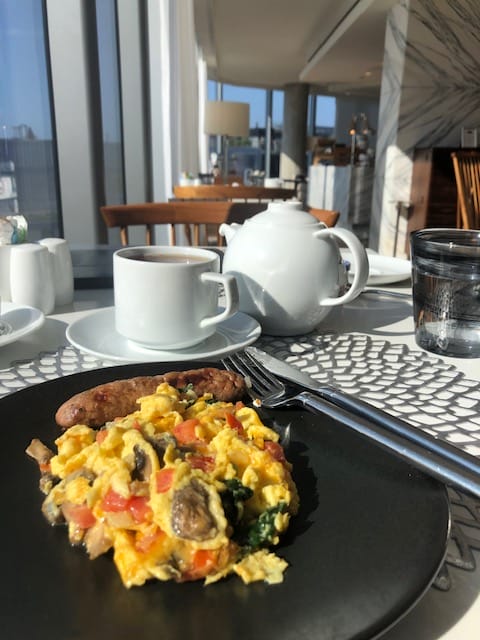 The Lounge – which I have enjoyed a bite out during my stay as we also get a hotel credit when booking either with our travel agent or with our American Express. I enjoyed a delicious charcuterie board for lunch with a glass of wine. The menu is available for lunch and dinner or you can have it delivered to your room
The Rooftop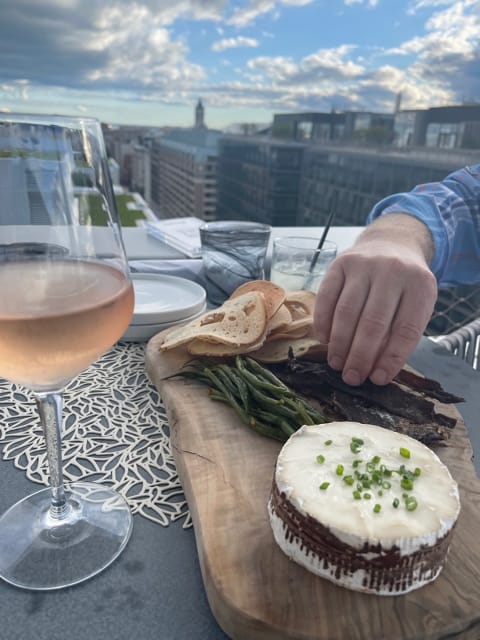 Summit:
Located on the rooftop is an amazing space with drinks and food to match. The views and sunset are stunning and there are lounge areas, tables and a bar to sit out. We asked the ambassador in the Sakura Club to reserve a table for us to have some cocktails and a bite before we had dinner.
The sunset did not disappoint. The food and wine change with the season and on our last visit all the wines were from women vintners. While enjoying the wine we actually ordered a case of the wine for home. We also shared the most amazing charcuterie with house-made jerky.
The Sakura Club:
Then of course there is the Sakura Club, which is one of the top reasons this is the best place to stay in DC. With both a buffet and cook-to-eat menu for breakfast and dinner you will never be disappointed. Breakfast has so many options from lox to omelets and french toast that I offer to have a little of everything.
The dinner menu rotates between three menus and staying more than 3 nights should not be a concern. First, we often eat out a night or two and second there are so many options and if you wanted to repeat it it is all so delicious. The menus rotate between Japanese, Italian and Moroccan.
The Staff
The staff is incredible. From booking to departure the staff has been wonderful. They are able to help with almost all of our needs from dinner reservations to nail appointments and in-room massages. They are very knowledgeable of the area and so kind. Both the managers at the reception and the Sakura Club are so on top of things.
And honesty I stayed the week they reopened and had a few issues and they were handled immediately and correctly. So wonderful!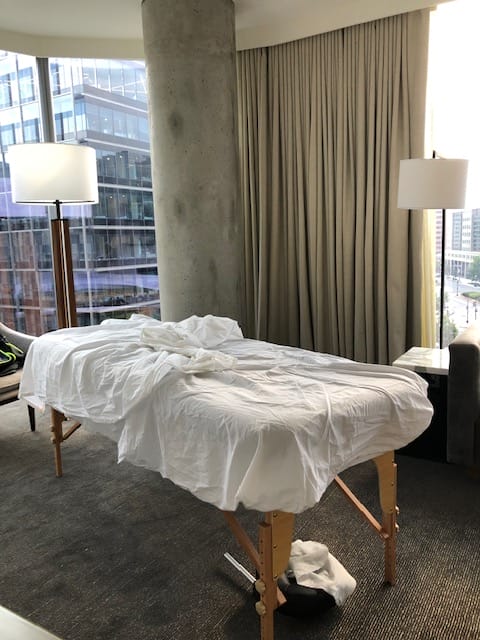 The Pros
The Sakura Club

The Staff
Spacious Rooms
The Location
The Food
The Summit Rooftop

Did I mention the staff?
The Cons
The 3rd Floor rooms
Housekeeping is not as fine-tuned as the rest of the operations
Would we stay there again?
Absolutely and in fact, we will be booking soon. This is the best place to stay in DC that I've been to in a long time! It is my little getaway either solo or with my husband. I also look forward to taking my staff for a retreat and training.
I am a home cook that does things my way. In my kitchen, I make breakfast, pack lunches, prepare snacks, and cook dinner. During the week, we eat real food that is homemade, organic, and local. On the weekends we do explore more of our local restaurants. I bake my own bread, juice fresh oranges every other day, and make my own kombucha and other weekly favorites.