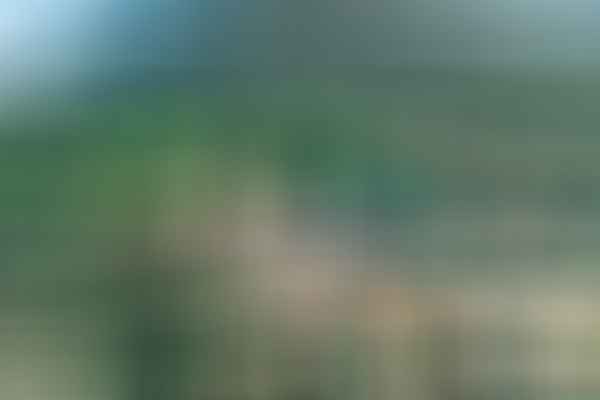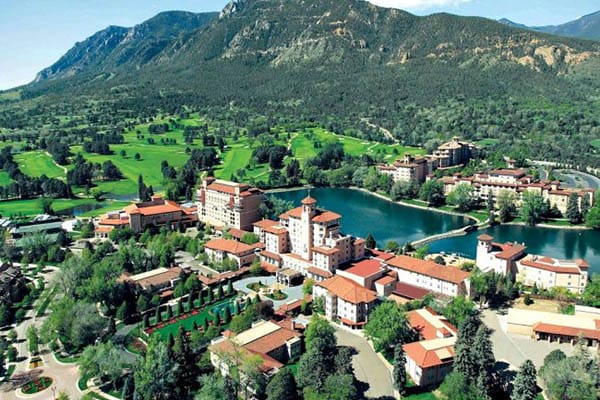 Looking for that perfect destination for any type of travel? Well, I think I found it. Located in Colorado Springs, Colorado, The Broadmoor is an ideal getaway. We're talking a girlfriend spa getaway, a cottage or a few rooms for a multigenerational gathering, or a suite with a fireplace for that romantic getaway. There are so many reasons to love The Broadmoor, because it really does have it all with a cherry on top.
We were there for one short night before heading out to their Fly Fishing Camp, just one of the resort's exclusive camps. You can read all about their camps and other experiences at TravelingMom. But, it wet our appetite just enough to know we have to return for more.
We would like to thank our friends at The Broadmoor for hosting us.
In less than 24 hours, we enjoyed our spacious suite with the fire ablaze looking out over the lake and to the mountains. We sipped cocktails and dined and even hiked to the Falls to work all the deliciousness off. Then, we did a little damage in the shops. We are so looking forward to a return visit to enjoy it all over again and then some!
We travel a lot and I'm always reading up on great places to stay. So, I was surprised I didn't know of this gem, especially since I grew up visiting the Greenbrier. I truly had no idea The Broadmoor existed until recently when my dear friend Diana Rowe said, "What do you mean you have never been to The Broadmoor. It is so you."
After a call, we discovered they also offer a Fly Fishing Camp just an hour and a half away. Being addicted to fly fishing, we opted for a night at the resort followed by two nights at the camp. Neither were long enough. Based on our 24 hours at the resort, I would totally plan on 4-5 nights next time and 4 nights at Fly Fishing Camp.

Here is how we spent our 24 hours at The Broadmoor…
We arrived at the resort just after lunch time and after checking in, were whisked away to our room with a tour as we walked. Our wonderful bellman introduced us to our suite in The Broadmoor South.
Our room was so romantic with a large bathroom with a tub that could be opened to the main room and with a view of the outside, always a plus in my book. There was plenty of closet space and drawers to stay weeks. The bed was super comfy and had a large TV at the foot. The french doors opened to the lake and offered a spectacular view of the mountains. There was a siting area, another TV that could be raised from the furniture, and a fireplace. The decor was elegant and so comfortable and inviting. For the video experience of our room, please click here.
After we settled in, we decided to walk the ground. We first ventured over to the lake and pool. We met The Broadmoor dogs along the way and arrived at the pool area, which is an infinity pool to the lake. There are cabanas and lounge chairs available and full services. The lake offers a variety of water activities, like small motor boats and paddle boats.
The gardens are just beautiful and there are sitting areas everywhere. On our way back around, we checked out the spa and indoor pool area. There is also an outdoor lap pool and hot tub that is open year around. I will be spending a day or two at the spa alone on my next visit.
On our way back to the room we decided to stop by the coffee shop for a sweet treat and a tea. We thought we would head back for a nap, but the shops were calling our names. Right across from the coffee shop was a jewelry store in which I found many beautiful pieces. I tried on a few and loved them all, but regret not getting the piece my husband suggested. Just another reason to return. We also enjoyed many of the other shops and spent a lot of time in the galleries, the travel store, the kitchen store, and shopping for shoes.
Before we made our way to our room with our new purchases, we stopped by the outdoor store to get directions to the Fly Fishing Camp. The Broadmoor does offer transportation to and from their camps, but we chose to drive. We did not make it out of the outdoor store without some new gear for camp.
After a quick change ,we made our way to the hotel bar in the main building for a cocktail before dinner. We found a seat and minutes later, a multigenerational family asked to sit in the other half of our area. They told us they have been coming the same week for over 45 years. They ranged in age from 90 to newborn.
We then crossed the bridge of the lake to have dinner at Ristorante Del Largo. The space is stunning with a view of the lake from any seat in the house. It has a classic rustic Italian feel with the Broadmoor elegance. The kitchen is open to the dining room and service is amazing.
The Broadmoor Executive Chef, David Patterson and Ristorante Del Largo Chef, Mark Musial, just recently returned from a trip to Italy to curate products for the restaurant. They, of course, make all the pasta in house. We opted for the Chef's Menu and enjoyed course after course of melt in your mouth bites.
There are so many amazing chefs and restaurants at The Broadmoor; just another reason to go back. I had a hard time deciding where to have dinner. We really want to also try The Penrose Room, The Summit, and La Taverne.
Not wanting to end the night, we headed back to our side of the lake and sat at the bar by the outside fire. We enjoyed one last cocktail and a s'more. The room was all turned down and ready for a good night's sleep when we rolled in. All we had to do was enjoy the beautiful moon and our fireplace.
The next morning, we got up early and went for a walk to Seven Falls entrance. The walk is just beautiful through the meadows and by the creeks. We could have walked for hours, but knew we had a beautiful breakfast waiting in our room.
After we cleaned up and turned on the fireplace, there was a knock on the door and room service was right on time at 7AM. (Yes, we are early risers). They set up breakfast by the open french doors. The food was the best room service food we have ever had and trust me, that says a lot.
After breakfast, we opted for another walk and some more shopping before lunch and heading off to Fly Fishing Camp. We enjoyed the very delicious and local, Natural Epicurean, in the outside garden area. The veggie lunch was fresh from The Broadmoor and other local gardens. We ordered juices to go for our ride to Fly Fishing Camp after seeing the delicious juice menu.

Here's what we will add on for our next trip to The Broadmoor…
There is not much I would change about our next visit to The Braodmoor. I will be adding on more dining, a day at the spa, more hiking, and a trip up the mountain on the Cog Railway. Oh, probably a whole lot more relaxing, too! I would also love to bring my young adult children and start to create family experiences for generations to come.
Our friends at The Broadmoor recently let us know they will be opening Cloud Camp for a family to experience the holidays. Can you imagine having the camp all to yourselves, cooking with the chefs in the kitchen, and spending time with friends and family? Add on a 360 degree view of Pike's Peek and Colorado Springs high above the clouds and you have the makings for a perfect get away.
The Broadmoor will be turning 100 years old next year and in those 100 years, they have built a very special place and carefully created additional experiences. It all started with the hotel offering a luxury playground with top notch service and experiences that set the Broadmoor apart from other resorts. They have never wavered from any of that and today, have a truly magical resort. Although we generally prefer more boutiqueish-type resorts, The Broadmoor changed our minds and matched our required level of customer service and care. We shall return…
I am a home cook that does things my way. In my kitchen, I make breakfast, pack lunches, prepare snacks, and cook dinner. During the week, we eat real food that is homemade, organic, and local. On the weekends we do explore more of our local restaurants. I bake my own bread, juice fresh oranges every other day, and make my own kombucha and other weekly favorites.