Encourage someone's love of gardening with these 15 Savvy Handpicked Gifts for Gardeners. From cute to practical, you will find something they'll love.
You all know I am an avid gardener and encourage everyone I know to join me. It is such a relaxing way to spend time in the fresh air and you get to enjoy the fruits of your labor.
These gifts for gardeners will either help them get started or make their gardening life easier and more fun. I've picked a few essentials that everyone with a green thumb should own, as well as some gifts just because they are so cute.
But, since gardening often starts out as a hobby and then slowly becomes an obsession, we also picked out some gifts for gardeners that your horticulturalist friends may not have thought of before!
Now, more than ever, while everyone is at home just seems like the perfect time for garden gifts.
Disclosure…This post contains affiliate links.
15 Savvy Handpicked Gifts for Gardners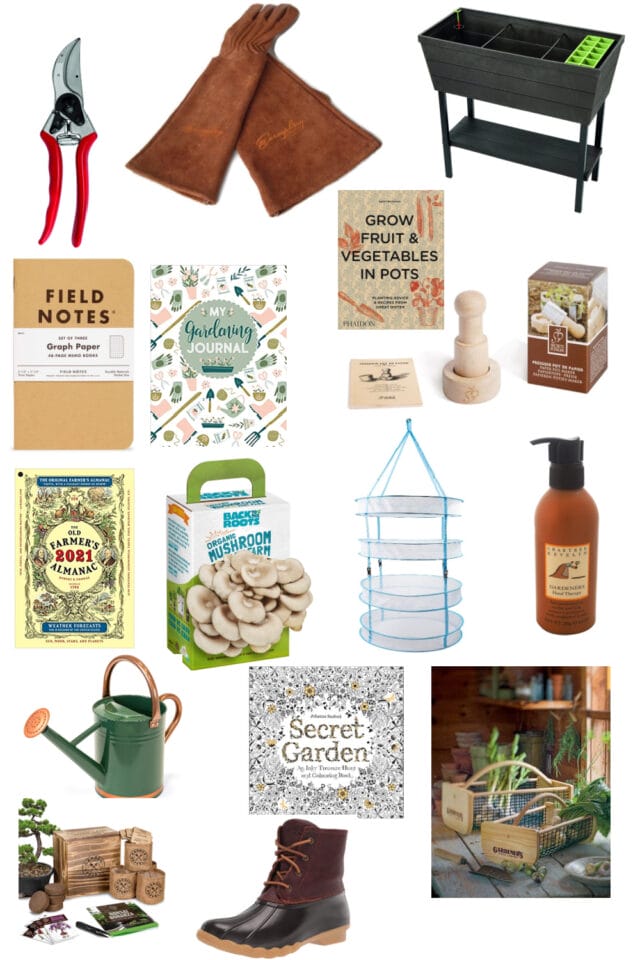 This raised garden bed is perfect for any space. It can go on a small balcony or in a big back yard. It is already divided into separate areas and is also self watering.
This field notebook is the gift gardeners didn't know they needed. This notebook with graph lined sheets is perfect for both note taking and graphing out your garden. I use my notebooks year after year to build my gardens.
If you know anyone who grows roses, these gloves are a must. I always thought that a basic garden glove would be good for the rose garden, but I was so wrong. These are so needed to handle the thorns.
I love growing my own herbs. While I use them fresh, I also dry them for use year round. I love this drying rack because it is collapsible and easy to move to the perfect location. It also offers four tiers for keeping herbs separate as they dry.
Gardens are beautiful in themselves, but it doesn't hurt to add in some beautiful garden accessories. This is one of the prettiest watering cans out there. I so need one.
The Old Farmer's Almanac is a must have for everyone. I refer to mine on a regular basis. The information inside is priceless and fun!
Year round, these hand pruners are always in my pocket. I use them for all types of garden chores…from pruning and harvesting to opening all sorts of things and trimming lines. These are so easy to use. One of my favorite gifts for gardeners.
Keeping track of all that is happening in the garden will help make your garden grow better and better each year. This gardening journal has everything you need to record and items you didn't know you needed to think about. Plus, it is a pretty journal.
The Growing Fruits and Vegetables in Pots book is perfect for a first time gardener to get them started. It is amazing what you can grow in pots and even with my big fields, I still grow in pots as well. Find more great book ideas here!
This Bonsai Seed Starter Kit is perfect for anyone. You do not have to be a gardener to enjoy this gift. This kit includes everything you need to get started and offers four types of seeds.
In all honesty, we buy these Organic Mushroom Growing Kits regularly. This is the oyster mushroom kit, but others are available, too. These can grow right in your kitchen and you will have fresh mushrooms in ten days.
We love a good garden boot and a favorite is the Sperry Saltwater Rain Boot. They are low enough to wear year round and so cute as well.
Now, more than ever, finding ways to relax is so important. For the garden lover, this coloring book is perfect for taking a breath and relaxing. Here are some more self care ideas if you're not quite relaxed yet!
For the gardener you have no idea what to get, this Paper Pot Maker is perfect. It is the gift the gardener in your life didn't know was available. This paper pot maker is not only eco-friendly, but useful, too.
These beautiful Gardening Hods are not just useful, but beautiful. The design is perfect for harvesting and I love that the wire sides allow air to freely move through. Plus, they look perfect sitting on your counter
While I love gardening, I am the first to admit is it hard on the hands. And it's not always easy finding the ideal hand lotion. I really like this one with vitamin E and suggest getting a couple of bottles for a gift – one for the garden and one for the house.
Be sure to check out our other gift guides for natural & organic gifts and dog lovers!
I am a home cook that does things my way. In my kitchen, I make breakfast, pack lunches, prepare snacks, and cook dinner. During the week, we eat real food that is homemade, organic, and local. On the weekends we do explore more of our local restaurants. I bake my own bread, juice fresh oranges every other day, and make my own kombucha and other weekly favorites.