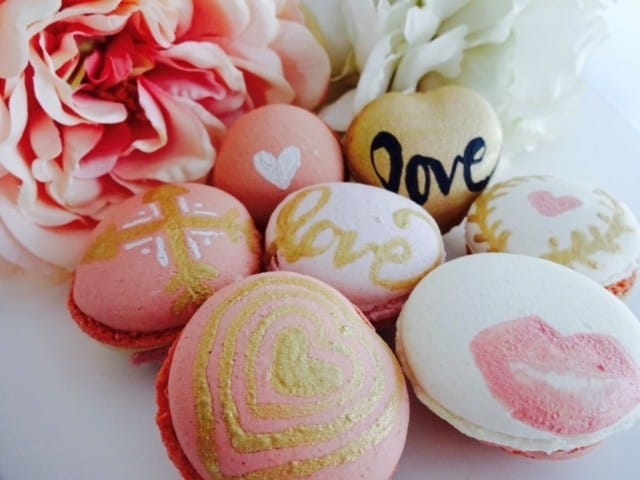 A bit over a month ago, we had a fire in one of our beloved buildings in the Old Market in Omaha, Nebraska.  It took homes, 2 restaurants, a home decor store, and my go-to store for all my clothes.  But, what is happening now is what is scaring me.  People literally think the Old Market is closed!
Not only are we not closed, but we have plenty of parking and lots of really cool things to buy for your Valentine.  Living in the Old Market, we have decided to only shop (for what we can get here) and eat downtown and let me tell you how easy it is.  I have put together for you a quick list of a few things I would be so happy to get this Valentine's Day – hint hint hubby…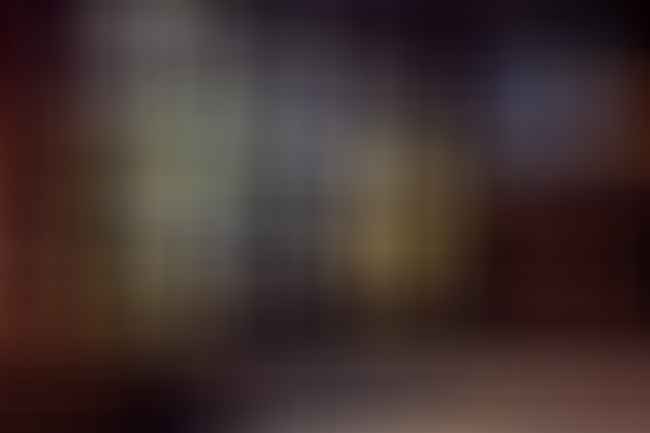 Okay, Omaha, let's get serious.  Valentine's Day is just days away, but you still have time.  Downtown has some great options you will not find anywhere else, making it truly a great place to find that special gift.
Here is my Best of Omaha for Valentine's Day…
Give the Gift of Health and Well-Being
I'm talking from my personal gym and spa here.  Did you know the Hilton had memberships available at their Health Club?  Or that they have the best spa services, including massages and believe me, I have tried a lot of massage therapists in town.  You can bet I am giving myself the gift of another spa service to get the robe and slippers.  I mean look how comfy the robe looks!
Call Chris at 402-998-4343 or stop in and see him to get yourself or your Valentine's a special gift.  Hubby got me a membership for the holidays and I am still loving it!
Give the Gift of Sweets
There are so many great options for sweets in the Old Market, but my favorite new discovery is Stay Sweet, Nicola's and it's right across the street from me.  Very dangerous… If you have ever been to Nicola's, you know the food is wonderful and the desserts are simply over the moon.  Well Stay Sweet, Nicola's is here for all of us to enjoy in our homes, too.
They have so many wonderful options for Valentine's Day and orders can be filled in 24 hours.  Two yummies I have to try are the Lavender Honey & Vanilla Bean with Earl Grey Whip.  I mean, come on, they just sound amazing!  You can order these as cupcakes or whoopee pies!  The other items that caught my eye were the Hand Painted Valentine's Macarons.  They are just so beautiful.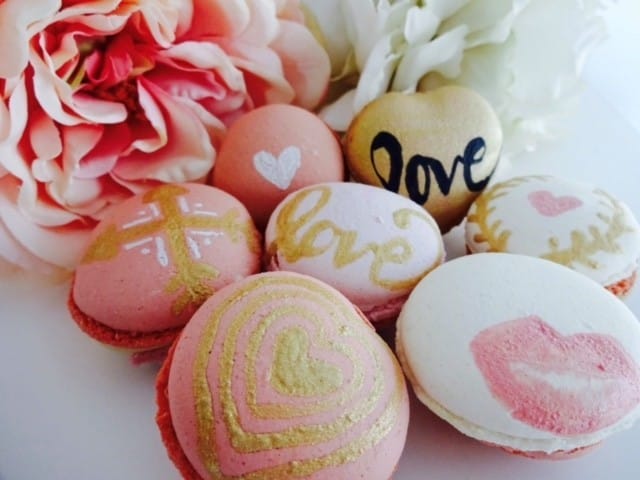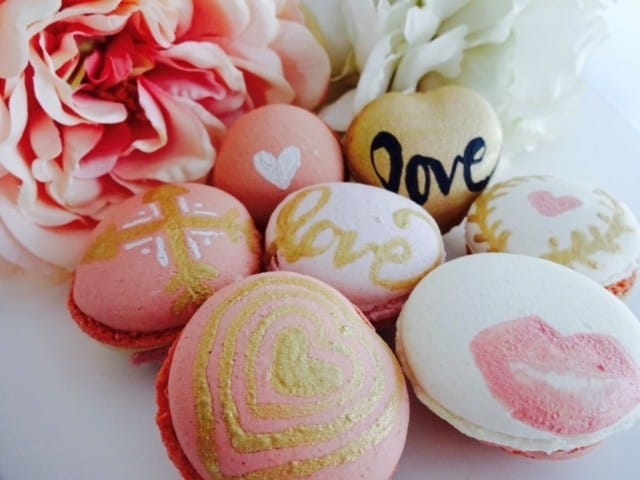 Give the Gift of All Things Shiny
So, last Friday we were headed to the Kaneko Art Opening and then to dinner.   We were a little early and so stopped into Pretty in Pantina, oops….Well, the cases were filled with wonderful shiny things that I fell in love with.  Many were one-of-a-kind and vintage pieces.  Hubby and I both spotted this wonderful pearl bracelet that caught our eyes, then magically found it's way to my wrist, where it remained.
Note to all readers…This was a Friday night gift, not a Valentine's gift, so hubby is still on the wire for another something shiny this weekend. (insert pic of bracelet) Pretty in Patina is a not to miss treasure on the corner of Jackson and 12th. Follow them on Instagram to keep up with all things wonderful they have coming in.
Give the Gift of a Great Meal
There are lots of wonderful options for your Valentine's Day dinner, no matter when you celebrate.  As for us, we will have reservations for the entire weekend.  Friday night we'll be out with friends; Saturday night at one of our favorites; and Sunday, well, we always love to see what Chef Paul at Le Bouillon and his team have up their sleeves for their prix-fixe meals.
I am super excited about the 3 courses he will be offering.  The menu includes Butter Poached Scallops, Maple Carrot Soup, Escargot, Braised Elk Shortribs, and more!  The dinner will be offered at only $40/person.  The entire menu will be available and I would highly suggest starting with the oysters…
There is no place like McLovin for him.  I know all I need to do is walk in and I will find what I need for my boys.  When I am just simply confused, the staff handles it all for me.  With a few questions, they are able to determine the best gift for me to buy.  One of my favorites for my son is the new line of Blind Barber and a great pair of socks (always a favorite for him).  And for hubby, he is happy with anything I walk out of the store with.

Give the Gift of Something Special
Everyday, four times a day, I walk past The Lotus and when I need a special gift for anyone, it is my go-to place.  From Wonderful pieces to add to any wardrobe, to purses, accessories, candles, jewelry, and some of my favorite t-shirts, they have it all.  But, more than their merchandise and options they have for gifts, the people are wonderful!  There is a feeling of Zen when you walk in and that in itself, makes the shopping a pleasure. Last year  I bought the twins peace flags there for their dorm rooms for part of their Valentine's packages and my daughter always loves a few of their candles.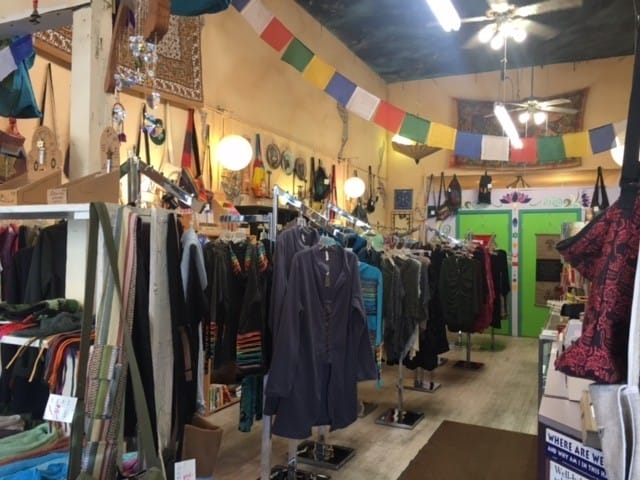 So, you can see your options for great gifts and great meals are right at your doorstep in Omaha, so get your you know whats down there!
I am a home cook that does things my way. In my kitchen, I make breakfast, pack lunches, prepare snacks, and cook dinner. During the week, we eat real food that is homemade, organic, and local. On the weekends we do explore more of our local restaurants. I bake my own bread, juice fresh oranges every other day, and make my own kombucha and other weekly favorites.