Summer is one of my favorite seasons. Well, the fact is, I love all of the seasons, just for very different reasons. Summer is my favorite foodie season with all of the wonderful colorful, organic fruits and vegetables that are available.
I spend a lot of time small batch canning and freezing our favorites to get us through the rest of the year, especially the more bleak winter. Last week I ordered a flat of organic tomatoes and they are so yummy, we have been eating them straight from the flat. There is still too many, but I just haven't been in the mood to can. So, I needed another solution.
With the twins leaving in a week to head back to college, I decided a little comfort food was what we needed. What better than Tomato Soup and Grilled Cheese. We often have a real issue eating out when it comes to classics that we have a craving for. We will take the kids to a variety of restaurants and where people say the "best" is. While we find the food is usually yummy, in the end, they still want my food.
I know I should be happy and I am, but sometimes it's nice when others cook what we want and the way we want. My tomato soup is one of those meals and the way I cook grilled cheese, but that's for another day.
This is a recipe I adapted from the soup my mother always made, both in our kitchen growing up and in her restaurant. She added brown sugar, tabasco, parmesan cheese, and these wonderful cheese croutons. OMG was that good! I use an immersion blender I've add for 24 years! If it's not broken…
Here is my easy version of TOMATO BISQUE: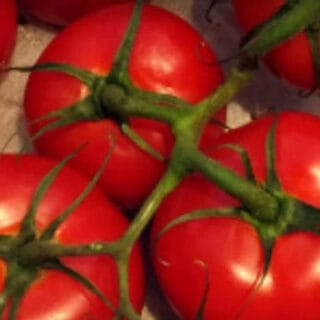 Tomato Bisque
An easy, delicious "comfort food" soup that goes perfect with grilled cheese.
Ingredients
2 tbsp butter
1 large onion, diced
15-20 fresh tomatoes, skin off and quartered
4 garlic cloves, diced
2 bay leaves
1 1/2 cup heavy cream, (can substitute coconut milk)
Instructions
In a large stock pot, melt the butter. Add the onion and saute for 3 minutes, on a medium low heat. Add the tomatoes with their juices and let cook down about 10 minutes. Add the garlic and bay leaves and mix with a wooden spoon.
With a masher or submersion blender, pulse tomatoes and let cook another 5 minutes. Add the cream and with the blender or masher give it a good mix. I like to leave some chunks in the soup for texture. Let simmer on the stove for an hour covered. Add salt and pepper to taste.
Notes
Tips on Peeling Tomatoes There are two ways I like to peel tomatoes. Both are easy. Blanching is the method I prefer, but if you are too lazy like me sometimes or just can't take out one more thing for cooking, I do have another method to use. I use blanching for large batch canning or cooking. Blanching: Prep two areas. In your sink, put a large bowl, like bread bowl size, 1/2 way filled with ice and let it sit while you prepare everything else. Place a smaller bowl for peels and another bowl for the peeled tomatoes. On the stove, bring a large pot of water to a slow boil. Place 4-5 tomatoes in at a time for about 1 minute. While you blanch your first batch, fill the covered ice with water. Using a slotted spoon, remove tomatoes and place right into ice bath. One by one, pick up the tomatoes and the skin should fall right off in your hand. DO NOT put all the skins down your disposal, as bad things will happen. Repeat until all tomatoes are done. The less complicated way: Slice a small piece of the skin and then pull. If you're lucky and with practice, the skin will peel away. This does create waste, as some of the tomato meat may also peel away.
Nutrition Information:
Serving Size:

1 grams
Amount Per Serving:
Unsaturated Fat:

0g
What is your favorite tomato soup recipe?
I am a home cook that does things my way. In my kitchen, I make breakfast, pack lunches, prepare snacks, and cook dinner. During the week, we eat real food that is homemade, organic, and local. On the weekends we do explore more of our local restaurants. I bake my own bread, juice fresh oranges every other day, and make my own kombucha and other weekly favorites.