It happened; my pots and pans of 23 years cried uncle and had to be replaced. They outlasted most everything else in our home, well, 8 homes to be exact, but finally succumbed to time and use.
If there is one thing my husband makes sure of is that I have great kitchen tools. It is not only to keep me happy in the kitchen, but so his belly is happy and he is properly fueled to train and race. But, I must admit that great pots, pans, and all other kitchen stuff makes the kitchen more fun!
It all happened pretty quickly actually. One by one, the Caphalon pots I received for my wedding back in 1992 started to go. So, hubby and I started our search. I read and read and read and read and we ended up at the local William Sonoma store. As usual, he went right for the most expensive set and he asked the woman to bring them out, not me. I was not sold on the set or on one with a copper layer.
What I wanted in new pots and pans
Particular sizes (plus others I am still searching for)
Dishwasher safe (for goodness sake, I put in a second dishwasher just for my pot and pans)
Cook top to oven capability
Versatility
Great on a gas cooktop (yes, some pots and pans cannot stand up to the heat on a gas cooktop)
Why I ended up with the Thomas Keller set of pots and pans
1. Thomas Keller thinks how I do and mixed the metals in the set to meet those needs.
5 ply with stainless core for even temperatures
5 ply with copper core for temperature control and more precision
3 ply for heat transfer
2. Cost represented what I needed. I did not feel I was overpaying for all copper cores, when I didn't need that feature.
3. The universal lids are easy to store and use, with great handles. The lids are also flat with no knobs on top for great storage.
4. They are non-stick for easy cleaning.
5. They look so pretty all stacked up. Yes, this matters even when stored in a drawer under my cook top.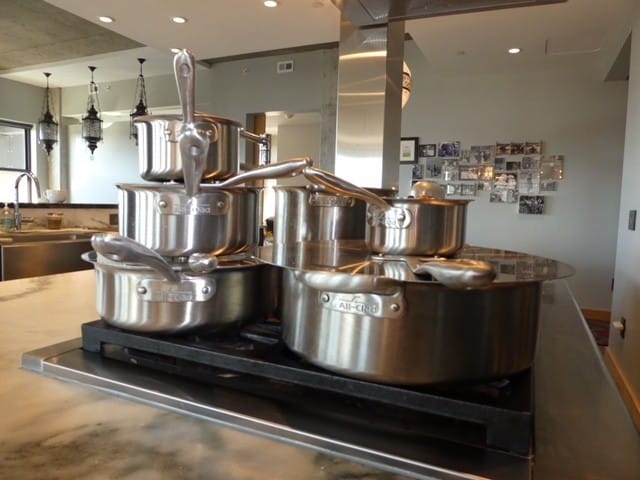 How I enjoy my new pots and pans so far
I'm in love. Granted, it is a great set and the sizes are what I needed to replace, plus a few extra bonus pots. But, I'm still in search of a few other pots and sauté pans that have been on my list for a while.
If you know me, you know I love good stuff, but I also like to make sure I am getting a good deal on them. While we were in the store, both hubby and I were checking around online for a better deal on the price, but ended up buying in store. There were 2 main reasons.
First, they were running a special on the set and the price was good, but when you added in the bonus lasagna pan, All-Clad oven mitts, and 2 books, including one of my new favorites, Ad Hoc at Home
, I was sold.
The second reason was the sales clerk and her knowledge and understanding of what I was saying, Customer service makes a huge difference. At the end of the day, for all that I got, the price was $42 less than if I was to order online using ebates rebate, too. I needed the lasagna pan and I am a sucker for cookbooks.
Now, off to search for more beautiful useful things I NEED for my beautiful kitchen…
Of note: I was in no way compensated for this post. I love sharing what I love and hope you will find pleasure and gain knowledge in reading it.
I am a huge Ebates fan and always recommend using their site before making any purchase. This year alone, I have already made so much cash back through using the site for my day-to-day purchase, travel, gifts, and more. If you are not on Ebates, click here to sign up.
I am a home cook that does things my way. In my kitchen, I make breakfast, pack lunches, prepare snacks, and cook dinner. During the week, we eat real food that is homemade, organic, and local. On the weekends we do explore more of our local restaurants. I bake my own bread, juice fresh oranges every other day, and make my own kombucha and other weekly favorites.