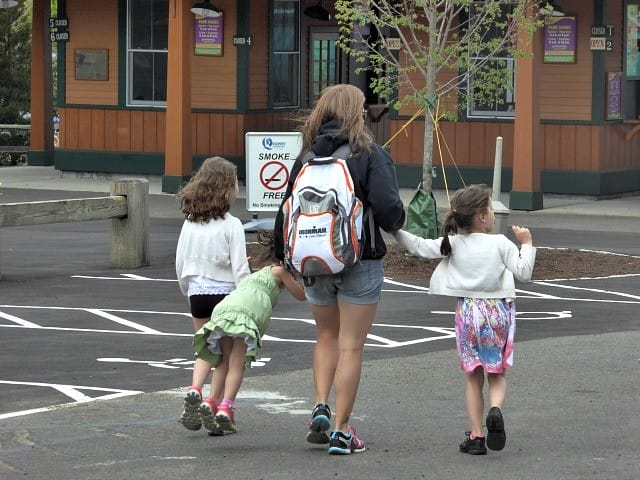 If you are headed to a triathlon with kids in tow, there are great toys to bring to keep them entertained, but there are also certain items that you should really leave at home. I've learned this the hard way through personal experience or actually seeing it happen and going, "Oh, that's not good". From being too heavy to lug around with you all day to actually being dangerous, read on and you will see what we mean.

Which Toys To Leave At Home When Headed To A Triathlon …
Balls
Yes, I said balls. They can be dangerous when spectating a race. I have seen one way too many times roll or bounce onto the race course and create potential danger for the triathletes. And, little ones don't always think first and may run out to retrieve said ball. Plus, soft ones are often too big to carry and small ones can do bodily harm if thrown at someone.
Favorite Toys and Lovies
Leave anything that someone will miss if lost at home or in the hotel room. You can be moving around fast or have to switch locations quickly to see your triathlete and you don't want to risk leaving that favorite toy behind. Just imagine having 8 more hours to go after you've lost your little one's favorite stuffed toy. It will be an even longer day than normal…Some things just can't be replaced.

Library Books
Make sure you have your own books and not library books. The last thing you want is to lose it or get caught in a rain storm and have it destroyed. Why risk having to pay a replacement fee.
Anything Awkward/Heavy
There are definitely certain types of toys/games that you don't want to bring like standard sized board games, anything heavy, and anything with the chance of blowing away, like monopoly money. Backpacks can be heavy enough without loading them down with games.

Electronics
Race days are great days to go screen free. Although the day may be long, there is so much going on and you will be outside a lot, so enjoy what is around you. This way, you don't have to worry about running out of battery power and the weather, which can also hinder electronics usage.
Sidewalk Chalk
Not all host cities or host communities love having a bunch of sidewalk chalk on their streets and side walks. Besides, you don't want to risk the kids getting in the way by accident. We have seen way too many kids and athletes nearly collide trying to write mommy or daddy's name on the street.

Homework
Leave the homework at home or if you must, leave it in the hotel room. Do not take a chance of the homework getting destroyed or lost. Again, I learned the hard way with a gust of wind and the waterway on the race course at Ironman Texas. So many tears…
What do you recommend NOT bringing to a triathlon for the kids?

Sherry is one of the TriWivesClub and LifeDoneWell co-founders and contributes to multiple blogs. She is a former co-owner of the California Apparel News and had a career in the healthcare industry. Her passions include traveling, real food, the environment, and animal rescue/welfare. She lives a healthy lifestyle and has been a vegetarian since 1987. She and her husband are parents to two rescue pups and reside in Connecticut.