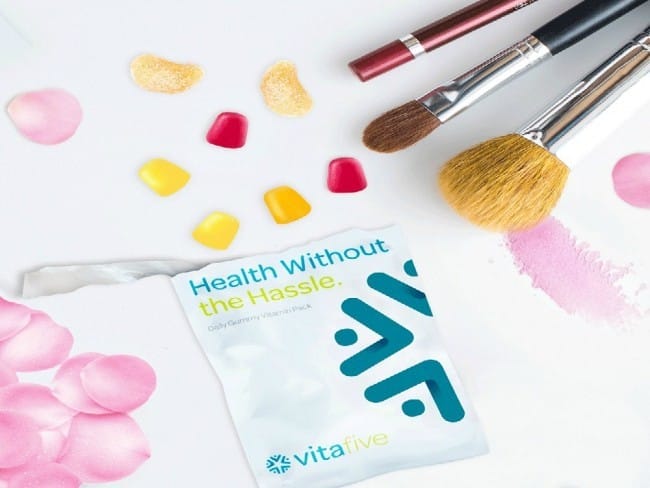 Vitamins are a personal thing. Many of us take vitamins for a variety of reasons; our well-being, to improve our health, to nourish our skin, for a specific target, such as bone loss, and/or to boost our immune system. But, there are so many choices out there, it's very difficult to know the quality of all of them to make the right selection.
Disclosure: Consideration was provided by a mentioned brand. I was not paid for this article. All opinions are my own.
I recently received a 30 day supply of vitamins from our friends at VitaFive to try. These are personalized gummy vitamin packs – yes, I said gummy – for adults and kids that get shipped to you in the mail every 4 weeks filled with 28 daily packs. If you're like me, this is a huge plus…
There are a variety of vitamins to choose from and you can opt for their pre-formulated packs, Beauty, Essential, and Immune, or customize your own. The Beauty Pack I received contains 2 Biotin, 2 Vitamin C, and 3 Omega-3 gummy bear vitamins. Focusing on hair, nails, and skin, it also assists in slowing the signs of aging. Yeah!
Here are 5 reasons why VitaFive can work for you and your family:
There is a pack for everyone from a company you can trust.
Each month, VitaFive will ship you packets for each member of your family. For the adults, you can go customized for what each person needs or select the pre-formulated immune, beauty, or essential options. The kids also have 3 packs to choose from to meet their needs; immune, essential, or healthy bones. Their site explains what each vitamin is good for to help you make your selections.
Each packet comes labeled with your name, so there is no guessing who took what in your family. And, of course, if you aren't satisfied, you can cancel your subscription at anytime; no commitment, no contract, no stress.
You can adjust your pack monthly.
This is a nice perk. For example, during the flu and cold season, you may want the immune pack to help boost your immune system rather than say, the beauty or simply add it in. You can address your health needs at the time.
The convenience of home delivery.
VitaFive arrives at your door each month. No more going to the store, no more organizing your vitamins in the morning, no more forgetting to order online, no more missed vitamin days, and no more cluttered vitamin jars filling up your kitchen cabinets.
You can take these packs with you to work, to school, and even on vacation. I really hate having to count out my pills for how many days I'll be gone on vacation and then putting them in a ziplock bag. I always end up bringing most of them home.
They are gummies, flavored with real flavors, and easy to take.
VitaFive vitamins contain no dyes or artificial colors. They are flavored with items that are good for you, like turmeric and elderberry. These vitamins are also gluten free, kosher, and vegetarian. I have to say the gummy part also satisfied my craving for a little candy. They almost taste too good to be good for you, which led to my only concern; they do contain some sugar, carbs, and calories. But for me, the plusses outweighed this concern.
They are a good value.
The cost for the monthly packs is $24 or $29 per month and starts at $14.99 for the customized packs. The kids' packs run $19 or $24. For me, this represents a good value as I currently spend a lot more than that for my monthly vitamins. Even if I opted for several formulas, it would still be less expensive.
I tried them out and liked them and you just might, too. As VitaFive says, this is Health Without The Hassle…
We are now an affiliate of VitaFive and you can order them by clicking here.
Which packet will you order?
I am a home cook that does things my way. In my kitchen, I make breakfast, pack lunches, prepare snacks, and cook dinner. During the week, we eat real food that is homemade, organic, and local. On the weekends we do explore more of our local restaurants. I bake my own bread, juice fresh oranges every other day, and make my own kombucha and other weekly favorites.