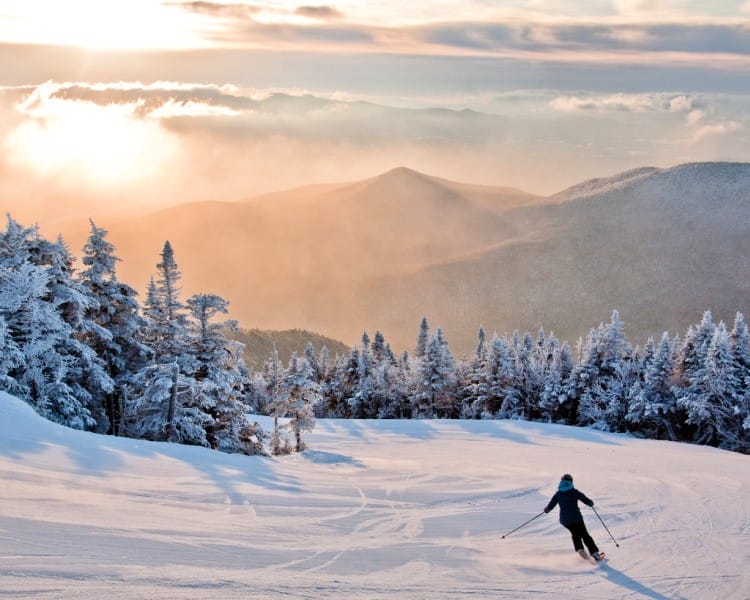 TRAVEL UPDATE: Effective Feb. 23, those who are fully vaccinated AND 14 days out from receiving their final dose can travel to and from Vermont without quarantine. Other safety measures like masks and social distancing are still mandatory for all. Learn more: https://www.vermontvacation.com/travel-restrictions
Yes, ski season is here. Some of you will be thrilled and some of you will be so depressed. I'm actually in between. While I do ski and am probably a solid intermediate, I could easily live without skiing ever again. I do, however, love the skiing ambience.
My husband, on the other hand, LOVES the sport and it shows as he shushes down the slopes. What this means is that we have to find ski resorts that can satisfy both of our abilities and likes.
While our absolute favorite ski resort is Deer Valley, it's not always convenient to get to and right now, travel remains a big question for us, especially by plane. In addition, our trips are sometimes last minute which means we just like to get in our car and go.
Unfortunately right now, covid has made last minute trips a bit more difficult. Most ski resorts are requiring that you buy lift tickets in advance and have a reservation to limit the number of people on the slopes.
All this means is that you have to do some advance planning. This includes finding about dining options, rental equipment, child care, and even hotel amenities like shampoo that we've all come to count on. You need to know what you'll have to bring.
Whether or not you decide to travel has to be a totally personal decision. But if you go, here are some safety tips for your getaway.
For those of you living out east, we have some top Vermont ski resorts to get you started.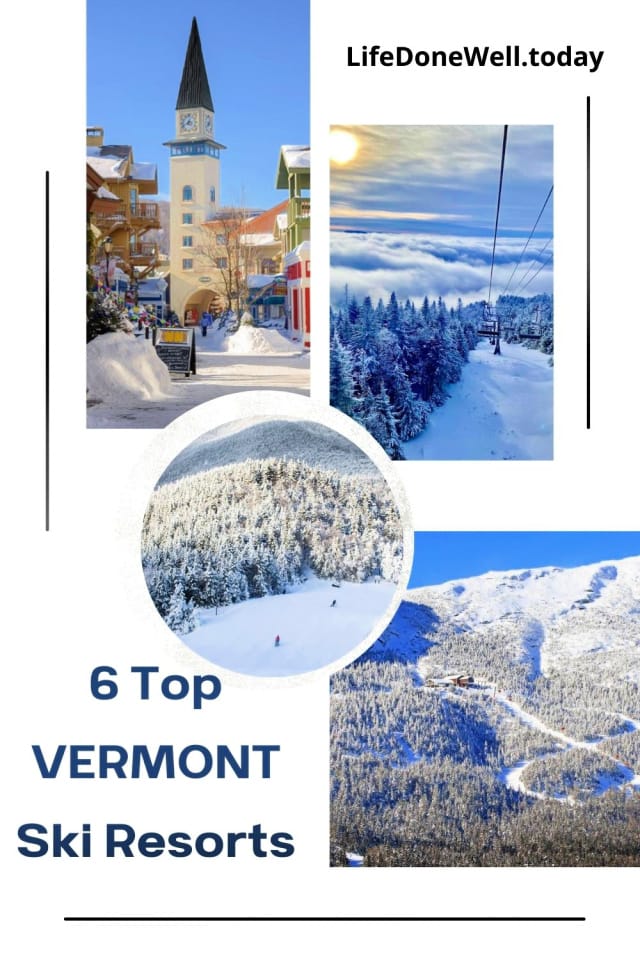 SkiVermont has all you need to know to plan your trip. And be sure to check out the resorts' FB pages and blogs to keep you up to date on conditions. Most now are requiring you to buy lift tickets online. Here's some info on quarantine regulations.
Travelers arriving to Vermont in a personal vehicle must complete either a 14-day quarantine or a 7-day quarantine followed by a negative test in their home state and can then enter Vermont without further quarantine restrictions.
Travelers arriving to Vermont who have not completed a pre-arrival quarantine must complete either a 14-day quarantine or a 7-day quarantine followed by a negative test in a Vermont lodging establishment or with friends and family (travelers must stay in their quarantine location for the duration of quarantine other than to travel to and from a test site).
If you decide skiing this year and travel is not for you, most of these resorts also offer amazing activities no matter the time of year, so definitely worth checking out when travel is back in the picture. Trust me, summer in the mountains is just as adventurous and gorgeous and hopefully, all of the shops and restaurants will be open.
You may also want to think about some cross-country skiing as there will be fewer restrictions and more open space.
6 Top Vermont Ski Resorts
Stowe/Smuggler's Cove
Stowe, owned by Vail Resorts, is nicknamed the Ski Capital of the East and with good reason. Not only is downtown Stowe a picture-postcard ski village with old world New England charm, but you can ski for days and never hit the same trail – my best of both worlds.
Nestled at the foot of Mt Mansfield – the tallest peak in Vermont and Spruce Peak – you'll find some of the toughest east coast skiing here. During normal times, you'll also find luxurious hotels with plenty of pampering off the slopes. This explains why Stowe is one of the most popular east coast resorts.
In terms of skiing, Stowe's annual snowfall is one of the best in the east and its snowmaking operation superb. The majority of the trails are geared towards the intermediate skier, but beginners and experts will not be disappointed.
During normal times, there are long lift lines, but you won't find that this year. A one day lift pass is $94-99 for adults and $80-84 for children. Here's a Stowe link for current covid restrictions.
Off the slopes, the town of Stowe has a lot to offer. But again, the pandemic has changed things. Normally, there are more than 50 restaurants and bars to choose from and the town has a vibrant local brewery scene, like the Alchemist Brewery. There are also many cute shops to check out and spend some money locally.
Killington
Killington is a favorite among New York City skiers. Nicknamed the Beast of the East, you'll find 212 trails to explore over 92 miles and seven different mountain peaks. The longest ski run is the 4 mile Juggernaut. But there's top-notch freestyle parks, plenty of double-diamonds, and an equal number of beginner trails, making it perfect for family skiing.
Like Stowe, Killington has an impressive annual snow fall and snowmaking operation. This means the resort stays open longer than others on the east coast. The biggest complaint heard is and inefficient lift system that takes three chairlifts to reach Killington peak.
Lift tickets are expensive – $115 for an adult one day pass and $89 for kids.
While Killington is an incredibly popular place to ski and snowboard, the amazing après-ski is an attraction in itself, with a normally very active nightlife. It has become quite popular for young professionals who take seasonal rental shares. You'll find countless excellent places to eat and drink.
Click here for covid restriction policies.
Bromley
Everyone loves Bromley's warm southern exposure, slope-side lodging, diverse terrain, friendly staff, and great food. In fact, it is known as the sun mountain and many people ski in their shorts. This is where the locals go.
Bromley is also a very family-friendly Vermont ski resort. Kids love the new, progressive terrain park and the KidsRule Mountain Camps lesson program. Parents love the slopes that funnel the whole family to a centralized base area.
You'll find 47 trails and 9 lifts. One day passes are $85 for ages 6 and up. Click here for up-to-date covid information.
Stratton
Stratton is known for snow and grooming, fast and big chairlifts, and a blend of terrain for beginner to expert with 99 trails. It is renowned as the home of Vermont's first World Cup ski races and is the birthplace of snowboarding.
The resort area offers a lot of events and activities all year round such as Marchdi Gras, the Vermont Open, moonlight snowshoe treks, fireside yoga, and Spring fling.
You can choose from a variety of accommodations and ski deals to suit every style and budget, all at the heart of the resort. You'll find everything you need on the mountain.
Click here for current covid information.
Mad River Glen
Mad River Glen is quite unique among ski resorts. In fact, it isn't really a ski resort, but a ski co-operative owned and managed by skiers!
Mad River Glen is like a living museum harking back to the way skiing used to be. They spent millions to refurbish their famous single chairlift, one of only two single chairs in the entire country!
But while the local skiers who call this mountain home love it, it's not for everyone. The lifts are slow and queues normally can be really long on weekends and trail grooming is practically non-existent. In addition, there are limited lodging options and snowmaking capabilities at the resort.
Despite all this, Mad River Glen does offer one of the most unusual and unique skiing experiences in the country and is not to be missed. It offers about equal trails for beginners/intermidates and experts. A one day pass for adults run $89 and kids and seniors $72.
Find the current info on covid restrictions here Mad River Glen.
Jay Peak Resort
Nestled in the Green Mountains of Vermont, Jay Peak Resort offers a true all season resort. While it offers some of the east coast's best skiing and snowboarding, if offers so many year-round activities for everyone. It is close to Canada and Burlington.
There's a year-round indoor waterpark, ice arena, rec center, championship golf course, and disc golf course. You can bring the kids for summer camp while you take in live music in the amphitheater.
But let's focus on the resort's Pump House indoor water park. You can keep shredding in the Flowrider wave pool – apparently all the rage – get vertical on water slides, take a relaxing float on the Big River, or go for a steamy soak in a hot tub.
The resort offers a wide range of accommodations, restaurants and pubs to welcome you.
Up-to-date covid info can be found here at Jay Peak.
Are you going skiing this winter?

Sherry is one of the TriWivesClub and LifeDoneWell co-founders and contributes to multiple blogs. She is a former co-owner of the California Apparel News and had a career in the healthcare industry. Her passions include traveling, real food, the environment, and animal rescue/welfare. She lives a healthy lifestyle and has been a vegetarian since 1987. She and her husband are parents to two rescue pups and reside in Connecticut.