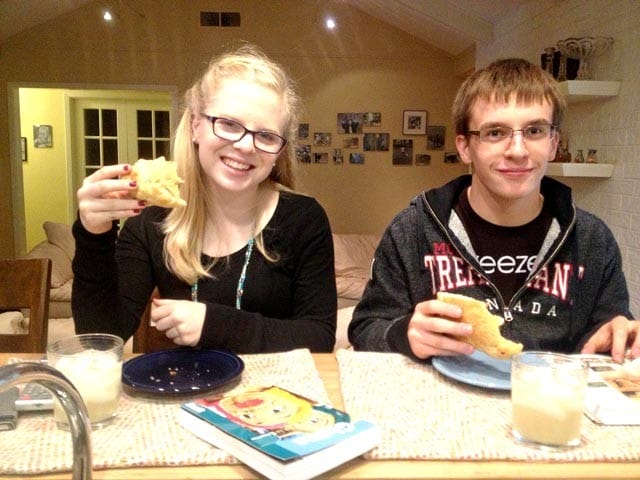 These Sunday breakfast recipes can help you enjoy home-cooked comfort food any day of the week.
Not everyone can have a leisurely Sunday every weekend, but when you do, take advantage. These Sunday breakfast recipes can be made anytime you have a few extra minutes. They taste delicious and will make your family smile.
The only thing better than starting your day with a tasty, homemade meal, is ending it with a tasty homemade meal. Go ahead and serve these breakfast dishes for dinner too. Kids, and kids at heart, will adore it! At Sugar Water Manor, each day we deliver a fresh, hearty homemade breakfast for our guests. It is one of the things I most enjoy about running a bed & breakfast.
Whether you have a special event you're celebrating, hosting guests or just want to enjoy home-cooked comfort food, these Sunday breakfast recipes are a perfect place to start.
From hearty pancakes and waffles to French toast and savory eggs benedict, these bed and breakfast recipes are sure to please everyone.
Whether you're a seasoned traveler who has stayed in B&Bs all over the world or you have never enjoyed a quaint bed and breakfast destination, these recipes will give you a taste of what that experience is like.
Bed and breakfasts are the perfect weekend getaway — cozy rooms, stunning views, and, typically, some of the most scrumptious food! So next time you want your weekend at home to feel like a weekend away, try these recipes. Be sure to pack your appetite.
34 Sunday Breakfast Recipes
Cinnamon Rolls & Breakfast Desserts
Dessert for breakfast? Yes, please! Nothing is as enticing as the smell of fresh cinnamon rolls baking in the oven. And while store-bought cinnamon rolls can be pretty good, they pale compared to homemade ones. I love making cinnamon rolls with cream cheese frosting. Sunday breakfast recipes should be extra rich and decadent, right? They're perfect for weekend mornings when you want to relax and savor every bite.
Bacon & Eggs
If you're looking for something a little heartier, eggs and bacon are always a good choice. One of my favorite Sunday breakfast recipes is Eggs Benedict. This dish is hearty and filling, yet still feels somehow light and refreshing. It's perfect when you want to impress your guests but don't want to spend hours in the kitchen. Also, air fryer bacon is a game-changer!
Omelets, Quiches & Frittatas
For something a little fancier, try making an omelet, quiche or frittata. These recipes work well for brunch or when you host breakfast guests. They may take a little bit more time to make, but they're worth it to impress your guests. You can serve these dishes with a side salad or some fresh fruit, and your guests will be good to go until lunchtime (or beyond).
Muffins
I love making muffins that are bursting with flavor. I use fresh blueberries whenever possible so the delicious juice pops in your mouth with every bite. Serve your muffins warm, with a pat of butter melted on top, and your taste buds will thank you.
Scones
Some may say that a scone is just a hard muffin. I am not one of those people. A crusty English scone is a little crumbly but can withstand a quick dunk in a coffee cup. Few things remind me more of home than scones.
Pancakes, French Toast & Waffles
Do you have kids factoring into your plans for making Sunday breakfast recipes? If so, you will want to include pancakes, french toast or waffles. Or maybe you can include all three! The sheet pan pancake recipe will be your new favorite if you are cooking for a crowd.
Breakfast Potatoes
I didn't grow up eating breakfast potatoes, but now I love the salty addition to my breakfast plate. Cooking breakfast potatoes doesn't have to be hard, either. Once again, the air fryer makes these Sunday breakfast recipes super easy.
Oatmeal
The taste of a heaping spoonful of steaming hot oatmeal on a cold winter morning is heaven. It warms you up and sticks with you for hours. Also, you can add anything you want to these dishes and/or have on hand in your pantry.
Which of these Sunday breakfast recipes will you try with your family?
I am a home cook that does things my way. In my kitchen, I make breakfast, pack lunches, prepare snacks, and cook dinner. During the week, we eat real food that is homemade, organic, and local. On the weekends we do explore more of our local restaurants. I bake my own bread, juice fresh oranges every other day, and make my own kombucha and other weekly favorites.