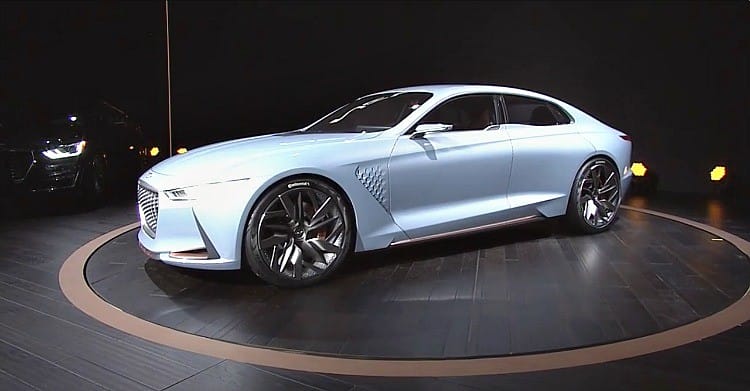 A Must Attend Event: The New York International Auto Show from Friday, March 30th, through Sunday, April 8th, 2018.
In just two days, we will be at the New York International Auto Show for a Girls Night Out with A Girls Guide to Cars. We're here to tell you why you should be there, too!
The New York International Auto Show is the perfect outing whether you're going with friends, family, or solo. It's a great event to even bring the kids along. There is so much going on, so much to learn, and it is not just about finding your next car. You"ll find music, virtual test driving, and even a Kids Motorcade Parade. With an amazing collection of over 1,000 cars on four floors, including the latest and greatest and futuristic concept cars, you will be kept busy for hours.
But if you do need a reason other than the car collection itself, we have 2 giveaways for you. First, A Girls Guide to Cars is giving away 10 pairs of tickets to the New York Auto Show and a $150 gift card to a grand prize winner. Then, when you attend the show you can enter to win 1 of 6 Incredible Prizes with #GirlsNightOutNYIAS. Find out how to enter below.
Why I enjoy attending the New York International Auto Show.
The location…You really cannot get much better than NYC for culture, shopping, and dining.
The brands…They are all here and then some. But, I am always thrilled to discover something new.
The learning…I like to know more and not just from the car brands. It is nice to have learning opportunities as well. Plus, the concept cars are pretty cool to check out.
Hand's on experience…There is so much happening so quickly in the auto world and the Auto Show provides you with hands-on experience with all the latest trends.
It's all under one roof…You can literally just go back and forth and compare cars in one spot. You get to ask all the questions you want without having to get in your car and drive around.
There's no sales pitch…Probably the most important reason for many people! You can explore without feeling the pressure to buy!
While there are many things I am looking forward to at the New York International Auto Show this year, I cannot wait to check out the luxury cars. See, I am actually in the market for a new car. Recently, I learned about the Genesis and cannot wait to check it out and get behind the wheel of this amazing looking automobile. I literally had no idea this car existed or that it's the upscale brand from Hyundai. Did you?
Why am I so excited about the Genesis? Well, there are lots of reasons.
First, I am so intrigued…As a luxury car driver, I want to see how it compares to the luxury cars I am used to like Mercedes and BMW. On paper, it has everything I am looking for.
It's one sexy car…Beyond the safety which is my top priority, it looks like one sexy car that checks off all my boxes. Luxury in a car for me is about everything from the convenience of owning the car to the feel and look. I am excited about checking out the Nappa leather and wood trim that makes it a timeless classic.
The add-ons…The simple fact that as an owner, for three years you have a service valet, Sirius XM including traffic and travel link, and so much more is a huge plus. You have to love an interior that has been designed with the user in mind in terms of convenience and comfort. Oh, and it comes with smart technology like the Virtual Guide.
The only thing I have to decide now is what to wear when I go check it out and the only thing you have to do is enter the giveaways. Oh, and follow along on Instagram stories as I show you this car and the many others I check out.
A Girls Guide to Cars has partnered with the New York International Car Show, Mazda, Genesis, Toyota, and AutoGravity! for this social challenge giveaway. When you attend the show, be sure to take a photo, video, or gif of YOUR dream car in the designated area. Share it on social media using the hashtag  #NYIASGETSOCIAL to be entered. Every photo with the hashtag will be entered to win!
Prizes include:
Apple Watch
Kate Spade Smartwatch
B&O Play Headphones
Amazon Echo
Amazon Echo Dot
Rose Gold Cat Ear Headphones
Details: Photos should be taken between March 30 and April 8, 2018. Images must be made public on twitter, Instagram, or facebook with the hashtag #NYIASGetSocial. No purchase is necessary to participate. The contest is open to all residents of the U.S. Entries must be completed by midnight April 8, 2018. Winners will be chosen at random from qualifying entries. Entries must be original social media posts and may be disqualified for inappropriate content.
Check A Girls Guide to Cars on Facebook for updates and the announcement of the names of ticket and prize winners!
Then, join the Twitter Party on Monday, April 2 at 8PM ET using these hashtags: #NYIASGirlsNightOut, #GenesisGNO, #MazdaGNO, #ToyotaGNO and #AutoGravityGNO. GirlsGuide2Cars and 3CityGirlsNYC will be sharing what they love the most about the New York International Auto Show!
Getting To The Show
JAVITS CENTER, 655 W. 34th St., New York, NY 10001
The New York International Auto Show is easy to get to from anywhere in the tri-state area. There are many parking facilities nearby, plus mass transit, including the new 7 Train station that stops ACROSS THE STREET from Javits! (Metro-North, LIRR, NY Waterway Ferry, Subways, and Buses).
Disclosure: This sponsored post was made possible thanks to A Girls Guide to Cars!
I am a home cook that does things my way. In my kitchen, I make breakfast, pack lunches, prepare snacks, and cook dinner. During the week, we eat real food that is homemade, organic, and local. On the weekends we do explore more of our local restaurants. I bake my own bread, juice fresh oranges every other day, and make my own kombucha and other weekly favorites.