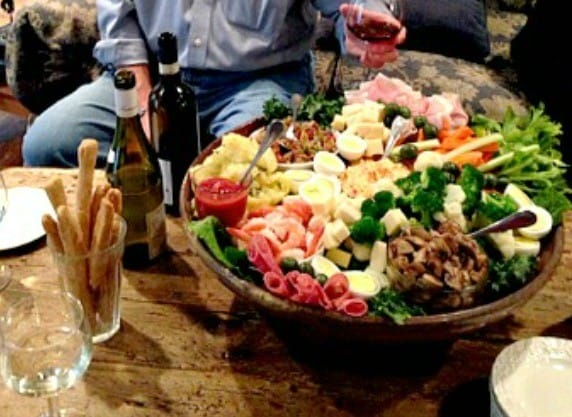 Do you need a light lunch or a quick snack after that afternoon work out? Having friends or family over and need an appetizer plate? Or, just don't feel like having a regular meal for dinner? Then, a Mediterranean Platter can be the perfect choice.
In the summer, I always have eggplants and fresh veggies on hand that are available from the garden or the local Farmer's Market, but you can certainly buy all of these ingredients at your local grocery store. What I also love about this platter is that you can make it for one or a group or as simple or as complicated as you like, just by adding more ingredients! Here's what I do…
An Easy To Make Sure To Please Mediterranean Platter
Set the oven to 400.
Take 2 eggplants; cut off the top and slice each in half. On the flesh side, make deep diagonals to form a diamond-like pattern, drizzle with olive oil, and add salt and pepper. Cook, flesh side up in the oven for 25 minutes.
While the eggplants bake, make a quick hummus in your bullet or food processor. Use 1 can of chickpeas, 1 head garlic, juice of 1 lemon, 1 tbsp tahini, olive oil to your texture, and salt and pepper to taste. You can always use the ready-made if you choose, as many people keep it on hand. But, trust me, the fresh is so much tastier.
Cut up the veggies of your choice. I like cucumbers, tomatoes, peppers, zucchini, carrots, and cauliflower.
Optional: Bread, pita bread, or crackers; cheese if you like and have on hand; olives, and/or roasted red peppers; and meats such as salami and sausages.
If the platter is for lunch, you may want to add a quick Israeli salad and throw in quinoa if you have and/or want. Chop some cucumbers, tomatoes, red onion, parsley, and mint and add salt, pepper, lemon juice, a little olive oil, and cooked quinoa (optional).
By the time you set the table and have the platter ready, the eggplant will be cooked. Remove from the oven and scrape out the flesh with a fork into a bowl. Mash with the fork and add a diced garlic clove, juice of 1 lemon, 1 tbsp tahini, salt, pepper, 1 tsp cumin, and some olive oil.
You're done. Enjoy!
I am a home cook that does things my way. In my kitchen, I make breakfast, pack lunches, prepare snacks, and cook dinner. During the week, we eat real food that is homemade, organic, and local. On the weekends we do explore more of our local restaurants. I bake my own bread, juice fresh oranges every other day, and make my own kombucha and other weekly favorites.