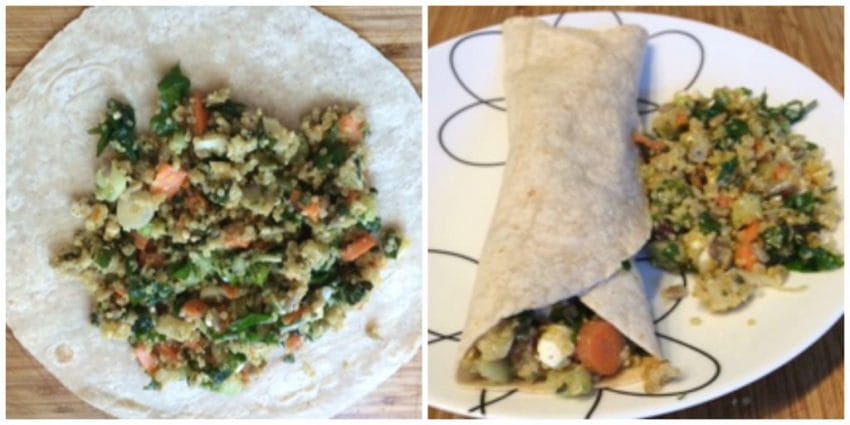 I've really gotten into making a variety of quinoa dishes lately.  Being vegetarian, it really works well for me and can be used in a variety of ways.  I tried this salad the other night and have to say it was a huge hit.  My husband finished it off and actually asked that I make an extra batch for him to take for lunch, the next time I make the dish.  While he is always appreciative of what I make, requesting "more please" doesn't happen every day, so I will definitely be making this one again.  Here's my recipe…..
QUINOA SALAD WRAP
You can use just basic unadulterated quinoa, but I happen to like Pereg Gourmet's Quinoa with Spinach.  They have several different varieties, but I tend to use this one.  I also use a vegetable broth instead of water for cooking for a little added flavor.  It takes about 20 minutes.  I buy it at Whole Foods, but that doesn't mean it's not carried at other stores.
Makes 4 – 6 servings.
INGREDIENTS
1 1/2 cups quinoa
1 bunch scallions, chopped
3 celery stalks, chopped
3 carrots, chopped
1 cup kale, chopped
1/2 cup parsley, chopped
1/2 cup feta cheese – You can omit to make it vegan.
1/2 cup sunflower seeds – I use raw unsalted
1/4 cup olive oil
1/4 cup lemon juice, fresh squeezed preferred, but I always keep organic bottled on hand
Salt and pepper to taste
Package multigrain wraps
Optional:  1/2 cup dried fruit, such as cranberries; 1/2 – 1  cup garbonzo beans; chopped artichokes – I used Monterey Farms ArtiHearts, again bought at Whole Foods.
PREPARATION
Cook the quinoa according to directions.
While the quinoa is cooking, combine the other ingredients in a large bowl and toss.
Let  the quinoa cool a bit when done.
Add the cooled quinoa to the other ingredients and toss.
Adjust seasonings, including olive oil and lemon juice to your taste.
Fill the wraps and serve.
While  I served the salad in a wrap, you can certainly just enjoy it on its own.  That's usually what I do the next day…
– SHERRY
DO YOU HAVE A FAVORITE WAY TO FIX QUINOA?

Sherry is one of the TriWivesClub and LifeDoneWell co-founders and contributes to multiple blogs. She is a former co-owner of the California Apparel News and had a career in the healthcare industry. Her passions include traveling, real food, the environment, and animal rescue/welfare. She lives a healthy lifestyle and has been a vegetarian since 1987. She and her husband are parents to two rescue pups and reside in Connecticut.