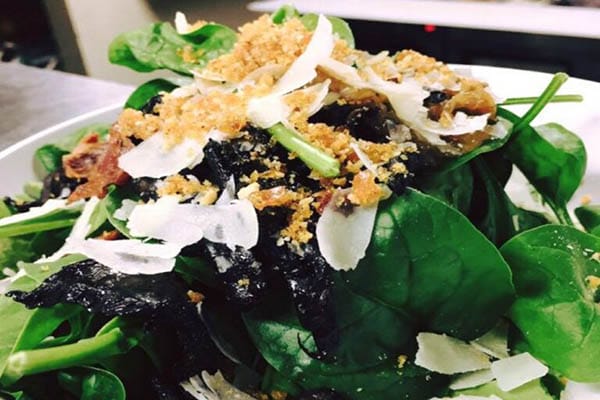 I recently had the pleasure to dine at Baird's on B Bar & Grill in Lake Oswego, Oregon. We had a wonderful experience and were most fortunate to obtain a recipe from Chef Sal Campagna. It is for their Warm Spinach Salad, just one of the dishes they are well-known for. If you make it, you'll see exactly why!
Baird's on B Warm Spinach Salad
Ingredients
4 bacon strips
1 small sweet or yellow onion
2 cups sliced wild mushrooms
1/3 cup sherry or balsamic vinegar
1/2 cup chopped hazelnuts
1/2 cup grated cheese, such as Parmesan or Pecorino
1/3 cup olive oil
10 ounces tender baby spinach
Directions
Chop the bacon into thin strips and sauté' until desired crispness is reached, keeping its fat.
Slice the onion into quarter inch rings, brush with oil and sprinkle with salt and pepper.
Pour half of the vinegar into a mixing bowl.
Grill onions until slightly charred.
Immediately toss in bowl with vinegar.
Meanwhile, saute' mushrooms over high heat until golden brown.
At this point, the ingredients may be kept on hand until needed.
When ready to serve, place spinach and hazelnuts into mixing bowl.
Heat bacon, onions, mushrooms, remaining vinegar, and olive oil until just warm.
Pour the warm vinaigrette over the spinach and hazelnuts and toss immediately to slightly wilt the spinach.
Arrange the salad on plates and sprinkle generously with cheese.
For a delightful variation, especially during the summer, keep everything cold. Then, add strawberries, switch out goat cheese for the parmesan, and toss it all in lemon oil.
All that's left to do is enjoy!
All photos are courtesy of Baird's on B Bar & Grill.
Kathy was a business owner for many years. Specializing in the field of orthopedic joint replacement, her time was spent in the operating room and conducting training programs throughout the United States. Since moving to the midwest with her corporate husband, she divides her time between caring for Brandy, their 4-legged family member, cooking from scratch, and searching out exceptional undiscovered restaurants both at home and wherever their travels take them. She also creates greeting cards that are sold around the world. Kathy discovered her love of writing while in college and has begun using it as a way to share her travel experiences and the restaurants she seeks out along the way.
Kathy, her husband, and Brandy currently live in Nebraska.