Create a beautiful space this spring with these 15 container garden ideas, perfect for small spaces and beginner gardeners.
Besides offering fresh fruits, vegetables or herbs, container gardens offer small spaces the beauty of flowers and greenery that you might not otherwise have access to. You can even upcycle items throughout your home to become containers for your plants.
When you either don't have the space or don't want to devote the space, these container garden ideas are perfect for smaller spaces such as porches or window sills.
Or perhaps you just don't need a large garden or maybe the idea of a large garden intimidates you. Either way, a container garden is the perfect place to start your gardening journey.
If you're not sure where to begin, here's some information that should help get you on your way.
Which vegetables grow well in containers?
You're pretty much unlimited in what you can grow in a container. We've had great success with these herbs and vegetables in containers:
Tomatoes
Peas
potatoes
Squash
Lettuce
Cucumbers
peppers
Radishes
Eggplant
Herbs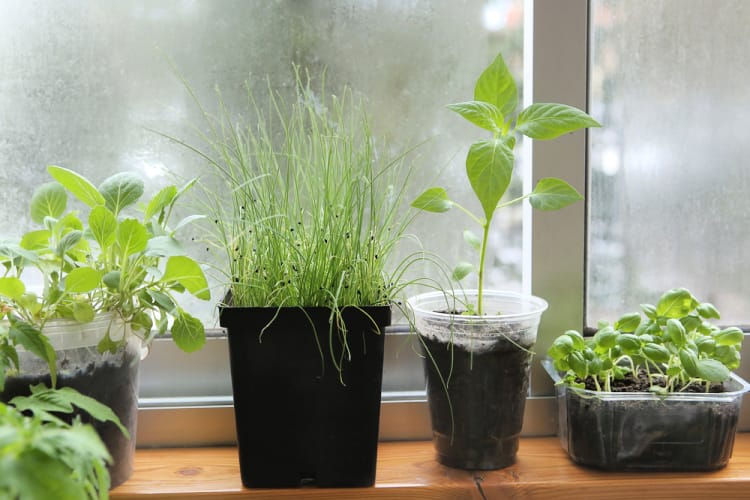 It's always fun to create different container gardens that are of a theme. Here are some of our favorite ideas:
a salad garden with different lettuces, cucumbers, and tomatoes
a salsa garden with tomatoes, onions, and cilantro
a pizza garden with tomatoes, onions, peppers, oregano, and basil
a container of edible flowers
Tips for Your Container Garden
When you are looking for ideas for your container garden, be sure to pick out containers that are as large as possible for your space, as you want your plants to have room to grow.
Be aware that the smaller the container, the quicker it will dry out. You will want to keep your container plant size, pot size and the weather in mind when it comes to how much water they will need.
You will also want your container garden to be put in a location where they can get direct sunlight or are able to be moved around easily with the location of the sun.
Plant a variety of plants with different sizes and textures to make a beautiful container garden arrangement.
When you are thinking about your containers, here are a few frequently asked questions:
How deep should the container be for container gardening?
The answer is at least eight inches deep. This is a basic depth for most plants. If it is much deeper than 12 inches, you can fill the bottom with an upside down pot or large rock to use as filler.
What type of soil should I use for my container garden?
Soil is one of the most important parts of a container garden. Use good potting soil. Do not take soil from your yard, raised bed soil, or seeding soil. We always make sure the soil is organic. But any potting soil will work that is mixed to be lightweight and fluffy.
Do I need to add rocks at the bottom of my container garden?
YES! And you need to be sure there is a way for the container to drain. You do not want to have water build up at the bottom causing root rot and other issues. Place a couple of rocks around the holes at the bottom of the container and then put in potting soil.
What is the best location for a container garden?
The best location is anywhere you want to put it. What varies is what you put in it and how much sunlight is needed. But remember, if you are growing on a balcony or shady area because it is the only area you have, you can use grow lights too.
How should I fertilize my container garden?
I only use organic fertilizer by choice. In general, you want to be sure to fertilize about two times a week once they start getting their leaves. Then, fertilize based on the type of planet.
The important thing to remember is that you can use less fertilizer as it has less area to travel in a container. Also, fertilize based on your soil and plant needs. You can find this online or ask the staff where you purchase the plants.
Ready to get your garden growing? Check out these 15 inspiring container garden ideas.
15 Inspiring Container Garden Ideas
Create a beautiful space this spring with these 15 inspiring container garden ideas! Perfect for small spaces and beginner gardeners.
I am a home cook that does things my way. In my kitchen, I make breakfast, pack lunches, prepare snacks, and cook dinner. During the week, we eat real food that is homemade, organic, and local. On the weekends we do explore more of our local restaurants. I bake my own bread, juice fresh oranges every other day, and make my own kombucha and other weekly favorites.