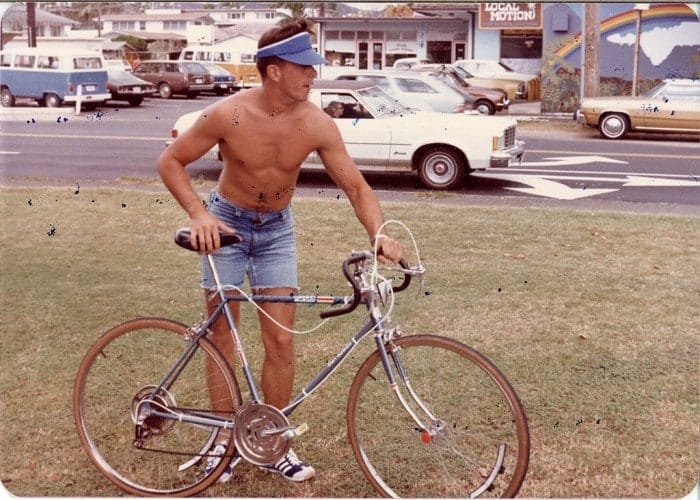 The TriWives had the distinct pleasure to chat with Dave Orlowski, one of the original 1978 Ironman, who finished 3rd by the way. Over the years, Dave has taken on the role of both racer and spectator, so he was able to offer a unique perspective for this interview. Dave actually did not do another Ironman until 2008 for the 30th anniversary in Kona. Since that time, however, he has completed an amazing 28 races in 5 years; yes, I said 28 races in 5 years – all this despite having faced several serious medical issues.
Dave is currently part of TeamTimex and is also actively involved in several causes close to his heart; the Pancreatic Cancer Foundation and the Blazeman Foundation for ALS. These diseases took the lives of two friends, Henry Forrest, one of the original Ironman and Dave's mentor, and Jon Blais, who completed Kona in 2005 with the disease.
We are so glad to have him back on and off the course and on the pages of The TriWives Club. Enjoy……
TWC: First, we have to say what an honor this is for us. I have known you for a few years and it seems we became fast friends. One of my best memories is walking up the hill at Ironman Mont Tremblant with you several years ago and just taking everything in. It was such an amazing experience for me. That said, we have so many questions, so on with the interview…..
TWC: What is your favorite spectator moment?
Dave: It would have to be seeing people cross the finish line and the excitement and joy they express, especially first timers; some are more emotional than others. They are achieving something they thought they couldn't do. Also, when you talk to the people who are on the course at the 14-16 hour mark about why they are doing this, their stories are so important and have such personal meaning. Oh, and getting to see the physically challenged compete and knowing what they've accomplished.
TWC: As a famous age grouper, do you feel it is your job to be more of a good will ambassador on the course or are you seriously competing these days?
DAVE: In 2008, I felt I had a competitive edge, but had medical setbacks, so I now feel more like a good will ambassador; trying to have fun and talking to people during the race. I'll say hi as they ride or run by. I get some weird looks at first and then they break out in a smile. I'll also try and interact with spectators and volunteers on the race course and shake hands with kids. I'm no longer worried about time. I shoot for 14 – 16 hours, but I hope to do Kona under 14. I guess I'm a spectator on and off the course.
TWC: What inspired you to come back in 2008?
DAVE: I was invited back to the 25th Ironman in Kona in 2003 and took my mom, but both of us were spectators. It was the first Ironman I had attended since 1978. I guess I was inspired by the energy and the athletes to race again. I started going back to Kona each year between 2004 & 2007 as a spectator and volunteer, and set a goal to race at Kona in 2008, which I accomplished. Doing this was kind of on my bucket list and has enhanced my life and I think, made me a better person.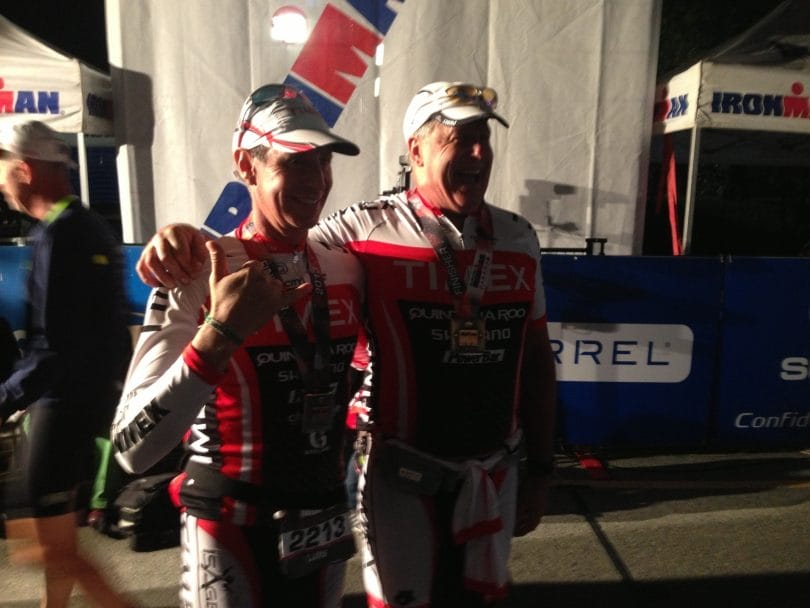 TWC: What are your favorite places to volunteer?
DAVE: I love being at the Kona swim as it's warm and you get to see the racers and race firsthand. Also, I love being at the finish line between 16 & 17 hours.
TWC: Do you see volunteers go from volunteers to spectators to triathletes?
DAVE: Yes, in fact my twin sister did just that. She wasn't involved in any sport, but connected with a friend who was racing. She is now doing Sprint and Olympic distance races. I also speak to volunteers at their parties explaining what athletes go through and some of them go on to race themselves.
TWC: What words of wisdom do you have for the beginner triathlete?
DAVE: I'd say to develop your own personal passion for the sport and keep at the level you want to compete. The big thing is to make it fun. Don't get obsessive, as you're not doing this for money, unless you're a pro. I see people who get down on themselves when they're off their time by 2 minutes. They need to remember to keep it humble.
TWC: Is there a single change in the sport that you feel has influenced it the most?
DAVE: I believe that media coverage has had a great influence by showing the positive side of the races and by bringing awareness to the sport.
TWC: What is your nutritional plan as a spectator to maintain hydration and caloric intake?
DAVE: If it's really hot, I will carry bottles of water and electrolyte tabs. I stay at the swim until the last person is out of the water and then will have a light snack. Then, I'll watch the bike and have a light lunch around noon or 1pm and then watch until the last bikers come in. I do hydrate during the day. I'll have a light dinner and then stay until the very end and the last racer is in. Then, I go back to my room, hit the bed, and am out.
TWC: What are your favorite tools of choice as a spectator?
DAVE: I carry a cowbell and do a lot of yelling. I guess the cowbell could be annoying to the people around me. I used to clap a lot, but after 17 hours my hands went numb. So, now I use a cowbell and the racers hear you better.
TWC: Which race do you feel is best for spectating?
DAVE: I can't name a specific race, but I feel any race that has a bike course of 2 loops and a run course of 3-4 loops would be great for spectating. You can see the athletes more and feel more involved with the race. Most of the time, on the bike, you don't see the spectators – it's nice if you can catch them, but it doesn't happen often. The run is the best part, because the athletes are going at a different pace and so everyone gets the most out of it.
TWC: Is there one race you would go back to?
DAVE: Again, I can't name a specific one. I'd probably go back to them all, as they each have something unique to offer. I try to experience each venue and share the day with everyone there.
TWC: How do you feel the new technology in gear and social media have affected the sport?
DAVE: In terms of social media, I use facebook to stay in touch both as an athlete and from a personal perspective. I get to keep up on peoples' lives and through my posts, I try and let people know if they want to do a certain race, if it's good for families, etc. In terms of athlete tracker, it can be used to set out a plan with your athlete before the race and it will give you an idea where the racer is on the course. People could then share the information on twitter – not personally on – to say, "I've just seen David at mile 52, should be to you soon."
TWC: What's next for you after Kona?
DAVE: I'm playing it by ear, depending on how I feel after Kona. Right now, I am planning on doing Cozumel and that should be my last race this year.
TWC: You're part of Team Timex now?
DAVE: Yes, it keeps my fire going to being a part of a team. Thanks to our sponsors QR Bikes, Shimano, Blue Seventy wetsuits, and Champion System race apparel, who all provide the gear that keep me going in this sport.
TWC: Well, I think that's all we have for now. Again, thank you so much for giving us this interview. We had a great time. We'll be following you in Kona and know we're with you in spirit.
THE TRIWIVESCLUB

Sherry is one of the TriWivesClub and LifeDoneWell co-founders and contributes to multiple blogs. She is a former co-owner of the California Apparel News and had a career in the healthcare industry. Her passions include traveling, real food, the environment, and animal rescue/welfare. She lives a healthy lifestyle and has been a vegetarian since 1987. She and her husband are parents to two rescue pups and reside in Connecticut.