For those wondering how to make your daughter's wedding wishes come true, I am here to tell you it can be done! With lots of planning and a little luck (IE: hard work), you can make this huge event one of the best days of your life. Read on to see a sneak peek of our daughter's magnificent day.
Yes, I hit another parenting milestone.
My daughter got married! But first, here is a little history. I have twins who are now 26. I have Sydney, my daughter and eldest by 19 minutes. And I have Sam, my son and youngest. It has always just been my husband and I and the twins, as long as you don't count my goat kids, dogs or other animals. The twins are amazing and have always been easy. Yes, we have had our challenges, and there have been bumps in the roads but in the grand scope of things they are wonderful.
We, my husband and I, decided early on that we had one mission: to raise good humans we enjoy being with that are also independent individuals. I think we did it.
My daughter's wedding wishes came true.
Fast forward to this year, my lovely daughter married her beloved on the grounds of our farm. The week before Labor Day weekend, people started to gather here for several pre-wedding events. Then, on Sunday, September 4, 2022, after a 15-month engagement, my only daughter was married. And I had the honor of making her and her now husband's dream wedding a reality. Piece of cake, right? WRONG!
It was a lot of stress for me, especially after the world had been basically locked down for two years. We had a home and property under construction. Plus, we live in a part of the world where resources are often hard to come by. But we did it!
The Magical Location: Sugar Water Manor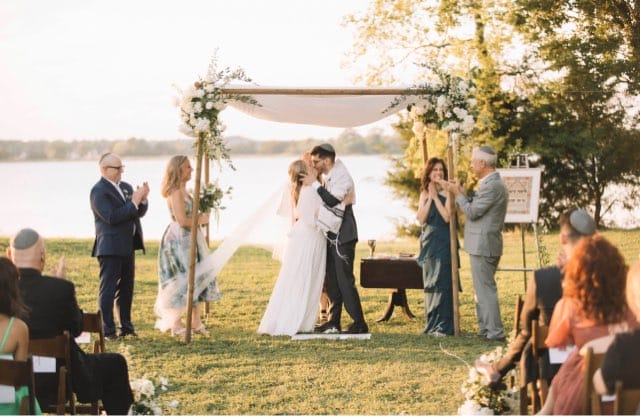 In May 2021, we traveled to our twin's birth state for a surprise engagement. Our sweet now son-in-law asked our daughter to marry him…and…spoiler alert, she said yes! We were privileged to be able to give our kids the gift of their weddings. We told them that they could get married anywhere and I would help with all the details. I can pull off major events with my eyes closed and have friends that would help who can do the same. After a very short time, the kids said they wanted to get married right here at home. At the time we were living in a construction zone. We had four bathrooms under construction, and our kitchen was at studs with NO appliances. Let's back up.
We moved to this fabulous farm in January 2019.
The historical house, built in 1803, had never been lived in as a permanent residence. (It was only used as a summer home.) It was amazing but needed so much work. We had no air conditioning, a range with only a working cooktop, plumbing that needed to be replaced, and only 150 amps of electricity to power a nearly 10,000 square-foot home. Only 14 months into starting the construction project on our home and the two lodge houses, the Covid pandemic began. We forged on as best we could to open our agrotourism lodge, remodel our personal home, and build our working farm. This was the most beautiful place for our daughter to get married. We just had to get it ready.
I have to admit I was a little excited and scared at the same time.
How in the world was I going to pull this off? . The work had to start ASAP. In August 2021, they picked the date of September 2022 for their wedding which should be enough time, right? Living in another city, I could do this in a month. But not on Maryland's Eastern Shore and not with these kids. These two kids know what they like. They wanted to have a truly personal wedding, and that was what we gave them.
It was a lot of work to make my daughter's wedding wishes come true.
It was a lot. I did a lot! I met a lot of meeting new amazing people. I depended on my dear friends a lot. And I learned a lot too. At the end of the day, it was amazing.
The year flew by and included trips to NYC, a getaway with my sisters and the oldest nieces in Montreal, girlfriend getaways, many wedding planning trips and meetings, meeting with the future in-laws at the farm, a wonderful bridal shower weekend in full Sydney style and so much more.
We also (nearly) finished the construction of the house. My kitchen and six of the bathrooms are done, and now the wedding with Sydney and Eric is 100% finished too.
Is it a letdown now that the wedding is done?
Truth: it is not. The year gave me so much. I have so many new friends, a new family and more. Plus, I am thrilled that my daughter and her new husband will start their new life together. I am excited to share with you over the next few months about this process so you too can learn from all my mistakes and successes! It was an honor to be able to make my daughter's wedding wishes come true.
I am a home cook that does things my way. In my kitchen, I make breakfast, pack lunches, prepare snacks, and cook dinner. During the week, we eat real food that is homemade, organic, and local. On the weekends we do explore more of our local restaurants. I bake my own bread, juice fresh oranges every other day, and make my own kombucha and other weekly favorites.