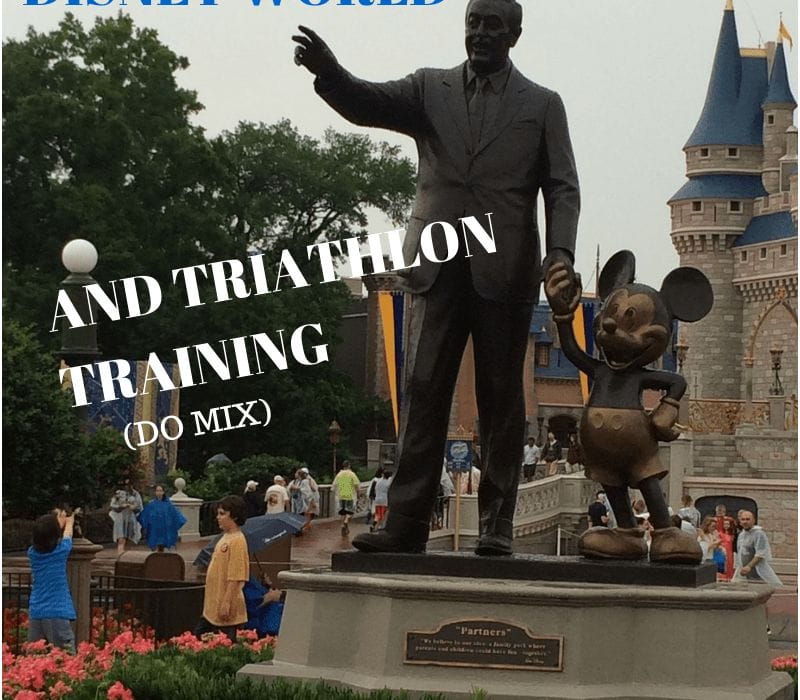 So, who would think you could mix Disney World fun with triathlon training?  Well, we're here to tell you it's not only possible, but actually works very well.  We were recently in Disney World for a week-end of fun and learning with the TravelingMoms and investigated the possibility of Disney World being appropriate as both a triathlon training ground and vacation spot for the family – just in case we wanted to come back!
Vacations can be very hard to plan for and more time-consuming when you have a triathlete or any competitive athlete in training.  Questions that need to be answered include:
Will there be a pool or body of water that they can do laps in?
Is a fitness center available with a spin bike or can they rent a bike at a local bike shop?
Does the surrounding terrain allow for long runs?
And the biggest question of all – Is there food available they can eat?
Well, we can answer a resounding YES to all of the above!
Let's Swim, Bike, Run, Eat, and Play at Disney World!
SWIM
Disney has some amazing pools, but they are all themed pools; meaning there may be slides, elephants, or other cool things in your "lap lane".  You can always sneak out before the first child in the resort wakes up and the pool is still empty to get in a good training swim.  If you must have a real pool to get that workout in, contact the YMCA Aquatic Center on International Drive.  It is the ideal training pool.  The Disney Swan & Dolphin Resort does have two lap pools and you can check out Lucky's Lake Swim at your own peril.
Note:   This is not a swim buoy, no matter how tempting it looks.  There is no open water swimming at the Disney Boardwalk Resort, where we last stayed, or any other Disney resort as far as we could determine.
BIKE
Biking in Disney is the one difficult part for training.  It's probably best to have your triathlete work with his coach to plan accordingly while you're away.  It is one place probably not worth bringing your bike.  But, all of the resorts have fitness centers with nice training bikes, so it's easy to get a spin in.  Plus, you can always take the family for a fun spin on one of these bikes.
Update: One of our readers informed us of Elite Road Bike Rentals, who will deliver a bike to your hotel in the Orlando area.  He was very happy with the service and got in a good ride.  Thanks Peter.
RUN
Disney has wonderful running paths all over the property.  They range from .75 miles to 4 miles, so even looped, long runs can be easily accomplished.  I, in no way, would allow my husband to or would advise running outside of the designated areas at Disney World.  The roads are full of tourists looking for Mickey and large buses!  On my recent visit, I ran the Epcot/Disney Boardwalk loop.  It was shaded in areas, not crowded at all, scenic,  and most importantly for me, not on concrete the whole way.  Check out the Disney World jogging page for details.  You may also want to plan your Disney trip around the Run Disney events.  So, make sure you check them out.
EAT
This one's easy!  Finding whole, healthy, real food to meet your triathlete's dietary needs is simple at Disney World, no matter which resort you stay at or park you are visiting.  The restaurants will work with you and finding, vegan, Paleo, gluten-free, Whole30, or just a well-balanced meal is easy.  Chefs will also assist you with any allergies or special needs you have; all you have to do is ask.  Just listen to what Rick from the Garden Grill had to say.
PLAY
You're at Disney World.  What more is there to say…..
So, there you have it.  As you can see, Disney World and triathlon training do mix and can make for a great family vacation.  All it takes is a little planning ahead and staying on schedule.  Just look at these two happy triathletes I found at Epcot.  They were enjoying a beer while taking a break from all the fun.  Their next race is Frankfurt, Germany.  Hey, where's their beer steins?
– THE TRIWIVESCLUB
Note:  We were hosted by Disney World for a TravelingMom Retreat.  All opinions expressed are our own.
HAVE YOU COMBINED A VACATION AND TRIATHLON TRAINING?

Sherry is one of the TriWivesClub and LifeDoneWell co-founders and contributes to multiple blogs. She is a former co-owner of the California Apparel News and had a career in the healthcare industry. Her passions include traveling, real food, the environment, and animal rescue/welfare. She lives a healthy lifestyle and has been a vegetarian since 1987. She and her husband are parents to two rescue pups and reside in Connecticut.