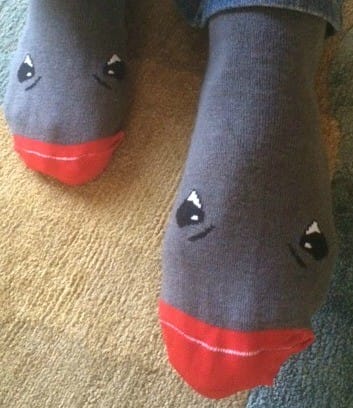 My triathlete goes through a ton of socks and it seems like I'm always washing them.  When you run or ride almost every day, well…But, not just any socks will do.  They have to have a bit of padding and be cushy, moisture wicking, and fast drying.  Add a little compression and some fun to the mix and both he and his feet are happy!
We recently had the opportunity to try out a Socks Bocks sample box from Fun Fit Feet, a company that specializes in – you guessed it – all sorts of socks!  You have to love their motto – "putting the fun in fitness…two feet at a time."  The company prides itself in carrying socks that are made from a variety of materials, provide great technical performance, feel really good on your feet, AND bring a smile to your face.  Who said socks can't be fun?
You can choose from a wide variety of products available by sport or cuff length and in men's and women's styles.  While you can buy individual pairs, the Socks Bocks is a subscription order that can be purchased either on a one time basis or sent every 3 months.
To get your Socks Bocks, you simply fill out a brief questionnaire, including your athletic interests and they select and send you a set of 3 socks.  As I don't wear a lot of socks, except for running, I let my husband be the official sock tester.  Of course, I checked the triathlon box – what else – and when our Socks Bocks arrived, it came with a pair of:
DeFeetThermo CoolCyclismo Reflector

DeFeet Run Meta Tabby withCOOLMAXEcoMade
Sock Guy Cool Comfort Formula – Shark
Both the cycle and running socks came in very bright colors, so are easily visible when riding or running outdoors.  The cycle socks have compression, padding at the balls of the feet, and are actually reflective for an added measure of safety, which always makes this triwife happy.  All are moisture wicking.  Many of the running socks also have cute prints on them such as java, gnomes, and lady bugs.
It's really hard to get excited about socks – they are after all, socks!  But, my husband did like these.  They met all of his requirements and his feet stayed dry and blister-free, thank you.  I will add that the shark ones did actually make him smile as he wriggled his toes!  I guess the best endorsement is when he said, "Oh, yeah, I'd buy these".  Luckily for him, another Sock Bocks will be in the mail soon…He really couldn't think of any negatives and trust me, he would have let me know if he found an issue.
Individual prices run between $10.95 – 15.99 per pair and there are frequent clearance items and specials.  The Socks Bocks cost between $65 – 150 depending on which subscription length you choose.  Shipping is free on orders over $39.  Fun Fit Feet also carries compression socks, which my triathlete uses quite a bit, especially when traveling.  They also come in colors and not just the boring white and black.
Fun Fit Feet

is graciously providing TriWivesClub readers 10% off on any purchase on their site.  Just use the code "TRIWIVES" at checkout.  Be advised that the next shipping for Sock Bocks is on April 15, so get your order in NOW!  They are also on sale, so there's extra savings.
Disclosure:  I was provided with the Socks Bocks from Fun Fit Feet for my review.  I was not paid for this article. All opinions are my own and my husband's.
 – SHERRY

Sherry is one of the TriWivesClub and LifeDoneWell co-founders and contributes to multiple blogs. She is a former co-owner of the California Apparel News and had a career in the healthcare industry. Her passions include traveling, real food, the environment, and animal rescue/welfare. She lives a healthy lifestyle and has been a vegetarian since 1987. She and her husband are parents to two rescue pups and reside in Connecticut.