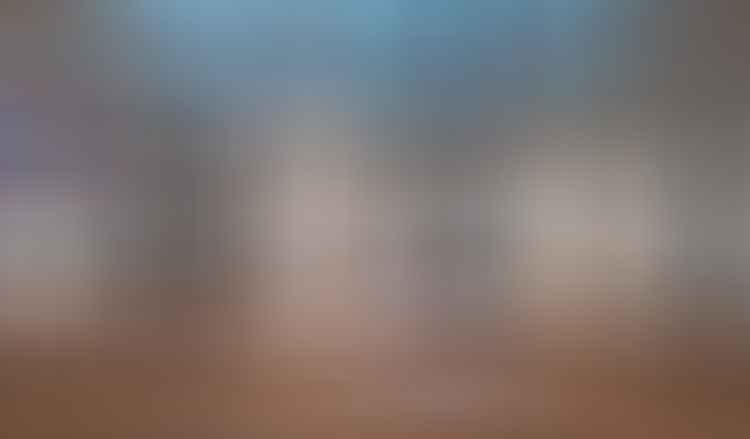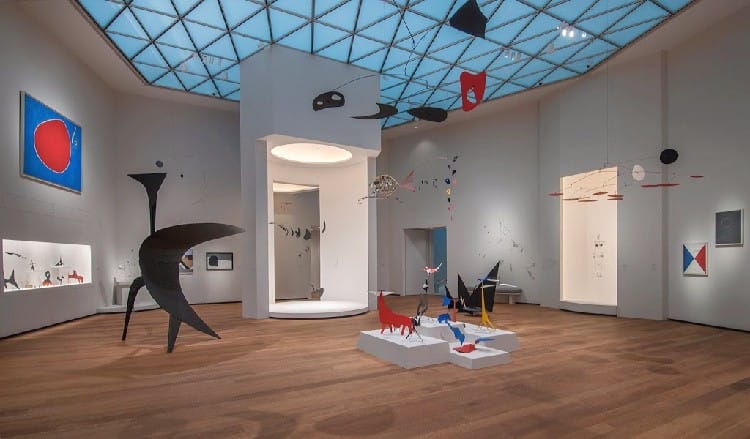 Washington, DC happens to be one of my favorite cities in the world. I love that there is something new to explore in town every time I visit, like cherry blossoms. With many people probably visiting to see the trees in full bloom, I though I'd share an idea I had on a recent trip.
Since I spent most of my time exploring art galleries, I decided to turn a recent visit into an art-themed weekend  in Washington DC. A big advantage to visiting art galleries is that you're always assured of a new experience as they switch up permanent collections and have special exhibitions. It's like seeing the gallery through fresh eyes. Plus, you can never take it all in or do it well without multiple visits. Of course, you can choose your own theme…maybe music, dining out, or science and technology. Most importantly, just have fun with it…
In case you need some tips for where to stay and where to dine, I'm happy to share some of my favorites with you, too.
Art and Culture
The Phillips Collection
On a very rainy day in DC, I was looking for something to do close to the hotel. Being a lover of modern art, I knew I found it when I read about The Phillips Collection, America's first museum of modern art. The museum is the creation of a collector and philanthropist, Duncan Phillips, and opened in 1921. It is located in a residential neighborhood in Dupont Circle. It was the Phillips' home. Several additions have been made over the years to include more gallery space, an auditorium, and library. It is a nice break from the massive art galleries at the Smithsonian.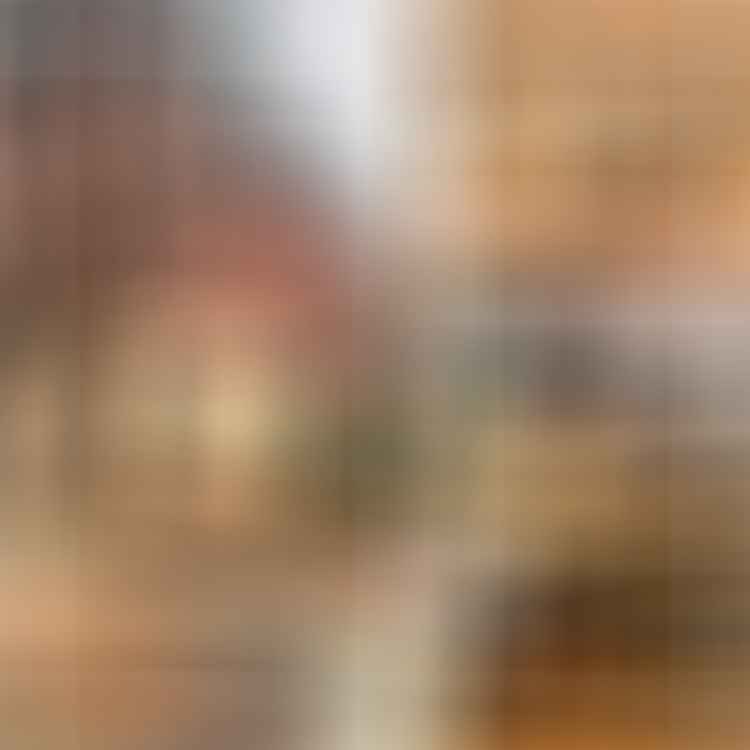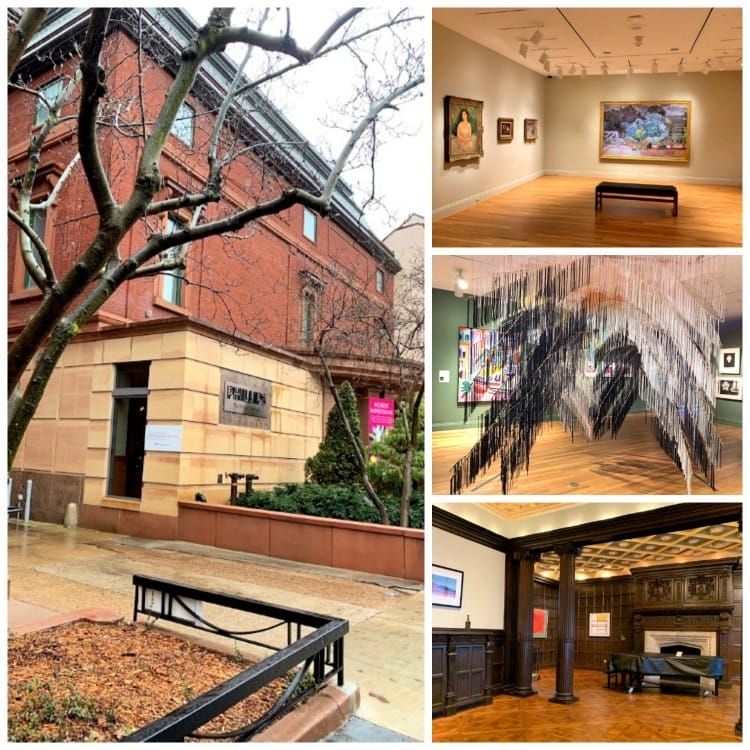 The museum offers both a permanent collection and special exhibits. When I visited, they had Nordic Impressions, a major survey of Nordic art spanning nearly 200 years and presenting 53 artists. The permanent collection is home to more than 4,000 works, ranging from masterpieces of French impressionism and American modernism to contemporary art. You'll find works by well-known artists such as Cézanne, Degas, Renoir, Matisse, and van Gogh, along with lesser known, but equally stunning pieces.
Admission is free to the permanent collection during the week, but is $10 on weekends, and $12 for the exhibitions. There's also a cafe and a very cute gift shop on the premises.
The Kennedy Center
From ballet to concerts to the theater to comedy shows, you will find a bit of everything at the Kennedy Center. We were fortunate to see the National Symphony Orchestra perform Handel's Messiah on our visit. It's such a gorgeous venue, you should really check the schedule of events for when you visit and book something. Plus, it's a nice respite from all the sightseeing. On my next visit, I want to take one of their guided tours to learn all about the history of the venue.
The National Gallery of Art
How could you not include The National Gallery of Art in an art-themed weekend in Washington DC? I came to the conclusion awhile ago that I learn very little just visiting art galleries. I see stunning art and sometimes can come up with a narrative for the piece, but most often I just walk by and think how nice. So, I now always either take a guided tour or hire my own.
I came across Context Travel looking for a tour of The National Gallery of Art and they are a truly fabulous find. I now have a tour company I can use throughout the world and not just for art tours. The company uses local experts, scholars, and specialists to give travelers access to places and cultures they might not otherwise know about and to get us off the tourist track. By ensuring no more than six people in each group, they offer an intimate participatory experience which is exactly what we got.
I signed up for a 3 hour tour of the West Building with it's classic art for 6 people max. Much to our surprise and delight, it was just my husband and I with Laura, who had a doctorate in art and was an employee of the National Gallery. She first asked if we had specific interests and then proceeded to take us to all the gems she thought were in the gallery, but that are overlooked by most tourists. We had so much fun and learned so much, we will do this again for the East Building, which holds the modern art. Also, DO NOT miss the light show in the walkway between the buildings and the gift shops. They are filled with tons of treasures. You can spend hours perusing.
Context Travel also does tours of many other sites in DC, like the National Mall Tour, a custom private tour of DC, and multiple tours just designed for kids. You seriously should consider booking them. The cost was $85 per person, but it was truly priceless.
Shop Made in DC
You might think a shop would be an unusual choice to include in an art-filled weekend, but you'd be so wrong. I actually stumbled upon the store on my way to the Phillips Collection. All of the items sold are by DC residents and they have a little biography above each collection. Shop Made in DC is a retail initiative with a mission to grow the DC maker community. The shop is home to over 100 MADE IN DC products including apothecary, apparel, art, furniture, jewelry, home decor, and stationary. It also has a cafe that serves pastries, local coffees, teas, kombucha, beer, cider, and wine.
Accommodations During an Art-Themed Weekend in Washington DC
The Jefferson
Elegant, not stuffy. Historic. Traditional, yet pleasing to a modernist. Formal and serene. Impeccable. These are just a few descriptions of The Jefferson. I have to say I fell in love with this hotel. Everything about it speaks to me. The size, 99 rooms, is ideal, as is the Dupont Circle location. Then there's the service, the food, the rooms, and the staff…all exemplary. I seriously do not have one thing to complain about The Jefferson and can't wait to get back. The place just makes me happy. It is a perfect hotel for grown-ups looking for a quiet retreat.
The Jefferson has many historic paintings lining its walls and many signed documents from Thomas Jefferson. It has a bar/restaurant, Quill, open most of the day and The Greenhouse for breakfast. At night, it is stunningly turned into a Michelin Star restaurant, Plume. Simply impeccable. There's also a library where you can go to sit by the fire and read a book or have a bite from Quill, a gym and a spa.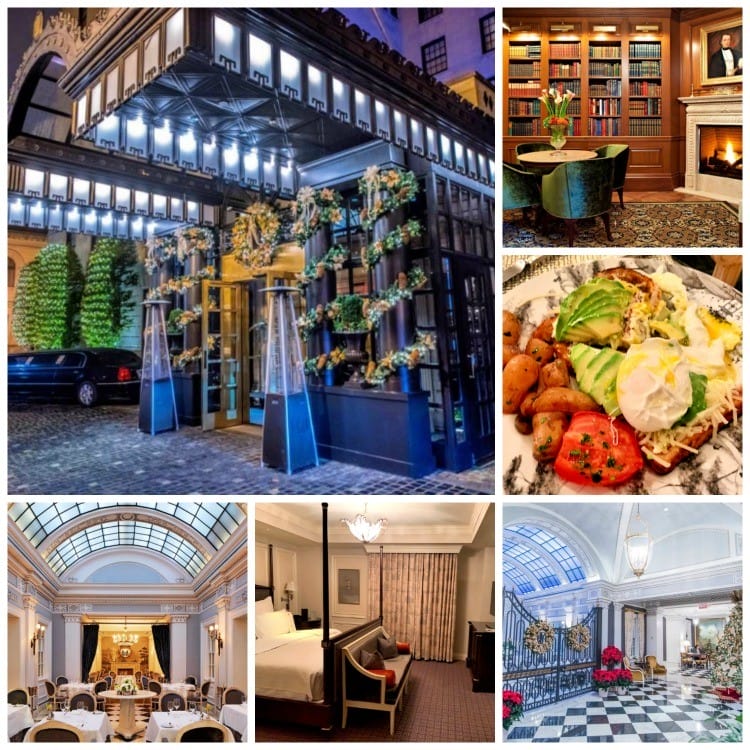 We were quite fortunate to receive an upgrade to a Deluxe Suite. With a foyer to greet you, it felt like you are entering someone's home and not a hotel room. While classic in decor, it was quite comfortable and inviting. There was plenty of space for everything. Full-size amenities and turn down service – something I'm finding you are not assured of these days – added to my pleasure.
While not inexpensive, our rates varied between $350 – $500 over the 4 nights. They do have package deals, too. It was definitely worth the expense to me.
Dining During an Art-Themed Weekend in Washington DC
There are so many lovely choices for dining in DC these days it is hard to narrow my picks down to just a few. I'm lucky that I know I'll be back often. But I am able to share a few of my true favorites. Reservations are an absolute must for any of these restaurants.
Le Diplomate
A classic in DC, Le Diplomate pays homage to a French cafe and so the menu reflects this – like coq au vin, mussels, and fresh made baguettes. It is a fun, bustling place with sidewalk tables and leather banquettes. The restaurant is also known as a place to be seen in DC which means reservations can be hard to come by. It is famous for its brunch.
Plume
Plume is a Michelin Star restaurant at The Jefferson. We had an amazing dining experience from start to finish. The service and food are simply impeccable. It is a prix fixe menu with enough options to please everyone, including this vegetarian. Okay, yes it is expensive, but worth the splurge for a special occasion. The room, service, and food definitely reflect the price tag.
Blue Duck Tavern
We first came across Blue Duck Tavern as it was my nephew's favorite restaurant in DC. Located in the Park Hyatt Hotel in Georgetown, it's a gorgeous space – sleek, urbane, yet comfortable, with an open kitchen. The food is creative American cuisine using the freshest, seasonal ingredients. Their concept is to serve simple, rustic food with an artisan approach and it succeeds. It also has a one star Michelin rating. We went recently for brunch and can highly recommend! It was fun and laid back.
Tabard Inn
Even though the food was very good and the place was packed with locals, I think of this as a bit more touristy. That said, we loved every minute. It is located in a row of brownstones that is also home to the oldest running hotel in DC since 1922. You are greeted by wood floors, historic decorations, and rooms that look like you should be clinking steins filled with grog. And if you don't want a full dinner, you can sit in the lounge with its plush couches and fireplace, have a hot cider and listen to jazz. In warm weather, there's also a patio in the back. Even my millennial nephew gave it a thumbs up!
Bresca
A relatively new restaurant and one already with a Michelin Star, Bresca is a place to go to share dishes of farm-to-table delights. The food is French-influenced in a bistro-like setting. The menu is divided into snacks, medium plates, and large plates. The space is also very cool in colors of bold blue with a live moss wall.
and if you've had enough of an art-themed weekend in Washington DC…
The Navy Yard
The Navy Yard area has gotten quite a bit of buzz the past few years. It's become a cool place to live and play and after a visit, it's obvious why. With a mix of dining, shopping, and loads of outdoor activities, it's the perfect place to spend the day or two… It is becoming a vibrant urban neighborhood and entertainment district with plenty of space to host a variety of events throughout the year including, movies, concerts, holiday and seasonal festivals, farmers markets, art expositions, games, and more.
Some activities to enjoy…
Washington Trapeze School
Washington Navy Yard Tour
Nationals Park
Yards Park
Antacostia Riverwalk Trail
Ballpark Boathouse (kayaking)
Attend Capitol Riverfront events like outdoor movies and free concerts
Water activities at Canal Park like ice skating or their interactive water fountain
Then, when you're hungry try Shilling Canning Company, Bluejacket (restaurant and brewery), Ana and District Winery, Salt Line, Osteria Morini, Agua 301, Bardot Riverfront, and Whaley's.
What are your favorite things to do in Washington, DC?

Sherry is one of the TriWivesClub and LifeDoneWell co-founders and contributes to multiple blogs. She is a former co-owner of the California Apparel News and had a career in the healthcare industry. Her passions include traveling, real food, the environment, and animal rescue/welfare. She lives a healthy lifestyle and has been a vegetarian since 1987. She and her husband are parents to two rescue pups and reside in Connecticut.