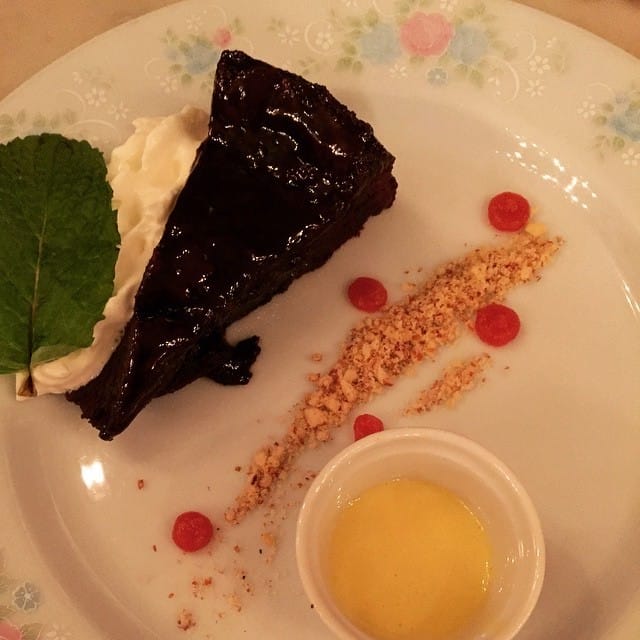 When we are in Puerto Rico, whether for the Ironman race or purely vacation, we rent a penthouse in Old San Juan, so much of our food and fun is there. We tend to stay far away from the ports for many reasons, but mainly because the cruise crowds are just overwhelming. Honestly, we tend to ask the locals where to eat and not use the guide books.
When I did a quick check on line of the "Top 10" places to eat, all were all right at the port and the menus looked like sushi menus, fancy TGIF's menus, or food you could get anywhere, including 2 chains. For us, we want local, fresh and delicious. So, here are my top picks of places to eat in Old San Juan along with race site restaurants we enjoyed.
La Bombonera
Every city needs THE "go to" hole-in-the-wall diner and La Bombonera delivers. On our first full day in the city, we headed out to the market and asked along the way where to grab breakfast. We asked about 5 people and they all pointed down the road and to the right, so we walked. Then we saw it; nothing fancy inside, but it was filled with locals and we knew we were home.
Hubby's coffee came perfect the local way; strong, but a little sweet with a little milk. Mind you, he usually drinks his black, but loved it. Breakfast was one of the best diner breakfasts ever. We asked for a typical breakfast and got it! Plus, we grabbed a few sweets in the window on the way out for the kids' arrival later in the day.
Verde Mesa
I would recommend more restaurants in Old San Juan, but Verde Mesa stole our hearts. We were in Puerto Rico for 14 nights and ate here about 5 of them! There is no real menu, as dinner is based off of what is found fresh from the local markets, farms, and fishermen. The wait staff brings a chalk board over and that's what's for dinner. The food is fresh, clean, and delicious, as are the drinks.
Each night we ate at Verde Mesa we were so pleased. From the fresh fish served over local organic greens, couscous, and orzo to the amazing desserts; we were never disappointed. When we rent homes, I usually cook the night before a race so we know the food will not upset my triathlete, but we trusted the chef so much that he had his pre-race meal here and post race as well!
Rosa De Triana
This was one of those stumble upon restaurants. It is located in one of the oldest buildings that was a prison. We happened to be walking by and saw Tapas and just had to wander in. Truthfully, we were about to walk out of this dark restaurant until we were greeted by a waiter that was so happy to see us. We sat down for lunch and came back for dinner. The tapas was so amazing that my only picture was of the empty plates! We were so overwhelmed by the menu, that we asked the waiter to bring the four of us a pitcher of sangria and a variety of tapas. Each one was better than the next.
We returned for dinner that night and sat outside in the small garden area. A few days later, we were back again for lunch. The funniest part was when we tried to get a table for dinner for Flamenco Dancing night- okay, it just sounded too irresistible – we couldn't and were so disappointed. But, amazingly, we were walking down the street the day of the dance, they saw us, and we were asked to be their guests. They sat us right up front. The girls danced, we drank, we ate, and we were the only "travelers" there. Everyone else was local. It was a true testament for getting to know the locals.
St. Germain/Mezzanine/Al Fresco
Up the hill a bit from the square in Old San Juan sits a beautiful building that actually holds three very different restaurants. We were told this was a "must visit" by our local neighbor for brunch and drinks, so, of course, we went for brunch.
St. Germain is a European style bistro with great music and fresh food and is located on the first floor of the building. We went for lunch and ended up ordering lunch twice to go during our stay. Brunch is $21 a person and includes coffee or tea and a brunch bubbly drink – we opted for the Bellini with housemade peach juice – and your brunch item.
The food is all made to order and we enjoyed our time just being in the environment. I enjoyed the Baked Eggs with salmon and capers, while my daughter devoured the Croque Madame and her college friend, who was with us, savored the Sicilian Sandwich. We all shared, of course, and wished we had another Sunday to try even more. Our waitress asked us how long we were in town and suggested we come back that evening to The Mezzanine to hang out. My husband had already left to get back to work, but the girls and I were staying an additional week. Who were we to say no.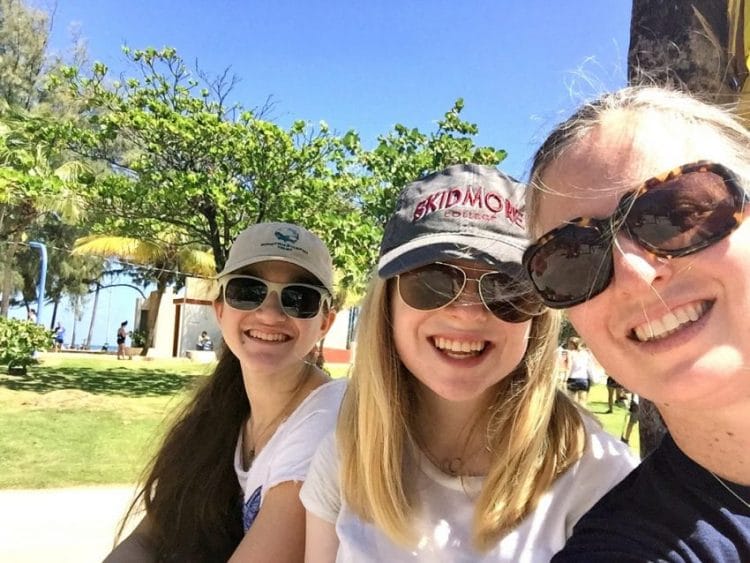 The Mezzanine is their Speakeasy Bar on the second level of the building. Not a place to take the kids, simply due to the space. We had a beautiful table on the small balcony and sipped on the house specialty happy hour cocktails. Again, all three of us had something different. For our tapas, knowing we had dinner reservations, we decided to limit ourselves to the happy hour choices. Granted, we ended up ordering additional Albondigas (sweet and tangy meatballs) and Taco De Carnita, because they were so yummy….Of course, while sitting at The Mezzanine we learned about Al Fresco, located on the rooftop of the building.
Al Fresco Rooftop Wine Bar is a tiny cozy space that you could sit at all night and we did, not even realizing it. We stopped in for their Ginger Honey Spritzer and Sparkling Negroni we heard about accompanied by a Tabla of prosciutto, chorizo, cheeses, and more and ended up staying to enjoy some large plates and their traditional Puerto Rican flan.

Organic Farmer's Market
We are huge farmer's market fans. They are great to meet locals, learn about the culture where you are, and of course, to eat! Whether you are stopping there for a local breakfast or lunch or shopping for your rental home stock, you should always stop by. We learned about the local organic farmer's market from the owner of Verde Mesa and since we were staying in a home, stocked up.
Located in the Museo de San Juan at the top of the hill, farmers gather here to provide organic, environmentally sustainable, and cottage foods to the locals. All the fish is from small co-ops or independent fishers. We ended up buying enough for the week to enjoy cooking a few meals at home and ended up going back the next week for more. The girls loved the fresh coconut milk and we all loved our breakfast so much, we walked back up later in the day for lunch before they closed for the day. I also purchased some local soaps and oils to take back home.
In case you're wondering about our neighbor who gave us all this great advice, well it was a young couple who owned Anam Spa and Cocktail Lounge across the alley. He made amazing Sangria and she ran the wonderful spa, where after a long day of walking, you would find us getting our $20 foot massage served with a glass of Sangria. My hubby would sit out by the water and enjoy his drink and long talks with the owner and other locals.
On race day, we started with an early morning tea and coffee at Starbucks. Once hubby was off on his bike, we enjoyed a wonderful breakfast with everyone else at Palmeras Restaurant. I was pleasantly surprised by the freshness of the food and attentiveness of the staff. Plus, we had a beautiful view of the Atlantic Ocean. For lunch, we grabbed a small bite at the Lemongrass Pan Asian Latino restaurant. We found it when wandering through the hotel's beautiful aviary. Lunch was amazing, with a great mix of Asian cuisine with Puerto Rican influence.
While this is a short list, it is ours and truly our favorites! But, there are way too many small, local eateries to mention, so we highly suggest you ask the locals where they will be having lunch and eat there!
Next Up: Things to Do and The Sport of Spectating
I am a home cook that does things my way. In my kitchen, I make breakfast, pack lunches, prepare snacks, and cook dinner. During the week, we eat real food that is homemade, organic, and local. On the weekends we do explore more of our local restaurants. I bake my own bread, juice fresh oranges every other day, and make my own kombucha and other weekly favorites.