Breakfast is the start of the day and should be full of everything you need to start it off right. I also feel that as the day goes on, I often forget to add the little things to keep myself going. So, packing our breakfast with ginger and turmeric is a top priority.
Ginger and turmeric have wonderful health benefits like digestive health, aiding with inflammation, and even brain health to name a few. They are always in our refrigerator. Our local store gets in organic ginger and turmeric every few weeks and I buy them out, because they store well. I keep them whole and grate or dice when I am ready to use.
People also think I am crazy for making real breakfasts, but the truth is they take no time at all. I can have breakfast done in 20 minutes and 20 minutes out of your day in the grand scope of things is nothing.
We also always start breakfast with organic whole milk Greek yogurt with fresh berries and local honey, no matter what we're having for breakfast. The yogurt is for probiotics and honey for the allergy season.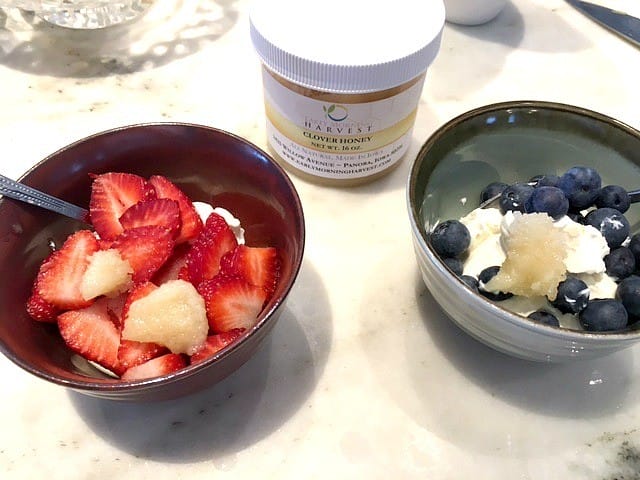 Kale and Sweet Potato Hash
Ingredients
3 peeled and diced sweet potatoes
1 small onion diced
1 tablespoon grated ginger
1 tablespoon grated turmeric
1 lemon
1/2 pound kale, stems removed and rough chopped
Eggs - 2 per person
Oil for sautéing
Instructions
Sauté onions in olive oil and add the diced sweet potatoes.
Cook until sweet potatoes are just soft, about 12 minutes.
Add the salt, pepper, turmeric, and ginger and stir; let cook about 1 minute.
While onions and sweet potatoes are softening, start the water to poach the eggs. I still use the old soft boiling method and make a whirl pool for them, adding one at a time.
Once the turmeric and ginger are mixed in well, add the kale and about 2 tbsp vegetable broth or water.
Cover and let cook about 3 minutes, until the kale wilts down.
Mix everything in the skillet together, squeeze in the lemons, and cook another minute.
Notes
I tend to use my iron skillet as much as possible. First, I love the way it cooks, the way things taste, and the flavors that come from it. Second, if I need more time in my morning, after I sauté the onions and potatoes, I can throw the skillet in the oven at 400 and let the potatoes soften, then remove from the oven, add the rest of the ingredients, and put back in to finish cooking. If I really need my time, once the kale starts to cook, I can crack the eggs in to bake and finish.

Nutrition Information:
Yield: 2 Serving Size: 1 grams
Amount Per Serving: Unsaturated Fat: 0g
I am a home cook that does things my way. In my kitchen, I make breakfast, pack lunches, prepare snacks, and cook dinner. During the week, we eat real food that is homemade, organic, and local. On the weekends we do explore more of our local restaurants. I bake my own bread, juice fresh oranges every other day, and make my own kombucha and other weekly favorites.