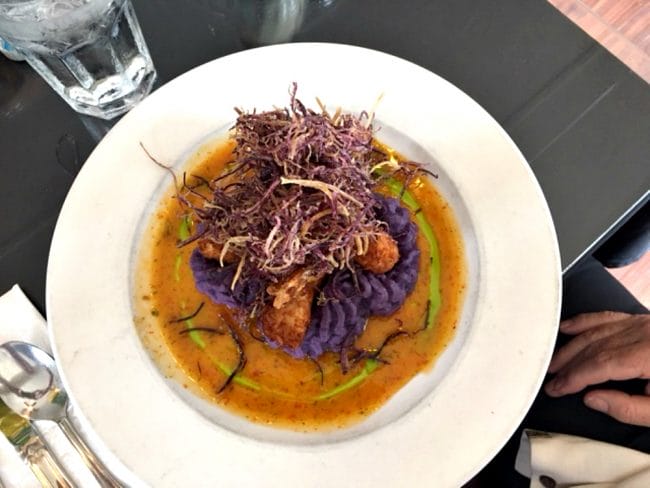 Last week, my husband and I headed to Maui, Hawaii for the sole purpose of checking out the island cuisine. With an amazing variety of food on the island, we wanted to find and enjoy the pearls. But, not just any pearls. We wanted those out of the way places not on the tour maps and full of local flavor. Happily, we found Kula Bistro.
If you are headed to Maui, a trip around the island is in order. Starting our journey in Lahaina, we headed up in the beautiful mountain area known as Upcountry, Maui. Based on research we did beforehand, we learned that back in 1991, a group of Hawaii chefs formed the Hawaii Regional Cuisine. HRC refers to a style of cooking developed by this group and is a movement intent on blending the various flavors of Hawaii with the cuisines of the world.
So, we headed to the heart of where much of the exotic produce used by this group can be found – the slopes of Haleakala National Park. Home to Maui's highest peak, it sits right in the center of the island. And, there on a hillside in the little town of Kula, we found one of those pearls we were after.
Kula Bistro Maui
Kula Bistro is located in a small, rather nondescript store front. But, don't let that fool you, as it's totally charming and loaded with unforgettable menu options. It is an all-day café featuring local dishes, pizza, pasta, paninis, and daily specials.
Always on the lookout for an exceptional Reuben sandwich, theirs did not disappoint. Fresh bread right out of the oven and corned beef that was textbook tender exceeded my expectations. Plus, all sandwiches are served with a beautiful Caesar Salad.
My husband chose one of the daily specials; Coconut Shrimp accompanied by locally grown purple potatoes. The shrimp were freshly caught and they were perfection! But, most of all, the presentations were picture-perfect, the server was appropriately attentive, and the atmosphere – well, it was fun and relaxing. One last thing, the bistro is a BYOB establishment so, think ahead and bring a bottle if you like – no corking fee.
Easy to find, Kula Bistro is well worth the drive. Besides, you can enjoy the cooler weather and  lush green mountainside on your trip. You also might enjoy taking a private farm tour and exploring how coffee, citrus, avocado, edible flowers, and more are grown. What a great way to spend a day in paradise. 
Aloha!
Kathy was a business owner for many years. Specializing in the field of orthopedic joint replacement, her time was spent in the operating room and conducting training programs throughout the United States. Since moving to the midwest with her corporate husband, she divides her time between caring for Brandy, their 4-legged family member, cooking from scratch, and searching out exceptional undiscovered restaurants both at home and wherever their travels take them. She also creates greeting cards that are sold around the world. Kathy discovered her love of writing while in college and has begun using it as a way to share her travel experiences and the restaurants she seeks out along the way.
Kathy, her husband, and Brandy currently live in Nebraska.