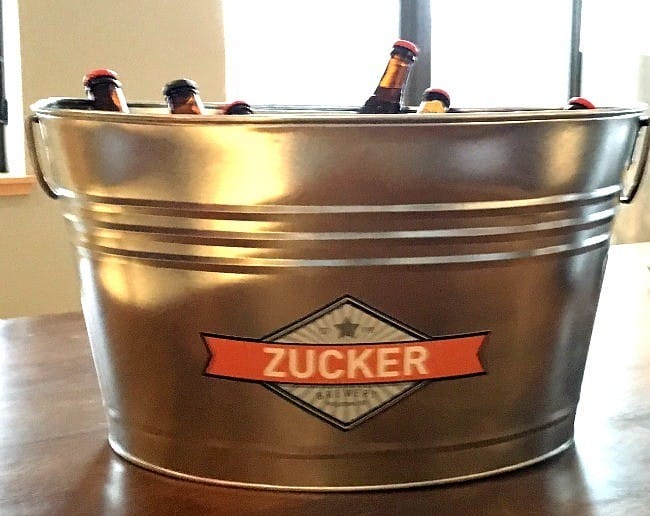 We have received some awesome hostess gifts this year!  And I mean awesome!
I was asked to pick out my top 5, so here they are in no particular order.  Well, maybe a little bit of an order. These are not just great for the holiday season, but year round – think housewarming – and they all say, "Hey, I really put some thought into this and care about you".  Or, "I love your parties and will bring you great gifts to be invited back again".
Top Picks For Hostess Gifts
Champagne Bucket
Yes, it works well for wine, too, but if filled with champagne even better!  This is most likely my favorite gift ever!  I have had a variety of wine and champagne buckets over the years, but this one is great.  The design is such that it will work in anyone's home.  Simple and elegant with personalization that shows you really put some thought into it.  The shape makes it so easy to store, also.
I can't tell you the number of wine buckets I have given away due to the shape being so odd or handles sticking out it made it hard to store.  Our guest personalized this one with our name, the year we were married, and where we lived at the time.  They knew it held a special meaning to us, because they heard the last time they were over and paid attention.
This champagne/wine bucket was ordered from the New York Times Store.  They have amazing gifts that are the type I love to get, because not everyone thinks of looking there, BUT THEY SHOULD.  There is really something special for everyone in the NYT Store; items I have never seen anywhere else that will be special for any occasion.
Champagne
Like I said, this list is in no particular order, or maybe it is…Just thinking this would work well with the first item on the list…Honest here folks.  How many of you get so many bottles of wine as hostess gifts and re-gift almost all of them?  Or give them as a tip to the folks who helped you at your party?  Hands up!  But champagne…no one would ever re-gift champagne.  Plus, it is needed the morning after the party for brunch.  And when you bring champagne, we love when you bring Taittinger.  It makes me very happy and is my go to!   But, you will never see me take a bottle from my collection.  How could I part with one?
Dog Treats
Definitely one of the most thoughtful gifts.  I mean who needs more napkins or another candle, but don't get me wrong.  Candles and napkins are great and we use them, but when someone thinks outside of the box and brings a treat for my four-legged fur babies as a hostess gift, how cool.  I have given dog treats as housewarming gifts or happy new puppy gifts, but never thought of for a hostess gift.
These were also very party specific.  We were having a holiday party and the pups got holiday treats wrapped in a beautiful box.  They looked so yummy, I thought they were speciality cookies from some local high end bakery until my husband said, "Did you see the dogs got a gift".  And, the dogs loved them, too. They were so pretty, it took me a day to allow my husband to open the box.  Then, when we did, they took a snowman and the little dog got the head, the middle dog got the belly, and the 170 pound pup got the base. They licked, they enjoyed, and they asked for more.
Beer Tub
This is a lot more than just a beer bucket and another item from the New York Times Store.  So, we have had this for less than 2 weeks and have used it three different times in three different ways.  Like the champagne/wine bucket, you can have the beer tub personalized.  The tub itself is made of galvanized steel, making it sturdy and versatile.  You can use it indoors or out and it will wear well.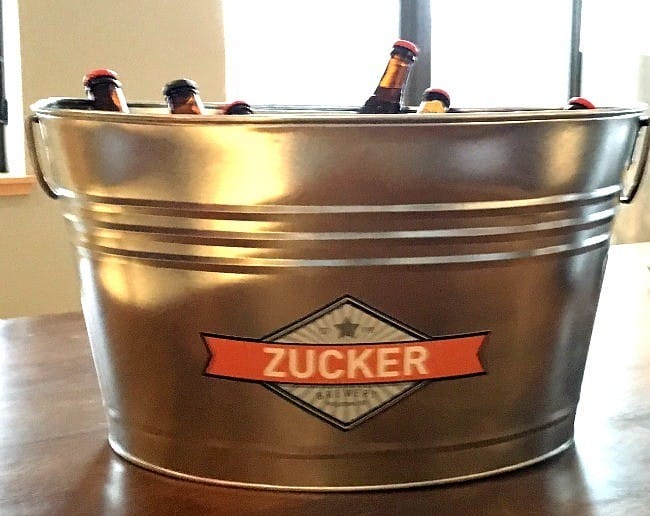 We used it first at an event we had at our home.  Our bartender loved it for 2 reasons and I couldn't agree more.  First, it was not too big or too tall, making it easy to keep on the bar since it was so beautiful.  In the past, the tub we had was big and cumbersome, so we either left it on the floor or filled our sink with ice for the beer.  The second reason was it did not sweat, so there was no mess!  This was the perfect gift as I can use it inside or out and it's so beautiful.  I love useful gifts!
A gift just for me!
Truth is, at the end of the day, I am the hostess.  Granted I almost always have help, but I am the one to create the menu, do the shopping, set the tables, hire the help, prep the food, cook the food, and often during the event, coordinating the clean up, too.  Hubby is a grand help, but often he is too busy to help, so it is always nice when I get a little something special just for me.
There are so many wonderful products out there and honestly, something a little special like Thymes or other higher end items are great.  I would rather give or get one or two nice products than a basket full of items I will put under the counter and never touch.  Truth is, the hostess uses his/her hands a lot, so a neutral hand cream is perfect.  One reminder, go neutral with scent.  I received the Jade Matcha, which is so light and refreshing, anyone would love it.  Stay away from florals and go with a fresh scent.
So, remember never to go empty handed to your next party and impress your hostess with your thoughtfulness!
I am a home cook that does things my way. In my kitchen, I make breakfast, pack lunches, prepare snacks, and cook dinner. During the week, we eat real food that is homemade, organic, and local. On the weekends we do explore more of our local restaurants. I bake my own bread, juice fresh oranges every other day, and make my own kombucha and other weekly favorites.