It came and I wasn't there!
My daughter is a dancer;  like an AMAZING, TALENTED dancer and I am not just saying that.  One of the top programs in NYC feels that way, too as they invited her to join their professional dance program this semester.
The back story.
Sydney did not grow up a dancer.  We never really had her dance, except for one class when she was like three.  But, late in middle school, her gymnastics career came to a quick hault due to a bone issue in her wrist and the parallel bars were out.  None of the four of us are sit around sort of people, so for PE in school, she decided to take dance.  A year or two later, she asked to take dance lessons and so in middle school it started.
She had no formal training, but was a natural and I am not just saying that as her mother.  It was almost like another mom fail that I never pushed dance when she was young.  But, first not my style, and second, maybe she wouldn't be where she is today if I did.
So, what happened is, in the spring, we received a call from her that we were very proud of.  This is what she said. "I need to think about other options.  I love college, but the dance program is not right for me".  And, we knew she was right…
As a first year student, there was really not much for her to do.  She started her search and decided to apply to the best program.  After making an audition video and application, she was accepted to the Broadway Dance Center Professional Program.  We packed her up and in late August, moved her into her 100 square foot studio apartment in a little NYC building filled with dancers from around the world.
I knew the day would come when she would perform and I wouldn't be there, but I didn't know it would come so soon.  A couple of days after she moved in, we were having lunch as a family up by Central Park when she stepped out for a call.  It was an invitation to perform in Table of Silence, an opportunity that came by being in the program.  On Friday, September 11, 2015, she did not just have a performance, she danced at the Lincoln Center in the 9/11 Tribute of Silence Project.
And, where were her father and I?  On a flight to Seattle.  You see, days before we moved Sydney into her apartment, David had bought tickets to the Mark Knopfler concert that night and the night after in Seattle and we were setting off on a Seattle adventure for the week.  The only flight that would get us to Seattle in time for concert was at 6 AM in the morning CST and meant that at 8:15EST when Tribute of Silence started, we were in seats 1D and 1F, but with GoGoInFlight you can NOT live stream.
When 8:15 EST came, we looked at each other and a tear came to our eyes.  We both knew what we were thinking, then he asked the flight attendant for 2 Bloody Mary's.  They didn't help.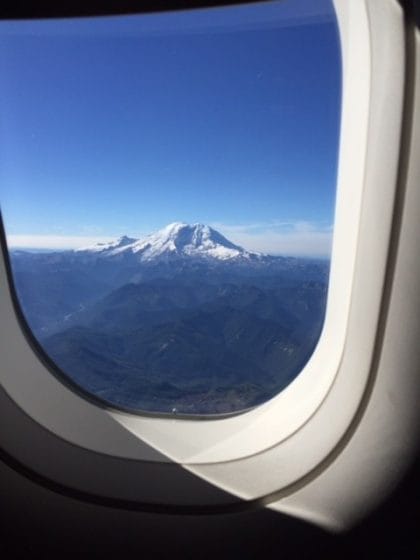 I know this is one of those okay Mom Fails.  Although I was in a full on cry by now with David holding my arm, I knew it was okay not to be there.  This day would come and go and there will be others.  Bu,t man, it hurts really bad.
The plane could not land fast enough,  I took my phone off airplane mode and the text messages and pictures were pouring in.  I was so happy my sister Kate was working in the city that day and was there for the whole piece.
David and I quickly went to YouTube and started the live stream playback.  Shoulder to shoulder, we watched as we walked quickly to change terminals to make our 20 minute connection, jump in our seats, and finish watching.  We also got to speak to Sydney, which made us tear up all over again.
With the time difference, it was breakfast time again on the second flight.  Bloody Mary please!
I am a home cook that does things my way. In my kitchen, I make breakfast, pack lunches, prepare snacks, and cook dinner. During the week, we eat real food that is homemade, organic, and local. On the weekends we do explore more of our local restaurants. I bake my own bread, juice fresh oranges every other day, and make my own kombucha and other weekly favorites.