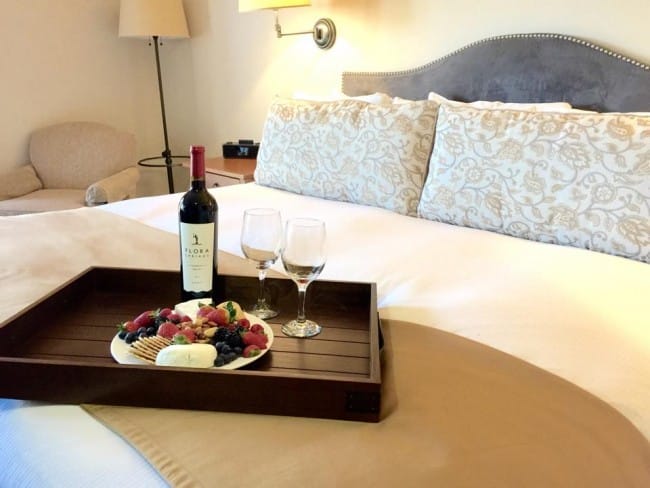 I mean really. I didn't have a clue until recently when my friend, Amy, said, "Come to Napa with me". I thought, girl's getaway, great, I'm in! But, I had to ask myself what would we do for four days driving from vineyard to vineyard? Then I got our itinerary. We were not leaving downtown Napa, but for a few hours one morning for a bike ride to a vineyard to have lunch.
So, I know you are sitting on the edge of you seats wondering what in the world did we do in downtown Napa for four days, if we weren't drinking wine? Well, in reality, four days turned out to be not enough.
Amy and I are both avid travelers, foodies, wine drinkers, and really good shoppers. And, let me tell you, besides our mornings, I did not just leisurely sit around all day in my awesome room. I mean a could have, because I enjoyed every minute in my room, but there was so much more to do.
Here's what I found so great about Napa…
The Hotel
My room was at the historic Napa River Inn.  I stayed on the third floor in a Plaza Deluxe Room.  The room was so spacious with a king bed, all to myself, a fireplace, desk, seating area, and a beautiful balcony overlooking the Napa River.  The bathrooms were recently renovated and are simply beautiful.  I fell in love with the wonderful bath products; champagne shampoo and conditioner and Cabernet body wash.  What else would you expect in wine country!
The location is perfect when playing in downtown Napa.  The historic Napa River Inn has everything right on sight that you need from spa, multiple restaurants, a great candy store, wine tasting, and wonderful spots to relax.  Steps away starts wonderful shopping and the River Path that I ran on each morning.
The food on site is wonderful.  Let's first talk about breakfast from Sweetie's.  You may choose to have breakfast down at Sweetie's, but who would do that when you can choose to have it delivered to your room in a basket, fresh, and you can stay in bed.  The first morning I ordered the Morning Bun simply because I had no idea what it was.  Let's just say I ordered it every other morning, too!  I also enjoyed the daily quiche and orange juice.
You may order additional items it you like and I did, given I'm an early riser and enjoyed hanging out in my room working early.  I ordered both the fresh fruit and yogurt on different days and they were a perfect snack before I headed out for the day.  I did not need to order tea, because like in China, the rooms were stocked with both a coffee maker and an electric hot water kettle for fresh tea.
When I checked in, I was cranky, mainly because I was starving.  The Guest Services Manager suggested I head over for lunch and a glass of wine at The Napa General Store.  I sat outside along the river and enjoyed a wonderful loaded burger and glass of wine.  After a long day of travel, the fresh air felt oh, so good.
For dinner the manager made a reservation for me on site at Angele Restaurant.  The restaurant sits at the end of the property and has a beautiful space that is white table cloth, yet relaxed.  Focused on French Country cuisine, the chef takes comfortable twists that make it special.  I only wish I was more hungry when I got there.  My waiter, Dan, suggested a wonderful white wine and helped me pick two small plates that would allow me to get the flavor of the restaurant.  I had Angele's take on deviled eggs and wonderful himachi.  The eggs were served in the shells which were panko flash fried.  Amazing!
The Staff;  ahhhh the staff.  I can truly say I have never stayed in a hotel where each staff member made me feel as if I was home.  I travel with my hubby, with my kids, but I also love to travel solo.  This was one of those solo trips and this was one of the few hotels where each member of the staff made me feel like I was the only customer they had.  From Pau,l who delivered my breakfast, to the Manager, who put up with me over-tired from traveling all day and way to over-hungry to pick where to eat for lunch and dinner.  Everyone was so welcoming.
I know there are other wonderful places to stay in downtown Napa, but the Napa River Inn has my heart.  I must go back and stay there, simply because I did not have time to try the spa.  Such a shame, but a great reason to go back.
The Food
Downtown Napa has a very progressive food scene.  In my head, I was thinking most of the restaurants would be California cuisine and I was oh, so wrong.  There was not one bad restaurant that we ate at and so many more I wish I had time to try.  I mean, there is only so much running a girl can do to keep up with all I ate.  Here are some highlights from each restaurant I had the pleasure of dining at…
Hands down the Whole Smoked Chicken at the Bounty Hunter Wine Bar & Smokin' BBQ was the best chicken I have eaten.  I mean everything was yummy, but this chicken…I wish they shipped it.

Dinner my second night was at Ca'Momi, a new restaurant downtown.  I was thrilled to see one of my favorite dishes that is so hard to find, cuddle fish.  The owners at Ca'Momi keep their Italian Heritage in all that they make while using local, fresh, organic ingredients.
Celadon, which is also located at the Napa River Inn,  has wonderful food and decor, but the blood orange fizz was a highlight for me.
After a yummy dinner of shared plates at Carpe Diem, we finished with a sweet ending, which topped off the evening.
Oh, the wine…both from the Napa region and those collected by locals is top notch.  Before this trip, most of our California bottles in our private collection were from a region just North of Napa, but now let's just say our collection includes many bottles from Napa Valley.  Where we drank varied greatly from tasting rooms, cigar bars, restaurants, and bars.
We were given the Taste card which is a great deal and allows you to visit many of the downtown tasting rooms.  So many stops again, we couldn't get to them all in.  Another day or two would have solved that. The two highlights of our Taste card visits were Capp and Napa Cigar.  Capp was where we spent most of one afternoon.  Attached to the tasting room was a beautiful lounge with a fireplace where we made ourselves at home.  The manager is also an amazing musician and played one of his new songs. I t was the perfect first stop after some shopping.  I also did a bit of shopping there and ordered a case to add to our collection.  The Cigar Room was special, not just for the win,e but also the education.  Huge thanks to the boys there.
The Playing
So much playing yet so much playing still to do.  Here's a sample of what we found to do…
Concerts:  Downtown Napa has a real gem in the Uptown Theatre.  After years of neglect, the Uptown was bought and transformed back to its 1937 deco glory.  Now, it is home to headliners like Lyle Lovett, Snoop Dog, and Willie Nelson.  It is one of those venues we would plan our trip to Napa around.  With just under 900 seats, there is not a bad seat in the house.
The Napa River is perfect for a day of kayaking.  We went out with Kayak Napa Valley.  Given the river tidal, I highly recommend a guided tour.  The river is full of wildlife and you get a wonderful perspective of the region from the water.  We were only out for half a day and honestly, could have spent the entire day on the water.
A bike tour to Luna Vineyards with Getaway Adventures rounded out my trip.  I rode with the owner, Randy, out to the Vineyards, enjoying his knowledge of the region and the stories he had from years and years of living here.  The ride was easy and enjoyable.  It was yet another adventure I wished was longer and included another stop or two, but time was my restriction.  Randy had a sag (support and gear) car with us as well, which made us more comfortable knowing if we needed anything he was there.  To top off a perfect adventure, when we arrived at Luna, we were greeted with open arms of wonderful wine.

The Shopping
Not much to say here, except that we did good for the local economy and my secret trick of packing an extra "just in case bag" was used.  The streets are lined with shops that we enjoyed.  From local chocolates, to shoes, clothes, and other local treasures, we found boutiques that were hard to leave.  I ended up with great treats for myself, the kids and even the hubby.  I shipped cases of wine home and filled my bag with chocolates, salami and clothes.  Let's just say, I left very happy.
I hoped you've come away realizing downtown Napa is pretty amazing.  My biggest regret is that my four days was not near enough time to explore all that there is to do.  I truly suggest at least six full days, allowing a day or two to also get out to a few vineyards.
Plan your time so that you have downtime in your room or a wine room to relax in to enjoy the night scene.  Napa truly is a town that goes morning to night.  I highly suggest not renting a car when visiting Napa.  It is a very walkable city and has car service and Uber available.  If heading out to the Napa Valley for vineyards visits, there is both a wine train and services available.
Disclosure:  All or part of this trip was provided for free or at a reduced charge in order to facilitate a review. We only work with companies that allow us to share our honest opinions.
I am a home cook that does things my way. In my kitchen, I make breakfast, pack lunches, prepare snacks, and cook dinner. During the week, we eat real food that is homemade, organic, and local. On the weekends we do explore more of our local restaurants. I bake my own bread, juice fresh oranges every other day, and make my own kombucha and other weekly favorites.